Wuhan center to enhance country's supercomputing fortitude, acumen
By CHENG YU in Beijing and LIU KUN in Wuhan | China Daily | Updated: 2022-08-17 09:35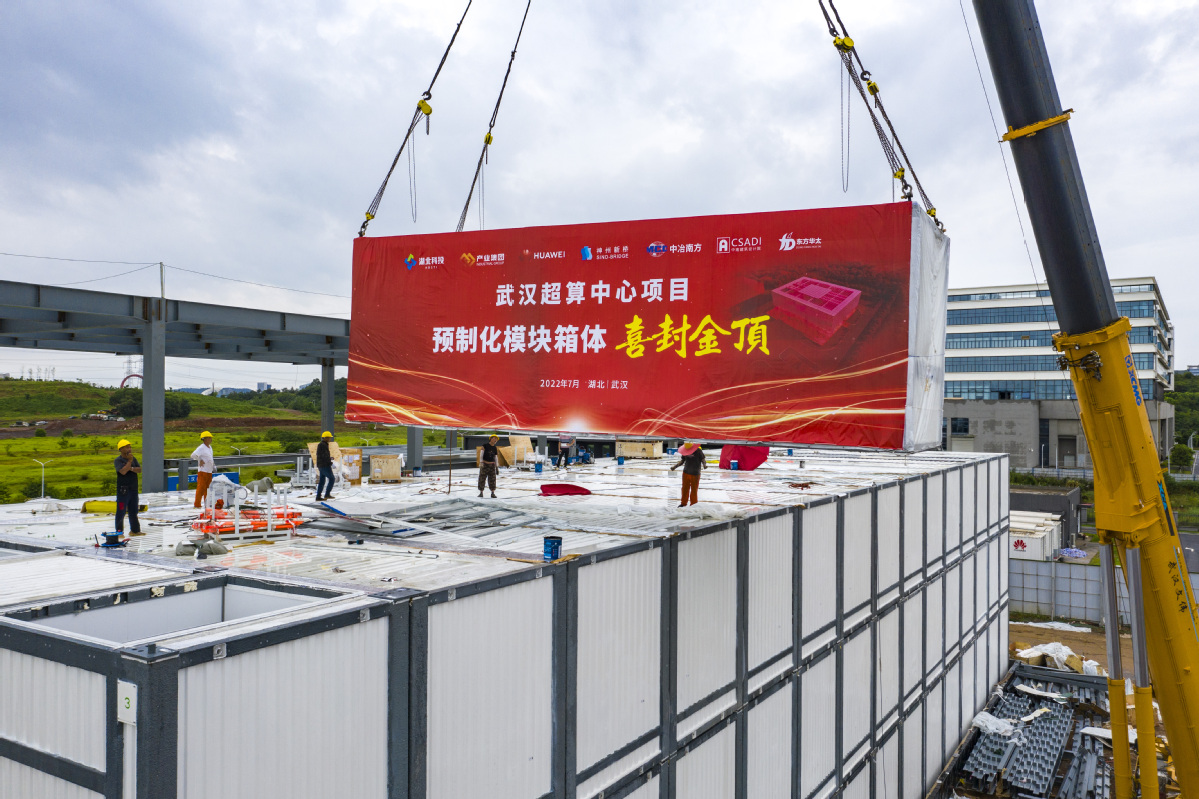 In a world where computing power may become the next strategic competition area, the Wuhan Supercomputing Center, China's largest container-like computing facility, was recently officially connected to the national computing network and is in its final launching stage.
Located in Central China's Hubei province, the landmark center will offer computing power of 50 petaflops in the initial stage, which is equivalent to 100,000 high-performance computers operating simultaneously, and is expected to eventually provide 200 pflops in total. Computing power roughly refers to the ability to process data.
The center has already been connected to the China Computing NET, or C2NET-a major national computing cluster that links supercomputing networks and artificial intelligence data centers across the country, including those in cities like Beijing, Xi'an, Nanjing and Qingdao.
"The move is a big step forward for the country's east-data-west-computing project. By leveraging local prowess in distributed computing, mass storage, AI computing power platforms and big data, the center will significantly drive computing power nationwide," said Feng Dan, a professor at the School of Computer Science and Technology, Huazhong University of Science and Technology.
The east-data-west-computing project involves China sending data gathered from the more prosperous eastern regions of the country to less-developed but resource-rich western regions for storage, calculation and feedback, which aims to help the country improve imbalances in the layout of digital infrastructure and maximize the value of data in a more productive way.
Although a late entrant to the high-performance computing field, China now tops the world with around 35 percent of the world's top 500 most powerful supercomputers and is quickly building a network of national supercomputing centers, where people can use computing power just like water and electricity.
The country's 14th Five-Year Plan (2021-25) also spelled out plans to construct 10 exascale computing systems by the end of 2025.
"China already surpassed the United States in AI computing power last year. I believe that in less than a year or two, the nation's overall computing power will exceed that of the US," said Wu Hequan, an academician at the Chinese Academy of Engineering.
"With more joint efforts in building supercomputer centers and networks, computing power will become the next new engine of the country's digital economy and further economic development," Wu said.
The Wuhan Supercomputing Center also adopted a new way of using container-like modular prefabricated boxes with integrated circuits and pipes laid in the box prior to being joined together, which shortens construction periods by one-third.