Chinese, US streaming firms' battle shifts to SE Asia
By Sun Jiashan | China Daily | Updated: 2022-08-20 09:31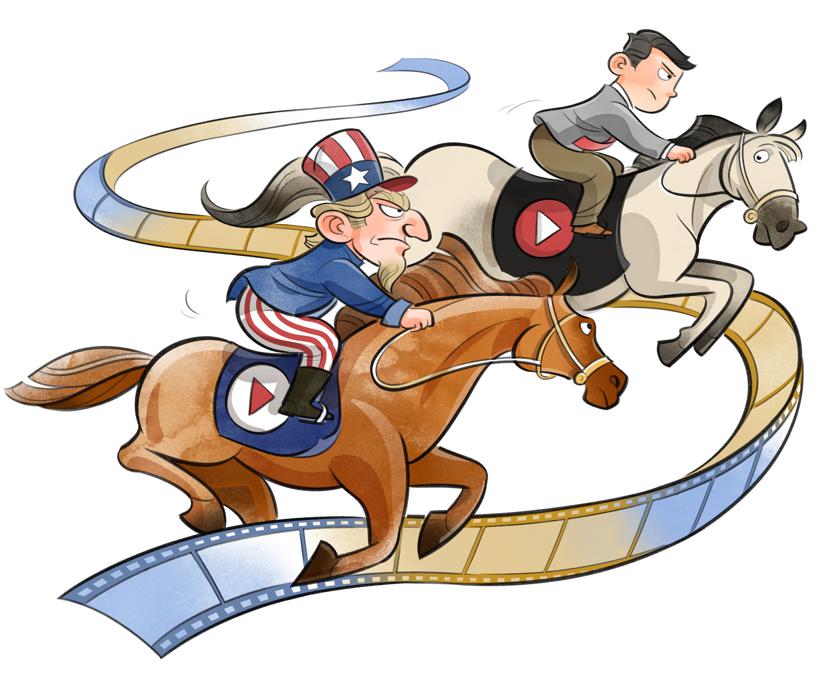 Streaming giant Netflix reported its first subscriber loss since 2011, with media reports saying the US subscription streaming and production company lost close to 1 million subscribers in the first half of this year. Although the number was far lower than what the company itself had forecast - about 2 million subscribers - the loss was followed by hundreds of job cuts and a sharp decline in its share price.
The loss of such a large number of subscribers seems puzzling, given that Netflix produced many a hit drama series including the Squid Game - the most globally watched series in its history - in 2021 and people spent longer hours online as they were confined at home due to the COVID-19 pandemic.
It appears some factors have taken the wind out of Netflix's sails, similar to its Chinese streaming counterparts which fired a large number of employees at the end of last year and faced heavy criticisms for hiking the subscription rates. Yet the growth of broadband network users in the United States and Canada had stalled even before the pandemic broke out. Also, Netflix has been facing fierce competition from rival platforms such as Disney Plus, Amazon Prime Video and Apple TV in recent years.
In fact, many US streaming platforms including the leader, Netflix, had decided to more vigorously tap the overseas markets to propel growth long before the pandemic. In addition to Japan and the Republic of Korea, the streaming giant has already entered the Nigerian market, and plans to spread to other markets in Africa.
Yet, in many respects, Southeast Asia is one of the most promising overseas markets for US streaming companies. One of the few bright spots in Netflix's first-quarter results was the positive growth in Southeast Asian countries such as the Philippines. In fact, in a letter to investors, it said that it aims to return to growth partly by ramping up efforts to expand its presence in Southeast Asia and West Africa.
Southeast Asia's GDP is about $3 trillion, the fifth-highest in the world, after the US, China, the European Union and Japan. Also, the region is home to nearly 700 million people, 9 percent of the global population, with young and working-age people accounting for a large percentage of the total. To be sure, demographic dividends are driving a booming Southeast Asian market.
While Netflix entered the Southeast Asian market long before the pandemic broke out, Disney Plus expanded its share in the region during the pandemic. Now Chinese streaming platforms such as Tencent Video and iQiyi, too, are attaching greater importance to Southeast Asia by, among other things, boosting cooperation with local streaming platforms such as iflix of Malaysia and/or acquiring them.
Indeed, Chinese as well as US streaming platforms are growing fast, with the Southeast Asian market being one of the main drivers of their overseas growth.
Southeast Asia's digital economy was worth $174 billion last year, and it is expected to grow to $360 billion in 2025. That's one of the main reasons the US is eager to increase its share in the Southeast Asian market and set the digital economy's standards in the region, which is an important part of its "Indo-Pacific Economic Framework" and an extension of its "Indo-Pacific strategy". As a result, virtual space has become a major battleground for competing economies and companies.
Therefore, it is necessary for the stakeholders to uphold economic globalization and make efforts to level the playing field, especially because in early 2020, the ruling Democratic Progressive Party in Taiwan banned the Chinese mainland's Taobao, an e-commerce platform of the Alibaba Group, and iQiyi, a streaming platform, thus politicizing market competition and creating barriers to free trade. The DPP has also targeted other mainland online companies by spreading lies about them.
US streaming platforms such as Netflix, Disney Plus, Apple TV and Amazon Prime Video are expected to further ramp up spending in Southeast Asia to take on their Chinese competitors including Tencent Video, iQiyi, Bilibili, Xiaohongshu and TikTok - platforms which have been widely welcomed in the region.
The streaming companies from the two largest economies are certainly in for fierce competition in Southeast Asia. So Chinese companies should sharpen their competitive edge and take other measures to increase their presence in Southeast Asian countries.
The author is a researcher at the Chinese National Academy of Arts.
The views don't necessarily reflect those of China Daily.