UN chief: World facing risk of 'no cooperation, no dialogue'
By MINLU ZHANG at the United Nations | China Daily Global | Updated: 2022-09-21 10:47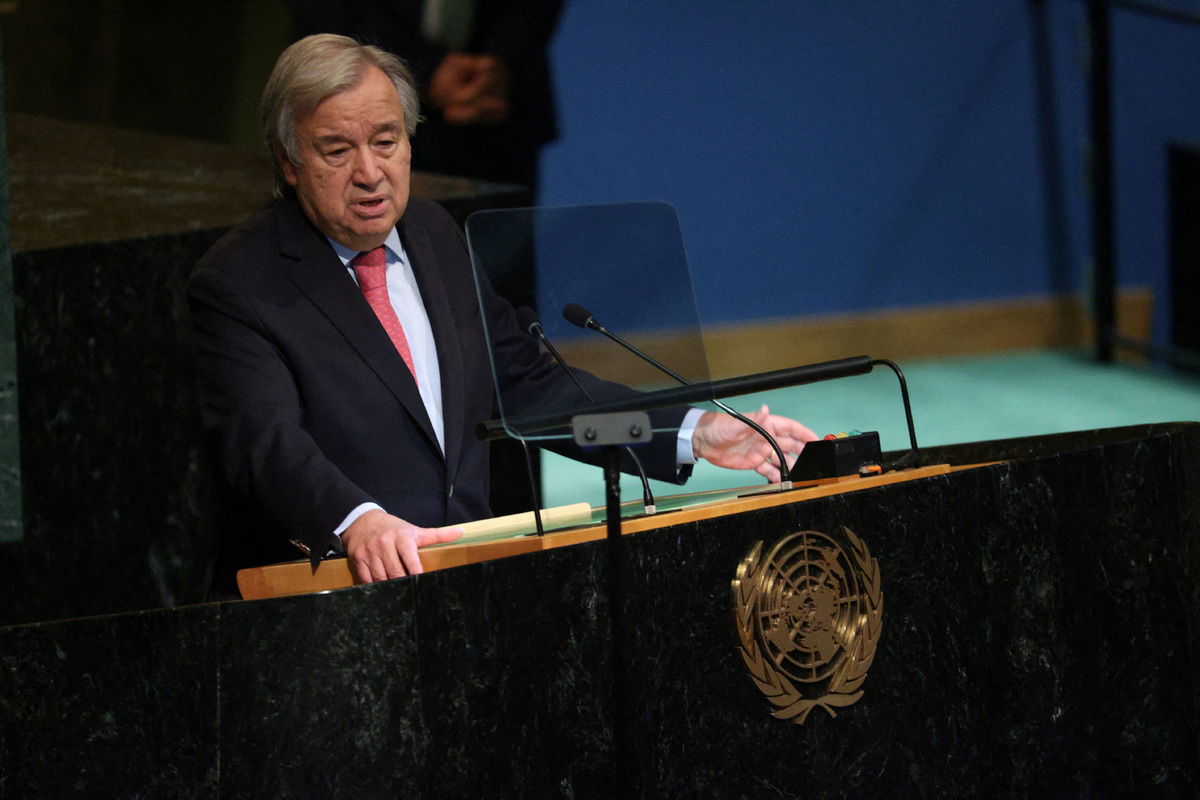 United Nations Secretary-General Antonio Guterres, speaking at the opening of the general debate of the 77th session of the UN General Assembly on Tuesday, warned that the world is facing "no cooperation, no dialogue and no collective problem solving".
"Our world is in peril — and paralyzed," Guterres said, adding that geopolitical divides are undermining the work of the Security Council, international law, people's trust and people's faith in democratic institutions, and all forms of international cooperation.
"At one stage, international relations seemed to be moving toward a G2 world; now we risk ending up with G-nothing. No cooperation. No dialogue. No collective problem-solving," said Guterres.
"But the reality is that we live in a world where the logic of cooperation and dialogue is the only path forward. No power or group alone can call the shots. No major global challenge can be solved by a coalition of the willing. We need a coalition of the world."
Such a coalition must overcome divisions and act together, starting with strengthening the core mission of the United Nations — achieving and sustaining peace, said Guterres.
Guterres said another battle that must end is "our suicidal war against nature". He called the climate the defining issue of our time and confronting it must be the first priority of every government and multilateral organization.
He asked for a transition to renewable energy, which generates three times more jobs, is already cheaper than fossil fuels and is the pathway to energy security, stable prices and new industries.
"The poorest and most vulnerable — those who contributed least to this crisis — are bearing its most brutal impacts," Guterres said. He said developing countries need help to make this shift, including through international coalitions to support just energy transitions in key emerging economies, he said.
Csaba Korosi, president of the 77th session, presided over Tuesday's opening of the debate, which is themed, "A watershed moment: transformative solutions to interlocking challenges".
At "the most consequential moment of the last four decades", the world seems to live in a permanent state of humanitarian emergency, Korosi said.
The world need "solutions, because we have drafted many treaties, set excellent goals, yet have taken too little action. We need solidarity because inequalities have reached record height … sustainability because we owe it to our children to leave behind a livable world ... [and] science because it offers us neutral evidence for our actions," he said.
The General Assembly consists of all UN member states and is the organization's main deliberative, policymaking and representative organization. The assembly holds its annual regular session from September to December.
This year's general debate is the first time since the start of the pandemic that world leaders are asked to make their statements in person in the General Assembly Hall.