More people than ever to get virus symptoms
By Jonathan Powell in London | chinadaily.com.cn | Updated: 2022-10-06 01:15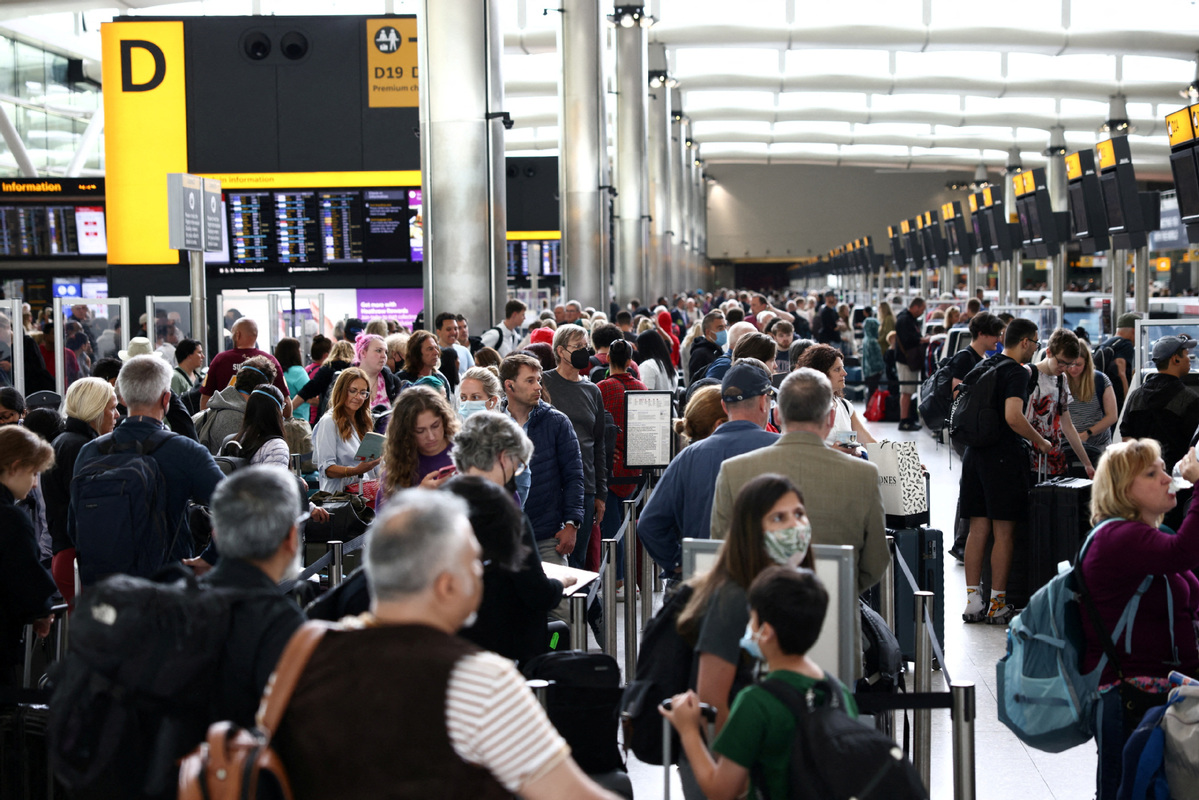 Study says October will see UK record number of COVID-19 cases with illness
The number of people showing symptoms of COVID-19 in the United Kingdom is expected to reach a record amount at the end of the month, according to an independent ongoing study.
Waning immunity, children going back to school, and the change in temperature along with people spending more time indoors have sent rates soaring, experts say, with new daily symptomatic cases already having doubled in a month to hit 212,000 by Sunday, according to the ZOE Health Study developed by King's College London.
Tim Spector, the King's College professor who runs the ZOE app, which was formerly known as the COVID Symptom Study, said the data showed indications that a winter wave of COVID-19 had begun, reported iNews.
He said: "We are already at rates last seen in the June wave. And with rates on the rise, especially in the vulnerable elderly age groups, the impact on hospitalizations could be higher."
The ZOE data also indicates common colds are spreading fast and are around five times more prevalent than COVID-19 cases.
Spector claims the ZOE study accurately monitors the start of COVID-19 waves, and can be two weeks ahead of official government statistics.
In a news release last week, Mary Ramsay, director of public health programs at the UK Health Security Agency, confirmed that COVID cases have started to climb and hospitalizations are increasing in the oldest age groups.
"It is clear now that we are seeing an increase which could signal the start of the anticipated winter wave of COVID-19," she said.
Official data from the National Health Service shows COVID-19 infections in the UK are rising and now stand at more than 1 million in total, with a 14 percent rise in people testing positive in the week to Sept 20.
But the Office for National Statistics said there is not yet clear evidence of a seasonal wave, reported the BBC. Sarah Crofts, from the office's COVID-19 Infection Survey, said: "It is too early to identify whether this is the start of a new wave of infections."
The BBC noted that hospital admissions with COVID-19 were running at around 900 per day, compared to roughly 2,000 in July during the last surge of Omicron infections.
Spector is hopeful that his grim prediction two weeks ago that daily symptomatic cases could go as high as 600,000 or 650,000 a day by the end of this month will not come to pass, but insists figures will exceed the previous record high of 351,546, set in July.
"The youngest age group is showing possible early signs of case numbers slowing. Children tend to be a leader of infection trends, so if this continues next week it is possible that the COVID-19 wave might not be as bad as previously predicted," he said.