Who was behind the Nord Stream sabotage?
By Wang Junrong | chinadaily.com.cn | Updated: 2022-11-02 16:41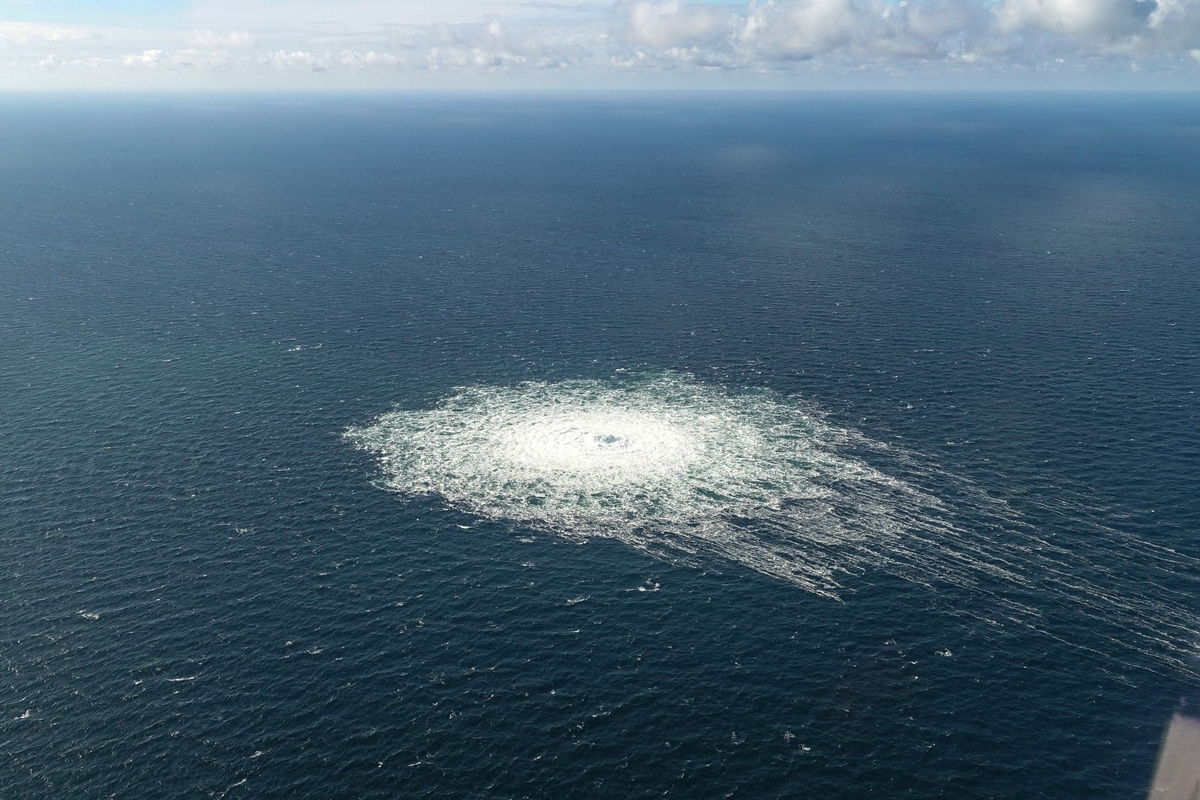 Almost a month later, the now-corroborated sabotage of Russia's Nord Stream pipelines is back in the spotlight. The Russian Ministry of Defense said in a statement on Saturday: "According to the obtained data, UK Navy representatives took part in planning, organizing and carrying out the terrorist act in the Baltic Sea on Sept 26, 2022 to blow up the Nord Stream-1 and Nord Stream-2 gas pipelines." The UK was quick to deny it, so the mystery still lingers.
In late September, underwater explosions caused leaks in the Nord Stream pipelines channeling natural gas from Russia to European countries, crippling their functions and prompting a gas price hike and a scramble for alternative sources of fuel. At that time, even when there wasn't an iota of circumstantial evidence to associate the sabotage with Russia, some Western officials and media were quick to start pointing fingers groundlessly, going so far as to fabricate "sources" to make their accusations sound plausible, despite Russia's vehement and public denials. For some Western officials and media, demonizing Russia was politically justified against the backdrop of the conflict in Ukraine. It was convenient for them to reject rationality and objectivity and indulge in conspiracy theories, betting the truth could be forever buried beneath the waters of the Baltic Sea.
They were savvy enough to know that the Nord Stream pipelines were one of the most powerful means of leverage Russia could use to elicit concessions from some Western countries, and damaging it would take that leverage out of Russia's hand. Not to mention, Russian state company Gazprom is the majority shareholder in Nord Stream 1 and sole owner of Nord Stream 2.
So who was behind the sabotage, and why? The answer lies in a thorough and apolitical investigation. But with escalating tensions between the West and Russia, it has been almost impossible to carry out a non-politicized investigation. Some countries in the vicinity of the explosions and leaks like Denmark, a formal NATO member, and Sweden, currently a NATO membership applicant, have finished their preliminary underwater investigations without making their findings public. Sweden claimed on Oct 14 the information was too sensitive to share with other EU members. This has only deepened international concerns the investigation might be at the mercy of political pressure from the US and its NATO allies, given the fact Russia has been denied access for the on-site probe. Had the findings confirmed their suspicion of Russia's involvement, they would have been quick to make the information public to the international community so as to hold Russia accountable.
Since Sweden's investigation the Western media have collectively been silent on the matter making it look like everything about the sabotage has been swept under the rug, while US natural gas exporters have been raking it in by selling to European countries at much higher prices. From a strategic point of view, European countries' dependence on the US has been further entrenched. It is widely known since the start of the conflict in Ukraine the US and UK have been trying to prevent European countries from making concessions to Russia in exchange for continuous energy supply through these pipelines.
The trickier part is the US warned several European allies over the summer, Germany in particular, the Nord Stream pipelines could face threats and even be attacked, without clarifying who might be responsible for any attacks on the pipelines or when they might occur. Back in February, when addressing a joint press conference with German Chancellor Olaf Scholz, US President Joe Biden said: "If Russia invades…then there will be no longer a Nord Stream 2. We will bring an end to it. I promise you, we'll be able to do that." Does this look like a prophecy self-fulfilled?
Wang Junrong is an assistant researcher at the Institute of Strategic Studies, Shanghai Jiaotong University. The views do not necessarily reflect those of China Daily.
If you have a specific expertise, or would like to share your thought about our stories, then send us your writings at opinion@chinadaily.com.cn, and comment@chinadaily.com.cn.