Canceled flights add to Brussels strike woes
By CHEN WEIHUA in Brussels | China Daily | Updated: 2022-11-10 07:21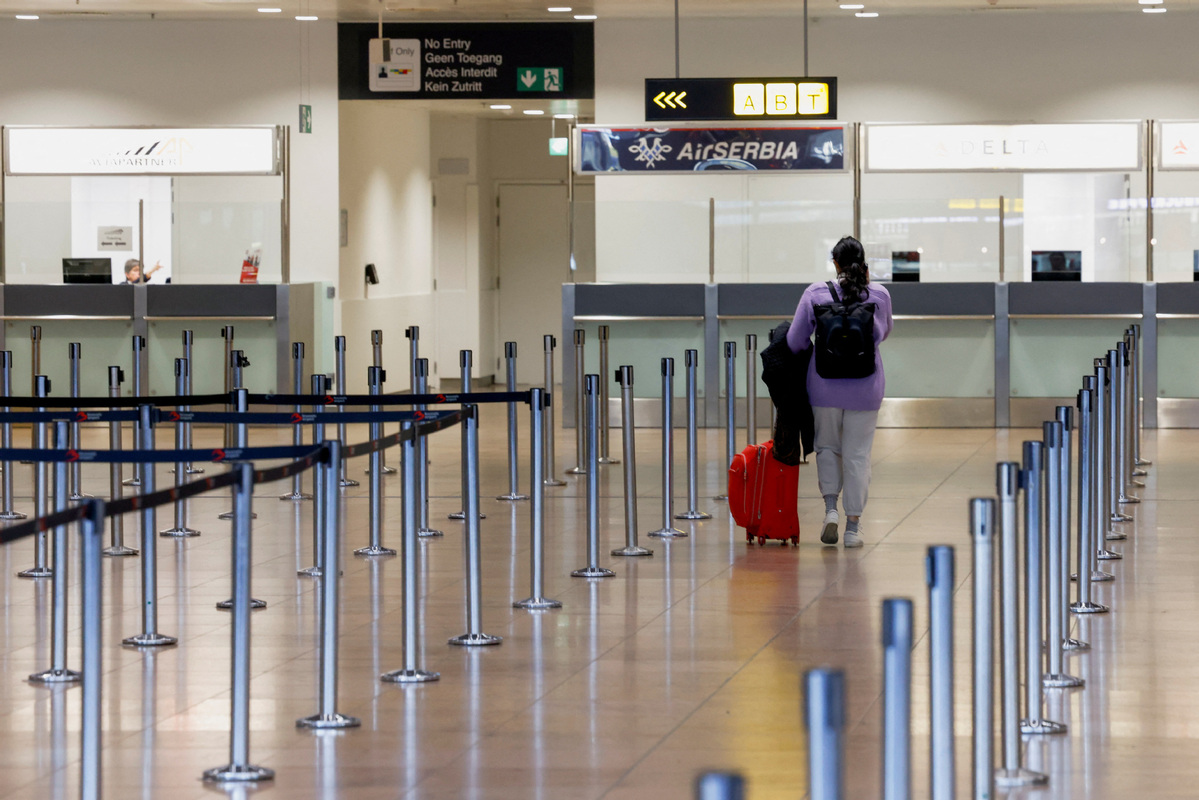 Brussels Airport is usually crowded in the hours of the early morning due to many departure flights from the Belgian capital. However, it was not the case on Wednesday as trade unions across the country staged a general strike calling for higher wages to fight soaring energy prices and runaway inflation.
The huge electronic screen in the departure hall showed about 60 percent of the flights being canceled.
A couple from Antwerp were looking for check-in counters in the largely empty hall. Their flight to Tenerife in Spain's Canary Islands was not canceled.
"We are lucky," the man said.
Brussels South Charleroi Airport, another international airport, canceled all 120 flights on Wednesday.
Few buses, trams and trains were running. Metro Line 1 was the only one operating in Brussels on Wednesday morning.
In a statement on Wednesday by the heads of trade unions ACV-CSC, ABVV-FGTB and ACLVB-CGSLB, which organized the strike, they said many Belgian workers can no longer make ends meet as bills are too high and wages are too low.
"That is why Belgian trade unions are shifting gear, with strike action today to put pressure on employers and the government," the statement read.
Union demands
This marked the fourth strike this year as the unions continue their call for the improvement of people's purchasing power, a price cap on gas and electricity, and an amendment to the wage law.
Bart Peeters, of the Workers' Party of Belgium, said people are striking for higher wages and lower prices.
"The government and employers refuse to let wages increase, while their policies cause runaway inflation and they economize on public services and employers are posting record profits. This cannot go on," he told China Daily. "If today's strike doesn't change anything, more will follow."
Annual inflation in Belgium hit 12.27 percent in October, the highest since the mid-1970s.
Outside the entrance to Brussels Airport, members of several unions were getting ready for a rally.
Sandra Langenus, secretary of the Belgium Transport Union, said she is frustrated that Belgian law has blocked their negotiations for salaries. She said some workers could not afford to go home and had to sleep in their cars at night due to the skyrocketing gas prices.
"Because it's too expensive to travel to work," she said.
She is not sure if the law will be changed. "We will see what the reactions are, and we will go further next time," Langenus said.
Belgium has a system of wage indexation that salaries will increase according to the rise in living costs, but unions argue that higher energy prices and other factors have not been taken into account properly.
chenweihua@chinadaily.com.cn