Fauci stresses latest boosters
By ZHAO HUANXIN in Washington | China Daily Global | Updated: 2022-11-23 11:11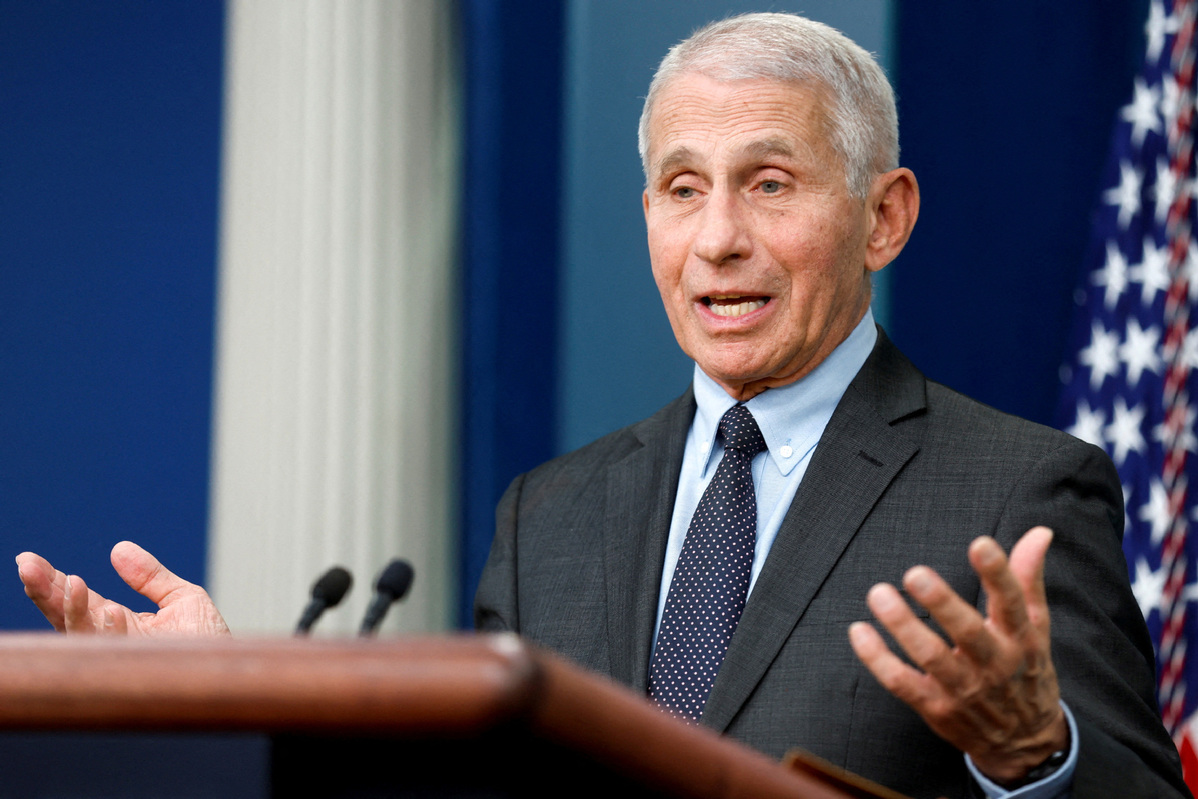 Dr Anthony Fauci on Tuesday urged people to get vaccinated as soon as possible, as recent data show updated COVID-19 boosters added up to 56 percent protection against symptomatic infection.
"Please for your own safety and for that of your family, get your updated COVID-19 shot as soon as you're eligible," said Fauci, who will retire next month from his roles in government as Biden's chief medical adviser, as well as being the chief of the National Institute for Allergies and Infectious Diseases since 1984.
At what seemed to be his last White House appearance on Tuesday, the 81-year-old discussed the importance of getting a COVID vaccine shot and wearing masks ahead of the holidays, his optimism about what will happen in the coming winter, and what "pains" him as a physician.
"It is clear now, despite an initial bit of confusion, that the BA.4/5 bivalent booster, what we refer to as the updated vaccine, clearly induces a better response against BA.4/5 and the sublineages of BA.4/5 than does the ancestral strain," Fauci said. "So from a pure immunological standpoint, it looks quite good."
The new bivalent COVID-19 booster shots, such as those rolled out by Pfizer and Moderna in September, are up to 56 percent more effective at preventing symptomatic COVID-19 infection than the two original COVID-19 vaccines in adults ages 18 and up, the Centers for Disease Control and Prevention said in a data analysis released on Tuesday.
Fauci said that globally, 13 billion doses of a COVID-19 vaccine have been distributed, with hundreds of millions in the US.
"There's robust safety monitoring systems that are in place, and clearly, an extensive body of information clearly indicates that they're safe," he said.
As to the efficacy, Fauci said recent data indicate that there's a 14 times lower risk of dying in the most recent BA.4/5 era for a person vaccinated and boosted, compared to an unvaccinated person, and at least a three times lower risk of testing positive compared to the unvaccinated individuals.
Though vaccines targeting Omicron's sublineages BA.4 and BA.5 have been available since the summer, only 11 percent of the eligible 5-year-old-and-above population in the United States have received them. For the population ages 65 and above, the vaccination rate is nearly 30 percent, according to the CDC statistics.
In total, at least 8 out of 10 people in the US have received at least one shot, and nearly 7 out of 10 have completed the primary series, the CDC data show.
"We're hoping that a combination of people who've been infected and boosted and vaccinated, or people who've been vaccinated and boosted and not infected, that there's enough community protection that we're not going to see a repeat of what we saw last year at this time," Fauci said.
Fauci also said masking is one of the actions people can take to protect themselves.
"So, there is — masking is important. But you can count masking, vaccine, boosting, testing — all of that is part of the spectrum of protecting yourself and your family," he said.
Asked about the most difficult moment of the pandemic response over the past few years, Fauci said he suffered from the country's harsh political division.
"When I see people in this country because of the divisiveness in our country ... not getting vaccinated for reasons that have nothing to do with public health, but have to do because of divisiveness and ideological differences, as a physician, it pains me," Fauci said.
Reflecting the early days of the pandemic and the mixed messages that were coming out of, Fauci said there was really a difference early on in the first weeks to months of the outbreak.
"First, we thought it was just animal to human — didn't spread well from human to human. Then, we found that it spread very well. And then, we found out that it spread enormously well. Then, we found out that it was aerosolized. Then, we found out that 50 to 60 percent of the people who transmit it don't have any symptoms at all," he said.
Also at the White House briefing, Ashish Jha, US President Joe Biden's COVID coordinator, announced a "six-week sprint" to get more Americans their updated shots before the cold and winter season settles in.
As of Tuesday, the deaths attributed to the coronavirus in the US were 1,073,115, the most in the world. The country recorded 2,222 deaths last week and has logged a daily 3,448 new admissions to hospitals as of Tuesday, according to the CDC.
Biden has also urged more Americans to get vaccinated.
"We have new COVID vaccine updates to deal with new variants to protect you and your loved ones. So, get it today. Get your flu shots as well," Biden said at an annual pre-Thanksgiving ceremony on Monday.
"This winter can be a much happier than recent holiday seasons, but you have to do your part," he said.