Thai teacher aids Tianjin students
By YANG CHENG in Tianjin | China Daily | Updated: 2022-11-25 08:50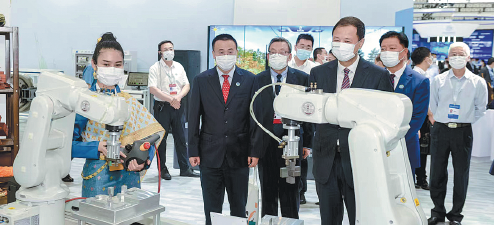 Language expert brings her skills to learners in the northern port city
Nitinun Chomchuen, a teacher from Thailand working at the Tianjin Bohai Vocational Technical College, said she is a typical example of China-Thailand kinship.
The 35-year-old from Nonthaburi has a beautiful Chinese name — Keying ("Shining") — and graduated from Silpakorn University with a degree in Chinese.
"I have had a passion for Chinese culture since I was a child and was determined to study Chinese at senior school," she said.
She did a three-year MBA at Tianjin University on a Chinese government scholarship from 2013 to 2016.
After graduating, she began work at the vocational college as a Chinese language teacher for Thai students under the Luban Workshop program, a technological and vocational training program organized in partnership with Ayutthaya Technical College in Thailand and the first of its kind among the 25 Luban Workshops currently offered around the world.
She has also been engaged in foreign liaison and interpretation work thanks to her excellent Chinese, and in addition to giving Chinese language lessons to Thai students, she also helps with China-Thailand short-term faculty and student exchange programs, as well as long-term overseas student training.
To date, some 100 Thai students have learned basic Chinese with her, which has been helpful to their participation in the program.
Chomchuen's work is appreciated by both her Chinese and Thai colleagues.
While working at the college, she met her Chinese husband, Sun Jianpeng, who is a teacher with the engineering, practice and innovation project, or EPIP, a training model that is part of the Luban Workshop.
Chomchuen said graduates of the Luban Workshop can easily find employment in the saturated job market in Thailand, and that the program has attracted students from other ASEAN countries, including Indonesia and Malaysia.
"We offer four majors which are preferred by Thai students: Mechatronics; the Internet of Things; New Energy Automobiles; and Computer Numeral Control Technology," she said.
Thanyarut Plaisuntea, who graduated from the 2017 Luban Workshop program at the Tianjin Bohai Vocational Technical College, won the Prince Sirindhorn Award at the first "Chinese plus Vocational and Technological Gem Cup" Thai Vocational Education Competition.
"The Luban Workshop has had an active influence on me, and the studies and experience were unforgettable," Plaisuntea said.
Statistics indicate that since March 8, 2016, when the first Luban Workshop was set up, the college has trained 11,000 students and 600 teachers. The EPIP Educational Center in Thailand has trained 255 teachers.
As of the middle of this month, China had set up 25 Luban Workshops worldwide, and that figure is expected to rise later this year.
yangcheng@chinadaily.com.cn