Students get taste of strikes sweeping UK
By JULIAN SHEA in London | China Daily | Updated: 2022-11-26 08:05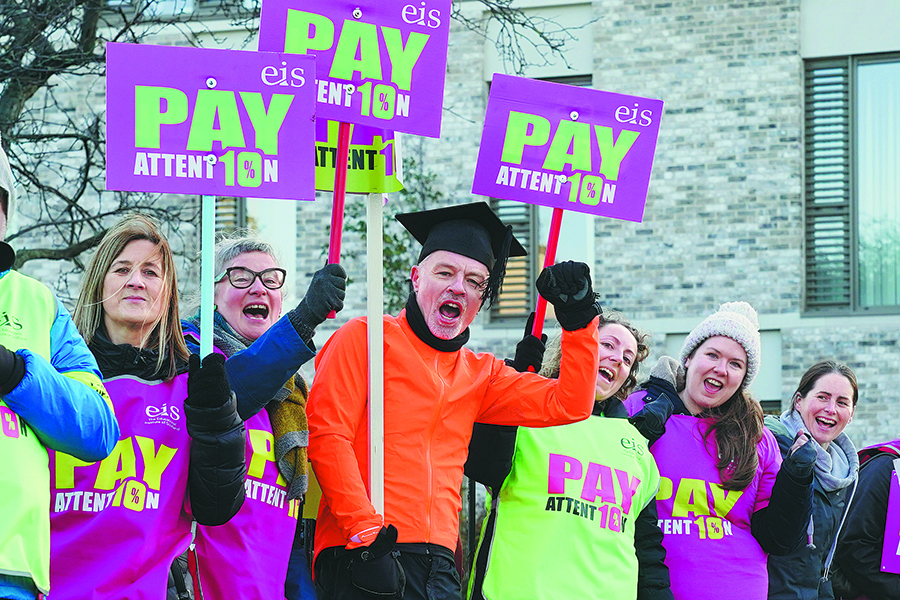 Action on campuses marks new front in workers' bid to counter rising costs
Thousands of students across Britain are facing anxious days as a threat of sustained industrial action by academics and other university workers hangs over their study schedules.
Classes were disrupted on Thursday as workers at around 150 universities staged the first of a number of days of planned strike action over pay, working conditions, and pensions.
The industrial action on British campuses comes amid months of standoffs between employers and workers in sectors across the country — from transport to health — as a cost of living crisis fuels demands for higher pay.
The University and College Union, or UCU, claims more than 70,000 workers took part in the action on Thursday. It has indicated that Wednesday could be the last day of action in the current campaign.
The National Union of Students, or NUS, has expressed its support for the strikes.
UCU general secretary Jo Grady told the BBC it was "the biggest strike action in the history of higher education", with as many as 2.5 million students potentially affected, but her members had been driven to take radical measures.
"University staff … have had enough of falling pay, pension cuts and gig-economy working conditions — all whilst vice-chancellors enjoy lottery-win salaries," said Grady, adding that there could be "even bigger action" next year if her members' concerns were not dealt with.
Voicing support for the university workers, Chloe Field, vice-president for higher education at the NUS, told The Guardian newspaper: "We have always been clear that staff working conditions are students' learning conditions, and for more than a decade both have come under attack from a sector that puts profits above education."
But Raj Jethwa, chief executive of the Universities and Colleges Employers' Association, was skeptical about what strike action could achieve. "Union leaders must provide their members with a realistic and fair assessment of what is achievable because strike action does not create new money for the sector," he said.
'Hugely disappointing'
Robert Halfon, the minister for skills, apprenticeships and higher education, called the disruption to students' education, coming as it does after the earlier upheaval of the pandemic, "hugely disappointing".
Billie Early, a master's student at the University of Sussex, told the BBC she sympathized but was concerned at how her education was suffering. "We are paying customers. We're not getting what we paid for," she said, adding that it had revived the feeling of missing out on contact hours of teaching during the pandemic.
Britons have faced days of travel misery and overflowing garbage bins in recent months as unions representing multiple industries launched successive strikes. Lawyers, nurses, postal workers and many others have walked off the job to seek pay rises that match soaring inflation. Domestic energy bills and food costs have skyrocketed this year, driving inflation to a 41-year high of 11.1 percent in October.
The latest walkouts come after the Rail, Maritime and Transport union announced on Tuesday that more than 40,000 rail workers will stage fresh strikes in December and January, disrupting travel for scores of people during the festive season. The union said members will walk out for four days from Dec 13 and in the first week of January.
Pubs, bars and other hospitality companies say the latest train strikes will devastate struggling businesses at a crucial time of year.
"Continued rail strikes have had a huge impact on our hospitality sector; preventing staff from making it into work and disrupting consumers' plans," said Kate Nicholls, chief executive for the UKHospitality trade body.
Rail union chief Mick Lynch said he held "positive" talks with Transport Secretary Mark Harper on Thursday, but added that the upcoming strikes will not be called off until the union had a "reasonable offer on the table".
Also, nurses across most of Britain will next month hold the first strikes in their union's 106-year history, joining a host of other UK workers taking industrial action over pay.
Staff in England, Wales and Northern Ireland will walk out on Dec 15 and 20, media reported.
British Health Secretary Steve Barclay said on Friday he was open to talks with the nurses union RCN.
Agencies contributed to this story.