Dedicated Cuban teacher finds formula for Chinese learners
Xinhua | Updated: 2022-12-03 09:52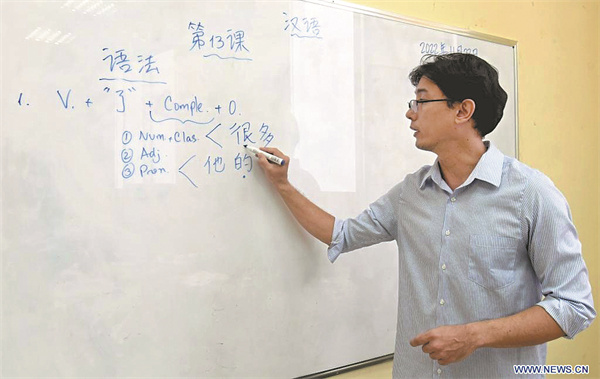 Every day, Sochi Alay spends several hours at Confucius Institute in Havana to help students understand the complexity of Chinese calligraphy and pronunciation.
The 42-year-old Chinese-language teacher has been living in the surroundings of the city's Chinatown and working at the institute for more than seven years. He says his special connection with China dates back to childhood.
Among the memories of growing up, attending activities organized by the Chinese community in the Cuban capital remains vivid, says Alay, who is of Chinese descent.
With a deep love for China, a young Alay chose to go to Sun Yatsen University in Guangzhou, Guangdong province, to study Chinese language and literature.
Teaching Chinese at Confucius Institute would not have been possible without Jorge Alay, his father, who also worked as a Chinese-language teacher at the institute and has continued to serve after retirement.
"My father instilled many values and principles into me, namely love for the motherland, discipline, respect and dedication to studies," says Sochi Alay.
"The support of my family has been fundamental in my life."
Besides Chinese language, Sochi Alay has also found Chinese martial arts a platform for spreading knowledge about Chinese traditions and customs among Cubans.