Painting an inspirational picture
By Wang Qian and Zhu Youfang in Changsha. | China Daily | Updated: 2022-12-12 06:39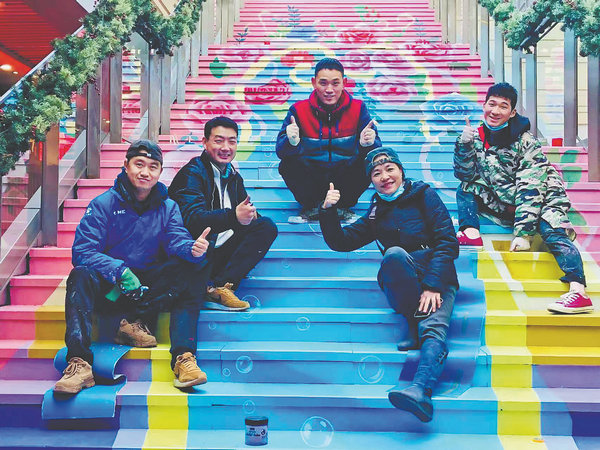 When one door closes to Li Mei, another one opens.
Born with severe hearing loss, Li has found her way to communicate with the world — through painting.
"Painting brushes can help me create a colorful world in my imagination, telling my thoughts on paper, instead of through voices," the 40-year-old painter from Changsha, Hunan province, writes in a typed response to China Daily.
Drawing was not only her way of coping with a lonely childhood, but has also become her lifelong career, according to Li.
Moreover, painting led Li to meet her husband Hu Shiqun at the Changsha Vocational and Technical School. Losing his hearing due to medication when he was 1 year old, Hu is also an art lover.
In 2016, Li joined her husband's company, which specializes in 3D wall and ground paintings. All the five painters there are hearing-impaired.
"I know how difficult it is for hearing-impaired people to find a job. So I want to help those who are passionate about painting to pursue their dreams," Hu says, adding that the company is more like a family.
In many parks and scenic spots in Hunan province, the couple have created large-scale murals and interactive pavement painting that make onlookers a part of the drawings.
During the National Day holiday in October, their pavement paintings attracted many visitors to pose over the "landscapes" of Zhaoshan Mountain scenic area in Xiangtan, Hunan.
Under their brushes, the pavements are transformed into fantastical scenes: fishes swimming in lotus ponds and rafts coursing down a river.
For Li, their creations can make art more accessible to the public and, behind each design, there is a humorous soul, who would like to connect with the world.
"My husband and I want to introduce painting to more people like us and help them find their own way to make a living," Li says. "I hope that more hearing-impaired people can be inspired by our story and try to realize their dreams."