Growth a big reality for AR, VR domestic market
By MA SI | China Daily | Updated: 2023-01-11 07:03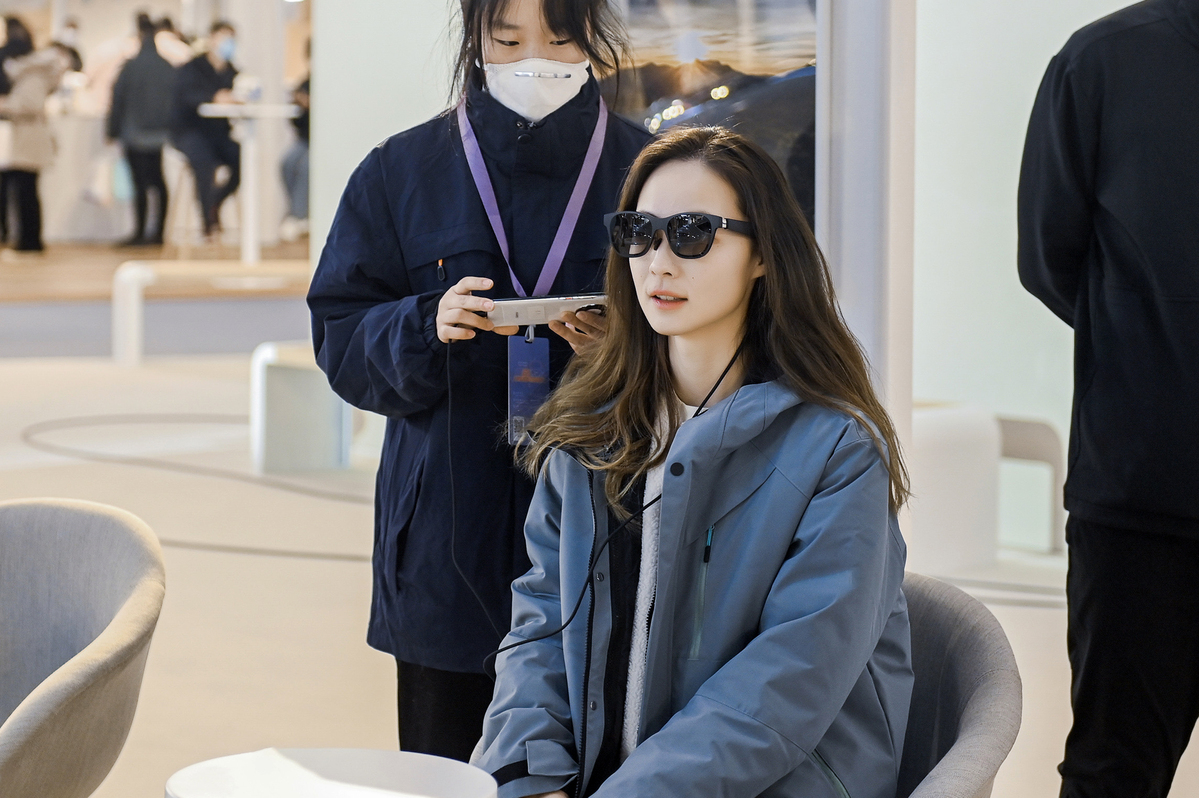 China's market for augmented reality and virtual reality will expand quicker than any other major country over the next few years, on the back of mounting enthusiasm from both enterprises and consumers to embrace the applications, experts said.
The Chinese AR and VR market's average annual compound growth rate should be 43.8 percent from 2022 to 2026, compared with a 38.5 percent clip globally, market research company International Data Corp forecasted in a report.
Spending on AR and VR in China is predicted to hit $13.1 billion by 2026, making it the world's second-largest market, the report showed. Global spending may jump to $74.7 billion in 2026 over the same period.
VR accounts for 70 percent of investment in the two technologies in China, according to IDC. Gaming is the leading user scenario for VR, accounting for almost a third of its use, followed by training and collaboration. These three subcategories should constitute more than half of China's VR market from 2022 to 2026.
The reality-enriching sector is growing with an increasing number of consumer products available. Consumer-focused goods are predicted to make up nearly 40 percent of the entire AR and VR market by 2026. The education, healthcare and professional services sectors are expected to adopt immersive technologies, constituting more than 28 percent of their use, IDC added.
Xu Chi, founder and CEO of Nreal, a Chinese AR glasses pioneer, expects that by 2030 there may be more than 1 billion AR or VR glasses offering various virtual and real interactive experiences.
"People today may think this figure is very high but sometimes we overestimate the technology iteration in two to three years and underestimate the changes brought by technology or products in more than 10 years," Xu said.
Nreal said as of December 2022, the Beijing-based company has produced more than 100,000 AR glasses, making it the world's first consumer-oriented AR hardware company to cross the mark.
With sales in China, Japan and the United States, the shipment of Nreal's AR glasses exceeded 70,000 units in the fourth quarter of 2022.
According to Xu, the company's technological advantages lie in the fields of 3D perception algorithms and optical technology. It has set up an optical manufacturing base in Wuxi, Jiangsu province, to develop display modules. More than 60 percent of its staff members are involved in research and development, and nearly a quarter have overseas work experience.
David MacQueen, executive director of Strategy Analytics, said Nreal is driving the consumer AR market and has found a sweet spot for both price — $599 — and functionality.
Meanwhile, the company has been stepping up efforts to beef up AR content. It has partnered with video streaming platforms iQiyi, Migu — the digital content unit of China Mobile, electric carmaker Nio and short-video platform Kuaishou to develop customized AR content.
Nio, for instance, has cooperated with Nreal to develop customized glasses that can project an effective 201-inch screen at six meters, as the carmaker aims to provide passengers with an immersive visual experience in its latest SUV models.
AR technology imposes digital images over the real world, while VR is used to create a purely immersive digital experience.
AR and VR form a key component of the metaverse — a trending concept that loosely refers to a world of endless, interconnected virtual communities where people can meet, work and play, using such technologies as VR headsets and AR glasses.
Other Chinese AR and VR companies such as Pico are also stepping up to expand their market presence. Pico, owned by tech company ByteDance, is working to popularize VR with its Pico 4 series.
masi@chinadaily.com.cn