Battery swapping key for heavy-duty trucks
By LIU YUKUN | CHINA DAILY | Updated: 2023-01-18 09:18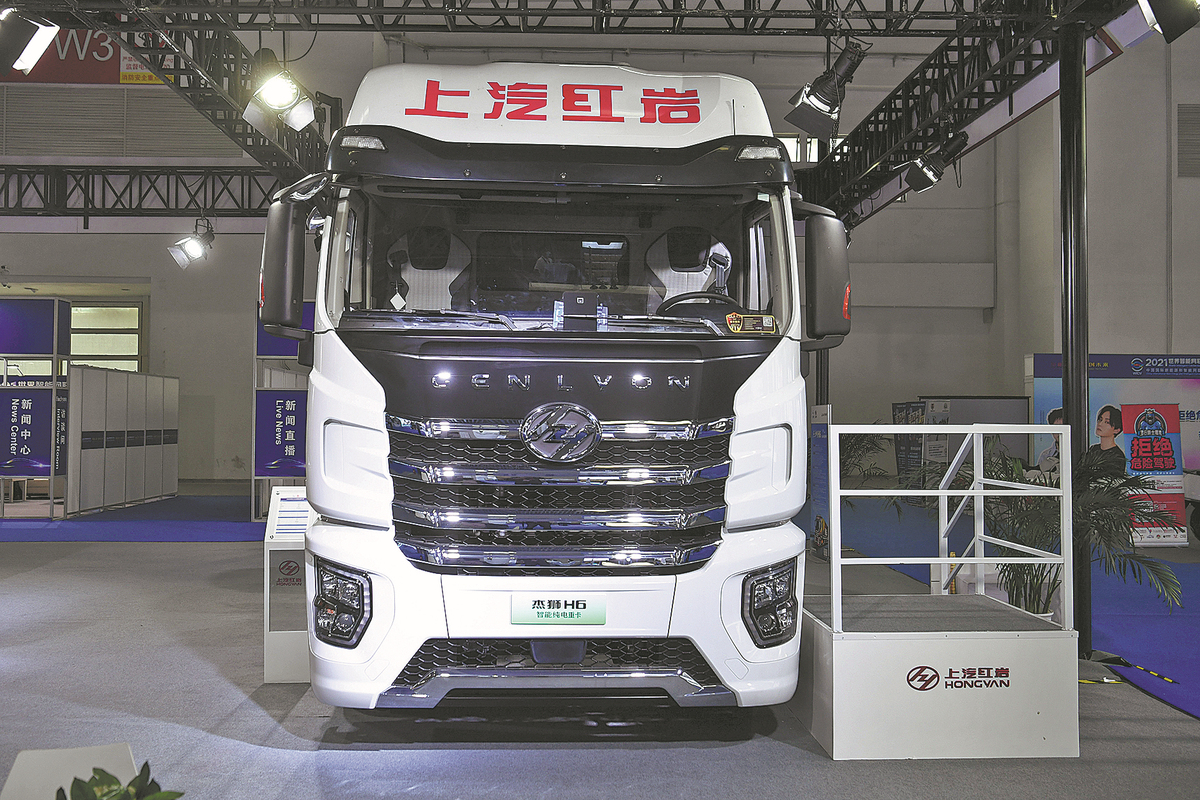 Heavy-duty electric trucks that rely on battery swapping as a power source are on a fast track thanks to supportive policies and growing market demand, experts said.
The owners of these electric trucks can exchange discharged batteries for charged ones at swapping stations, an arrangement that reduces drivers' concerns about the range of their electric vehicles and helps reduce carbon dioxide emissions compared with such trucks that burn fossil fuels.
The adoption of battery swapping electric trucks is seen as very important. The transportation industry is energy intensive and highly polluting and its green transition is essential to achieving China's carbon goals, said Wang Lining, director of the oil market department at the Economics and Technology Research Institute at China National Petroleum Corp.
"Although heavy-duty trucks take up a small part of all vehicles, they produce a large amount of greenhouse gases, which makes them a major source of air pollutants," Wang said.
A recent report by Science and Technology Daily said that HDTs produce a large quantity of emissions, use low-quality diesel, and many are operated almost continuously. One HDT produces the same amount of emissions as 300 family cars, the report said.
"Compared with the power-charging mode of HDTs, the battery swapping arrangement has advantages, as charging time is shorter and they are more efficient in mileage coverage. That is very important in some scenarios in which shorter charging time is needed to raise transportation and production efficiency, such as for urban waste delivery and mine shuttles," said Lin Boqiang, head of the China Institute for Studies in Energy Policy at Xiamen University.
For the first three quarters of 2022, the sales of battery swapping electric HDTs grew 404 percent year-on-year to 7,157 trucks, according to China Energy News.
The surging growth outpaced that of all HDTs, which was a negative 58 percent year-on-year, with the sales volume falling to 523,000 units for the same period, according to the China Association of Automobile Manufacturers.
"Battery swapping electric HDTs are still at the early stage of development, compared with the annual sales of hundreds of thousands of HDTs and stock of millions of HDTs. In the future, with the progress of the low-carbon transition of the transportation industry, the improvement of battery swapping infrastructure, the unification of standards and the advancement of technology, battery swapping electric HDTs will usher in a period of rapid development," Wang said.
A report by CITIC Securities shows that the development of electric HDTs that use battery swapping has entered a year of high growth, and the industry is expected to achieve tenfold growth in the next five years starting from 2022.
It estimates that in 2025, the sales of battery swapping electric trucks are expected to reach 160,000 units, accounting for about 33 percent of the total sales of new energy-powered commercial vehicles, with the market size exceeding 100 billion yuan ($14.9 billion).
The broad market prospects of battery swapping HDTs have attracted many enterprises. Automobile companies like Foton Motor Group, SAIC Hongyan Co and Xuzhou Construction Machinery Group have launched various types of battery swapping electric HDTs to tap the growing market.
The central authorities have also stepped up efforts to improve infrastructure to support the industry's development. The Ministry of Industry and Information Technology released a notice in October 2021 to promote battery swapping electric vehicles in trial cities. Yibin in Sichuan province, Tangshan in Hebei province, and Baotou in the Inner Mongolia autonomous region were selected.
Two months later, Yibin launched the city's first battery swapping station for HDTs. It also vowed to set up about 60 stations by 2025.
Local governments have also rolled out supportive policies. Hainan province, for example, said it would offer great incentives to projects that operate over 50 medium-sized and heavy-duty battery swapping electric trucks.
Although the industry is on a rapid development path, it still faces many challenges, such as inconsistency of standards and insufficient battery changing infrastructure, Wang said.
More efforts are expected from the government to build an alliance or association that can unite vehicle and battery companies and infrastructure builders and operators, as well create platforms to tackle the problems, Wang said.