Nation's tribute to grand patriot
By Yang Han | China Daily | Updated: 2023-01-21 16:37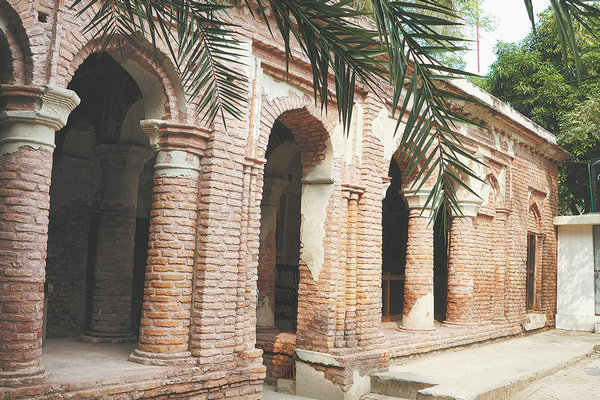 Mark of independence
The mausoleum complex includes a mosque, exhibition spaces, a library, an open-air theater and a public plaza. The Bangabandhu family home is just outside the mausoleum.
Exhibits include photographs of Bangabandhu's life, one of them a picture of him addressing diplomats at the first Bangladesh mission abroad in Calcutta (now Kolkata) on Feb 6, 1972.
Bangladesh gained independence in 1971 after the liberation war.Since there was no Bangladesh mission abroad at that time, the move also symbolized the country's independence.
There are also many photos showing Bangabandhu deal with foreign leaders. This includes one of him making a welcome address during a visit by China's then premier Zhou Enlai to Dhaka in 1956.
"Tungipara was a very tiny village in 1975, when Bangabandhu was brutally killed with his family," said Hedaitul Islam of the Office of the Deputy Commissioner of Gopalganj. "And it was very far away from the capital, so that's why the government of that time, the army, brought his body here to bury."
The local authority is still working to collect photos of Bangabandhu from his families, friends and journalists to make the exhibition more complete, Islam said.
Another point of interest is the Liberation War Museum in Dhaka.
The museum, opened in March 1996, has four galleries in which are displayed the protracted struggle of the people of Bangladesh for establishing their identity as a nation under British rule as well as their struggle for democracy, political and economic emancipation from 1947 and finally their armed struggle during the nine-month long War of Liberation in 1971.
It has a collection of more than 21,000 objects, including rare photographs, documents, coverage in both electronic and print media and materials used by freedom fighters and those who died in the war. Some of these collections are exhibits on display in the museum, and others are stored in archives, because of limited space.
"We are working to preach about the stories that our younger generation should know, about our valiant heroes, about our liberation, about our struggle to fight for our identity,our nation," said Evnat Bhuiyan, a research fellow at the Liberation War Museum.
"The museum also showcases the history of the Bengali language movement in Bangladesh when local people were fighting to use their mother tongue, in 1951."
Feb 21 is now celebrated worldwide as International Mother Language Day. The idea to celebrate it was an initiative of Bangladesh and was approved at the UNESCO general conference in 1999 to honor the supreme sacrifice of language martyrs in the country.
"The language movement actually created a new nation of Bangladesh," Bhuiyan said.
Bangladesh National Museum,one of the biggest museums in South Asia, was established on March 20, 1913 under the name the Dhaka Museum and was inaugurated on Aug 7, 1913 by Thomas Gibson-Carmichael, 1st Baron Carmichael,the governor of Bengal.
The museum is rich in stone, metal and wooden sculptures, in gold,silver and copper coins, terracotta and other artifacts and antiquities.
In addition to museums, many other places in Bangladesh are well worth visiting for international tourists.
Though the country's tourism sector may not be as well known as some of its neighbors in South Asia,it has about 1,500 historical, archaeological, natural, religious and cultural tourist spots.
It is home to what is said to be the world's longest unbroken beach, 120 kilometers, Cox's Bazar, and what is said to be the world's largest contiguous mangrove forest, Sundarbans,between Bangladesh and India.