'Silver' economy grows with aging population
By Liu Yukun | China Daily | Updated: 2023-01-26 07:21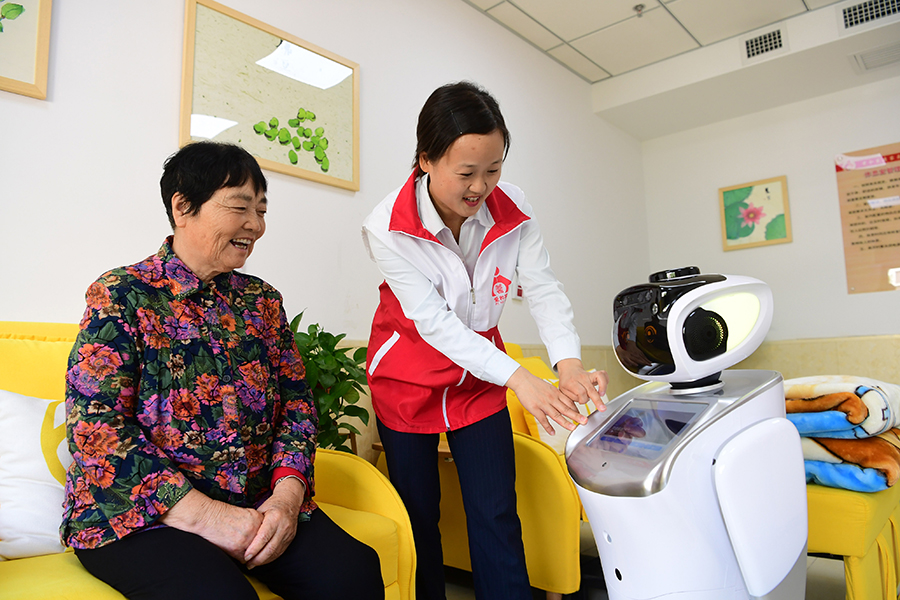 "Compared with the past, an increasing number of seniors today are starting to embrace a variety of recreational activities and are familiar with the internet. Many of them are also changing their view from saving more to paying more to enjoy life, which is an important driver of relevant business growth," said Duan Mingjie, founder and CEO of AgeClub, a consulting and incubation service platform focusing on senior care businesses.
Just recently, a group of 16 retired people was having fun traveling to Hengdian World Studios, one of the world's largest studios located in Zhejiang province, to shoot a "film"that replicates classic scenes of a popular TV show called Empresses in the Palace.
The group of people, with an average age of 62, were dressed in Qing Dynasty clothing, wore delicate makeup, and tried to perform like professional actors and actresses with vivid facial expressions and voices.
The "film" soon went viral across social media platforms and became among the top 10 trendy topics on Weibo.
In the "Behind the Scenes" video, participants were excited about the experience, saying it helps to achieve the dream of acting that they had since they were teenagers. The acting experience cost them an average of 4,000 yuan per person.
Bai Yun, one of the participants,said that she wishes to try anything new and interesting. Upon hearing about the activity, Bai registered without hesitation. "I had dreams of being an actress since I was a teenager but ended up working in an office for half my life."
She also learned to walk the catwalk and went to Shanghai Fashion Week. "I just want to be a delicate woman and age gracefully."
Although some netizens pointed out that the participants still couldn't hide their nervousness in front of the camera, had accents in reading the lines and slightly stiff movements, they looked energetic and appeared to enjoy the shooting, which makes it quite touching.
Peng Kai, director of the Shanghai Ruichi Fashion Club and also the organizer of the activity, said he came up with the idea to help seniors achieve their dreams. "It's possible to be cool in one's 60s or 70s,"Peng said.
In September, Ruichi also organized a team of over 40 seniors to walk in a runway show at Shanghai Fashion Week.
Duan said that the senior care sector is seeing an increasing number of companies develop businesses relevant to culture and entertainment, while in the past, the majority of businesses in the sector focused on nursing.
"With the penetration rate of the internet constantly increasing among the elderly, a growing number of seniors are exposed to large amounts of information now. Many of them follow the trends, are willing to embrace changes and are open-minded,and have great potential for consumption. Areas such as consumer products for seniors,entertainment, services and health management are seeing a big opportunity for development,"Duan said.
He said that a growing number of companies are specializing in business sectors that launch products and services for the elderly and more startups focus on the area despite the COVID-19 challenges in the past three years.
In July, Alibaba cooperated with the China Association of Gerontology and Geriatrics to establish a research lab that focuses on the silver economy to promote an upgrade in senior consumption and explore the potential to develop a variety of relevant businesses.
Su Bochuan, director of public affairs, said that on Alibaba's e-commerce platforms, the total number of consumers over the age of 50 has reached about 100 million. "Our focus of businesses include apparel, home care, home appliances, healthcare and food."
"From the consumption trend we observed through our platform, we found that the supply growth of senior-friendly bathroom fixtures and furniture far exceeds the growth rate of other categories. Alibaba has established a team to grasp the business opportunity in the sector," Su said.
Home appliance brands such as Midea Group, Haier and Xiaomi are also stepping up efforts to develop technology-embedded products that can make senior life easier and more comfortable, such as a suite of smart bathrooms with voice control,an emergency call button on the floor in case of emergencies and automatically adjusted designs to ensure proper water temperatures and light.
Companies are also ramping up efforts in the gaming sector. Recently, Jubensha, a scripted role-playing game that is popular among youngsters, is gaining increasing favor among the elderly.
The 173 Network Group, a game producer targeted at seniors, has launched a series of Jubensha games, whose backgrounds are films that were popular among the elderly.
"The games were popular among the users. They like it when we call them 'elderly youngsters' instead of seniors. They are very open about new things and eager to try different recreational activities," said Ye Kejia,CEO of the company.
"We found that an important driver of senior consumption is that they need companionship and ways to expand their social lives. A game is a very good way to achieve that goal," Ye said.
Ye said the company also has training services that teach the elderly to become game hosts. "We found that many middle-aged and elderly people are very willing to go back to work in fear of finding themselves 'useless' to family and society.We launched such training in hopes that they can both find meaning in their retirement life and also have fun."