Cholera compounds drought woes in Africa
By EDITH MUTETHYA in Nairobi, Kenya | China Daily Global | Updated: 2023-02-07 09:21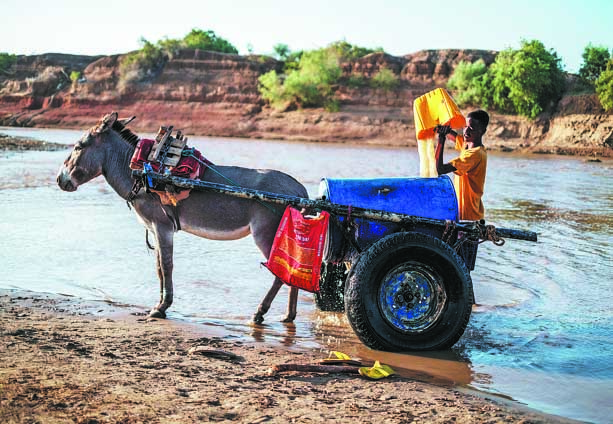 The current deadly cholera outbreak that has been reported in several African countries is aggravating the situation in Kenya, Somalia and Ethiopia as the countries grapple with the worst drought in decades, following five consecutive failed rainy seasons.
The drought has left 22 million people across the three countries acutely food insecure and 5.1 million children acutely malnourished, World Food Programme data indicates.
The victims' lives are further threatened by the cholera outbreak that hit the region last year partly due to inadequate clean water for domestic use as taps run dry.
The Africa Centres for Disease Control and Prevention has expressed fears that the disease could spread further if it is not contained by the onset of the upcoming rainy season.
In Ethiopia, the outbreak is affecting the drought-hit Oromia and Somali regions, with at least 1,055 cases having been reported, including 28 deaths, since September, according to the humanitarian organization Save the Children.
In a statement on Thursday, the organization said the rapid spread of cholera is being driven by a deadly combination of severe water shortages, poor hygiene and sanitation services, including open defecation and lack of water treatment options, with severe drought exacerbating the situation.
"In the past month alone, more than 316 cases have been reported in the two regions, a 30 percent jump from 739 cases at the end of December 2022, with 1 million people at risk of the disease in the two regions," Save the Children said.
It further noted that more than 80 percent of patients admitted for cholera were found to have consumed river water.
The organization said more than 13 million Ethiopians, including 6.8 million children, are in dire need of safe water.
Xavier Joubert, Save the Children's country director for Ethiopia, said more than two-thirds of cholera patients in the country are children.
"We are concerned that most of those who have died from cholera are children under the age of 14, with 25 percent of them under 5. We are calling for more funds to provide food, water and health services to affected communities," he said.
"It's clear that the current drought is contributing to these disease outbreaks and we are worried this is going to have severe consequences for children already battling malnutrition. We urgently need to ensure that every child has access to safe drinking water and adequate sanitation."
Worsening situation
In Kenya, six counties are reporting cholera outbreaks with 4,431 cases and 83 deaths having been reported so far, according to the Africa CDC.
The recently affected Tana River, Garissa and Wajir counties are among the drought-hit regions, and have the least access to water, sanitation and hygiene services as well as healthcare services.
In a virtual news briefing on Thursday, Ahmed Ogwell, acting director of Africa CDC, said Kenya has been experiencing a progressive increase of affected counties since the outbreak was reported in October.
He said Africa CDC is putting measures in place for improved hygiene and improved sources of clean water to contain the disease.
Ogwell said five African countries have reported a total of 27,300 cholera cases and 678 deaths since the beginning of the year.
Malawi is the most affected country, with 33,608 cholera cases and 1,093 deaths having been reported by Jan 29, UNICEF said.