Medics help build healthier world
By Xu Wei in Beijing and Zhao Ruixue in Jinan | China Daily | Updated: 2023-02-17 23:37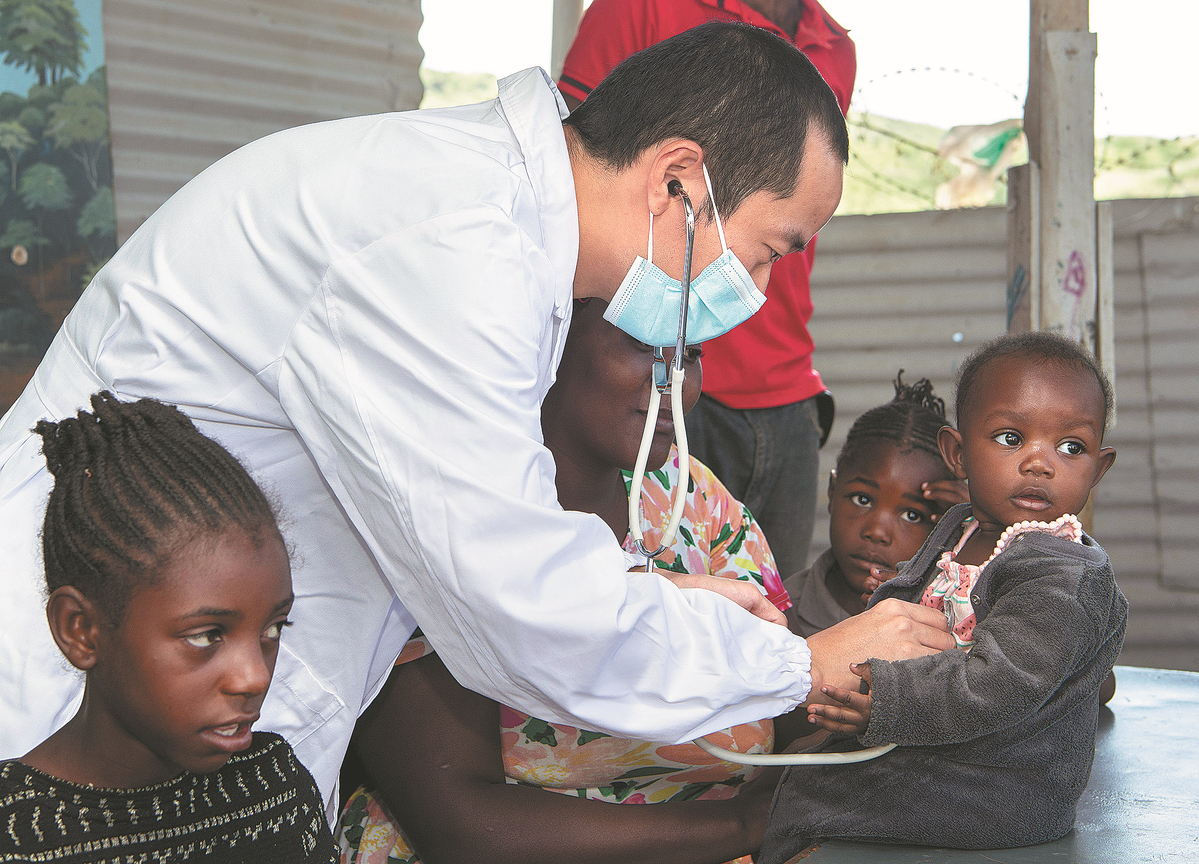 Chinese experts save lives, bring hope across globe
In Chad, a Chinese medical team traveled three hours to the region of Hadjer-Lamis in December and offered villagers much-needed diagnosis and treatment for the health problems troubling them most — malaria, diarrhea and asthma.
In Sierra Leone, Li Xianfeng, an ophthalmologist from Hunan province, performed cataract surgery for over 350 patients and offered consultations to another 7,000 local residents over the past year.
In Tanzania, pediatric surgeons from China's Shandong province performed a procedure in July at Muhimbili National Hospital to treat a 1-year-old for gastroesophageal reflux disease — the first time such an operation has been conducted in the country.
Chinese medical teams, currently working at 115 sites in 56 countries, are now standing at the forefront of Beijing's broader push to share its healthcare expertise with developing countries and epitomize its commitment to build a global community of health for all.
The dedication of Chinese health workers abroad was hailed last week by President Xi Jinping when he replied to a letter from members of a Chinese medical team in the Central African Republic.
He lauded the team for overcoming hardships in its work and everyday life and offering attentive services to local people, saying that their actions have not only saved lives but also showed the Chinese people's love for peace and carried forward friendship.
Guo Jia, an associate researcher who has studied health cooperation between China and Africa at the China-Africa Institute, said the letter from Xi demonstrated a high level of emphasis from Beijing with regard to its overseas health missions.
Since 1963, when the nation sent its first medical team and overseas healthcare mission to Algeria, China has sent medical teams consisting of 30,000 members to 76 countries and regions in five continents, providing 290 million diagnoses and treatments for local people.
"While recognizing the efforts made by the health missions over the past 60 years, the letter has also charted the way forward and showcased China's strong commitment to enhancing public health cooperation with the developing world," she said.
The Chinese medical team to the Central African Republic, one of the world's least developed countries, is among the teams working under the most difficult circumstances, as the doctors had to work with aging facilities and a shortage of equipment and pharmaceuticals.
The team, which arrived in the African country in June 2022 for an 18-month mission, wrote a letter to Xi to share details of their services to the local people.
The reply from the president was indeed a significant boost to the morale of the team members, the majority of whom are from hospitals in Jiaxing, Zhejiang province.
Zhang Youmei, an ophthalmologist in the team, said the president's recognition strengthened his resolve to help more patients despite frequent power outages and challenges from scorching temperatures.
"The surgeons from the team sometimes have to work using flashlights or lights from cellphones to complete an operation," he said. The team has now been able to adapt to the working environment and some doctors have learned how to repair the aging medical equipment, he added.
As of Feb 10, Zhang's medical team has offered outpatient services to 16,675 patients and performed 476 operations.
Meng Yong, the leader of a Chinese medical team in Tanzania, said the language barrier is also a major challenge for the work of Chinese doctors in Africa as many people in the country only speak Swahili.
"It took us quite a learning curve to adapt to the communication process," he said.
Cooperation with doctors at local hospitals is also key to the success of consultations and operations as the Chinese doctors in Tanzania work together with their local colleagues in various medical departments in different hospitals.
"Sometimes we found it hard to put our medical skills to good use due to a gap in the level of healthcare, facilities, medical supplies and the management philosophy," he said.
Even so, Meng said the doctors managed to perform some groundbreaking surgery in the African nation, including the operation on the 1-year-old and an operation to remove an aortic aneurysm from an adult patient.
The Chinese medical team in Tanzania performed 1,940 operations, took part in the emergency rescue of 934 patients and offered training to 1,182 health workers last year.
He explained that the Chinese doctors performed emergency treatment for many patients in intensive care units due to lack of healthcare workers in hospitals.
"We have been trying to maximize the use of local medical resources to help patients. We are also looking to explore better models of healthcare cooperation, including pairing cooperation between Chinese and local hospitals," he said.
Guo, from the China-Africa Institute, said Chinese medical teams, through their outpatient services and surgeries, have filled vacancies in many healthcare fields in African countries, especially in heart surgery, the removal of tumors and limb surgery.
The medical team working in the Central African Republic is the 19th sent to the nation by China and the team working in Tanzania is the 26th group sent there by the country.
Meanwhile, Beijing's aid to African countries in healthcare is now shifting more of its focus to public health, including the containment of infectious diseases such as COVID-19, malaria, HIV/AIDS and Ebola.
China was one of the first nations to send medical teams to work with governments in West Africa to fight Ebola outbreaks in 2014, a mission that involved 1,200 medical workers and treated over 800 local patients.
Beijing sent 37 expert teams to 34 countries to fight COVID-19 as part of efforts to share anti-epidemic experience, solutions and supplies.
The China-aided project of the Africa Center for Disease Control and Prevention headquarters was completed in January in Ethiopia, marking a key step forward in the continent's public health care efforts.
"Chinese medical teams have not only saved lives but also carried with them dreams from people in developing countries to improve their well-being. Their efforts represented concrete contributions to the building of global community of health for all," Guo said.
Martin Chedondo, Zimbabwe's ambassador to China, said people in his nation have so far benefited from the 16 medical teams sent by China since 1985.
"The Chinese medical teams brought expertise from their various areas of specialization such as scanning, orthopedics, epidemiology, surgery and virology, and helped boost their Zimbabwean counterparts' capacities in the diagnosis and treatment of various diseases," he said.
The medical teams also performed specialist surgical operations such as eye surgery, which contributed to the well-being of ordinary Zimbabweans, said the envoy, who added that his country's successful containment of COVID-19 is largely due to the role of Chinese medical workers.
"What began as humanitarian assistance in the 1960s has gradually evolved into a comprehensive cooperation framework covering many facets of health sectors such as capacity building, technology transfer, medical infrastructure and pharmaceuticals," he added.