Young people find their niche in life
By YANG FEIYUE | China Daily Global | Updated: 2023-02-27 07:45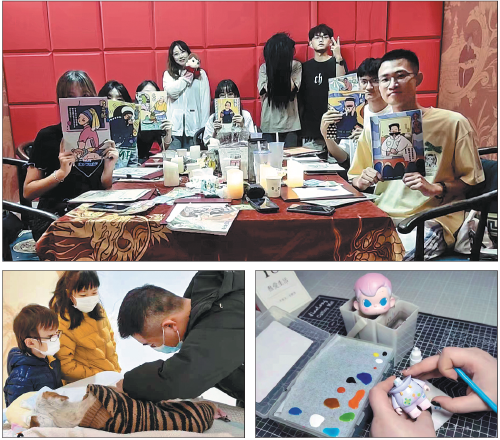 An increasing number stepping away from careers in traditional industries
Young people in China are increasingly choosing careers they have a passion for and that meet demands created by emerging niche markets.
They are forsaking traditional industries, and even the academic world, to make a living by appealing to those who share their enthusiasm for the work they produce.
Chen Qin, 31, from Chengdu, capital of Sichuan province, has considered herself something of a free spirit who doesn't want a typical 9 am to 5 pm desk job.
In 2015, she opened a small bakery in Chengdu. From experimenting with recipes to acquiring baking skills by using various implements, Chen spent five years getting her venture up and running.
"I don't make that much money, but it is enough for me to make ends meet and lead the life I want," she said.
As Chen found she had more time on her hands by being her own boss, she became interested in blind boxes, an idea that originated in Japan during the 1980s. In recent years, blind boxes, which contain at least one surprise item, have attracted the younger generation in China and led to a range of designer toys being produced.
Like many of her peers, Chen became smitten with these toys, including those produced by art toy company Pop Mart.
"I am obsessed with getting all the figurines in a series," she said. This obsession led to her buying more blind boxes than she needs, leaving her with many figurines in the same style.
"I don't want to discard them, but keeping them is definitely not a desirable option," Chen said.
She came up with the idea of adding features to give these toys a new look. She tapped into her pastry skills and learned online how to remodel dolls. "The tools used in both fields are similar," she said.
The most difficult part for her is drawing patterns on the dolls, which are extremely small.
"At first, I couldn't stop my hands from shaking, and it took me about a month to steady them," Chen said. Through constant practice, it didn't take long before she had the entire procedure down to a fine art, from changing a doll's skin color and its positions, to fitting it out with various accessories.