How the BRI has impacted Sino-African cooperation
By Queen Modestus | chinadaily.com.cn | Updated: 2023-03-06 14:38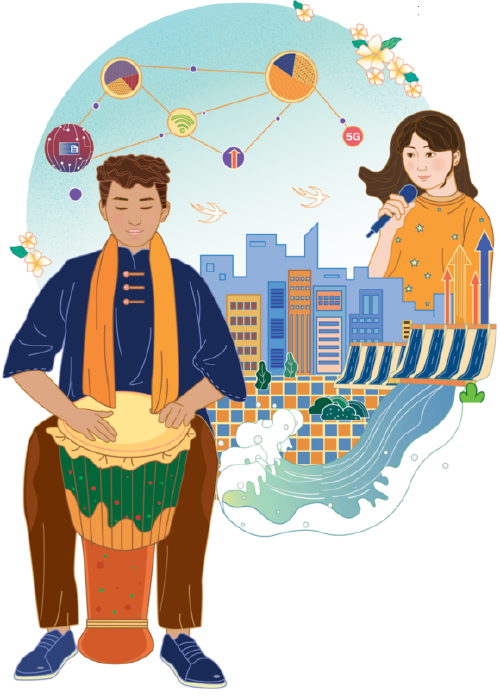 Africa's colonization by some European nations left Africa in a hard situation. These European nations deprived the continent of its natural resources, thereby leaving the African people unsure of their next step. Fortunately, some decades later, China made a significant contribution to the advancement and transformation of the continent. Through this practice, China presents itself in contrast to Western nations. As a result, the surge in China's engagement with African nations has arguably been the most momentous development for Africa since the end of the Cold War.
China-Africa engagement has continued to grow, and in recent years this has taken place under the the Belt and Road Initiative. As we mark the 10th anniversary of the BRI, we can observe the BRI has been translated from blueprint to reality. This reality has proven to be politically, economically, and culturally beneficial for China-Africa cooperation, generating enormous opportunities and dividends.
China's circle of friends has been growing. Fifty-two African nations out of 54, as well as the African Union Commission, have already signed agreements on cooperation under the initiative seeking to narrow the continent's infrastructure gaps, increase foreign investment, expand trade and ultimately reduce poverty.
The BRI has enabled China to become Africa's largest trading partner for 13 consecutive times since 2009. Rising commodity prices and China's promotion of imports from Africa pushed trade up 11 percent to $282 billion in 2022. At that time, China's exports to Africa were $164.49 billion. China is also, the main country of origin for African manufacturing imports, comprising 16 percent of Africa's total in 2018. Under the BRI, China has created 25 economic and trade cooperation zones in 16 African nations that attracted 623 businesses with total investment of $7.35 billion in 2020. These zones help bolster local industrialization in a range of sectors, such as natural resources, agriculture, manufacturing, trade and logistics.
These surges are driven by the BRI's focus on infrastructure development, which has enabled African nations to improve their transportation networks and access to new markets. In previous eras, Africa's economy experienced setbacks due to a poor road network resulting in high transportation costs. As such, the construction of railways has boosted trade relations among African countries. This is significantly different from Western infrastructural development in the past that was mainly concerned with building road networks that enabled them to extract resources out of the continent.
With the BRI, China's intentions in Africa are different. Its goal is mainly to connect the continent internally through infrastructure investment that can promote intra-Africa trade. China has invested over $4 billion a year in Africa, according to Investment Monitor data. This amount is set to increase even further as China starts up new businesses targeting African markets.
Culture is an important but often neglected part of international relations. This is due to the fact cross-cultural communication could lead to miscommunication and sometimes misunderstanding among nations. As such, in terms of cultural exchange, the BRI has enabled China and Africa to engage in a wide range of activities to promote cultural understanding. This has enabled the two sides to learn more about each other and build stronger ties. This can be seen in not only both sides appreciating the diversity and uniqueness of each other's culture but in also the desire to learn each other's language. As Nelson Mandela said: "When you speak a language I understand, you speak to my head, but when you speak my language, you speak to my heart."
Looking back on 10 years of the BRI, I feel it has made China-Africa relations the bedrock of China's foreign policy. As this relationship progresses under the BRI, China and Africa should uphold the bonds of solidarity that frame our common destiny. To enable China and African nations to see outstanding dividends in the next decade under the BRI, Chinese and African people need to see themselves not as a divided community but as a united one by focusing on what matters most: Cooperation.
Queen Modestus is a Ph.D candidate at the Department of Diplomatic Discourse and Foreign Language Translation, Zhengzhou University. The views don't necessarily reflect those of China Daily.
If you have a specific expertise, or would like to share your thought about our stories, then send us your writings at opinion@chinadaily.com.cn, and comment@chinadaily.com.cn.