China reporting reaches new low with warmongering cover stories
By John Queripel | chinadaily.com.cn | Updated: 2023-03-15 09:08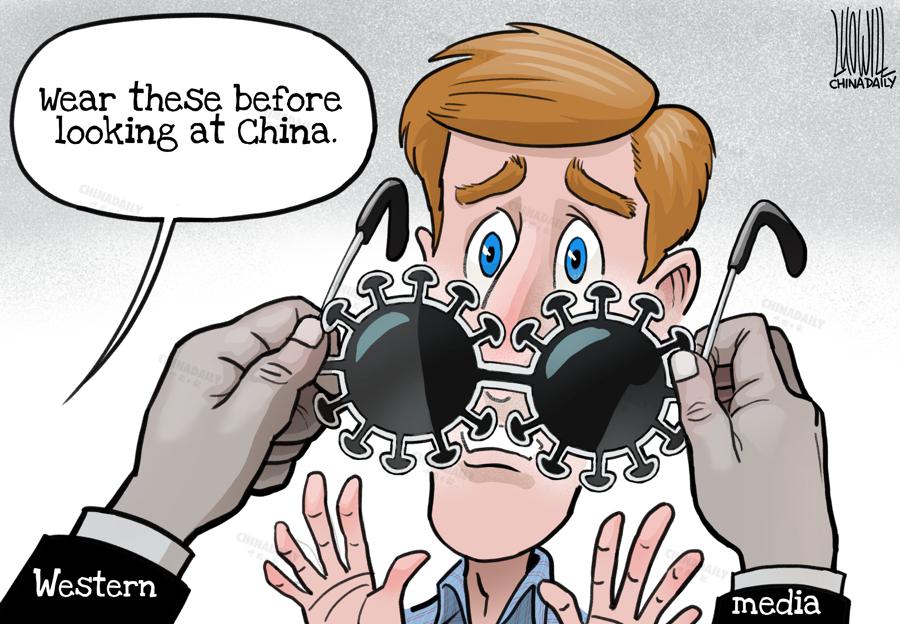 One has long ceased to expect intelligent, even-handed discussion of China in nearly all Western mainstream media. Even with previously august bodies as the BBC and its Australian equivalent, the ABC, that has become the case.
Reports on China are inevitably negative, but that bias has reached a new depth in the Australian media with a three-part series run in The Sydney Morning Herald and The Age (Melbourne).
The headlines on each, "Red alert, war risk exposed" and "Australia must prepare for China war," were accompanied by a graphic image of Chinese jets emerging from a red map of China, presumably on their way to unload their arsenal on Australia at the bottom of the illustration.
The series was based around the opinions of "five China experts," none of whom actually possess that expertise. They appear to have been picked more for their ideological bias than their competence.
The first was Peter Jennings, previously executive director of the notoriously Sinophobic Australian Strategic Policy Institute, funded by the US and Australian governments along with arms manufacturers. He was joined by Lavina Lee, a fellow of the same institute who is also connected with the Washington-based Center for Strategic and International Studies. Another "expert" in this group was retired General Mick Ryan, someone also connected to the CSIS and known for his fiercely pro-US and anti-China stance. The final two, former Australian Chief Scientist Alan Finkel and CSIS-linked Lesley Seebeck, do not share the rabid Sinophobia of the previous three yet nonetheless lent their names to this project.
Of course Australia has many experts on China, former diplomats to the PRC and academics, with many years of study and residence in China and corresponding fluency in Mandarin. None were approached. Perhaps their views would have meant the resultant report would have had to be more nuanced.
The "experts" assert it is likely Australia will be attacked militarily by China within the next three years and that Australia is militarily unprepared for this coming conflict, with a complacent population and politicians unwilling to face the threat. To counter this danger, they urge Australia to reintroduce national military service and allow the US to place long-range missiles on its shores.
Australia has perhaps the world's most concentrated media ownership, much of it in the hands of Rupert Murdoch. The Sydney Morning Herald and The Age previously represented the only reasonable alternative, but they have now joined in lockstep with Murdoch on China.
Much is made of China's growing military budget, but with no mention of the fact this spending remains around 1.7 percent of GDP and much of this growth being due to the rise in GDP itself. Australia is thus urged to double its military expenditure to 4 percent of GDP, outstripping even the US at 3.5 percent.
Of course nothing is said about China's being surrounded by US military bases, the provocative sailing of US (and Australian) warships just off the coast of China, nor numerous actions taken to encourage "Taiwan independence". Also left without mention is China having no history of military conquest of overseas territories, nor of the illogicality of China as the world's largest trading nation and Australia's largest trade partner upsetting the peace necessary for international commerce.
Former Australian Prime Minister Paul Keating slammed the articles. "Today's Sydney Morning Herald and Age front page stories on Australia's supposed war risk with China represents the most egregious and provocative news presentation of any newspaper I have witnessed in over 50 years of public life" he opined. "Apart from the outrageous illustrations of jet aircraft being shown leaving a profiled red coloured map of China, the extent of the bias and news abuse is, I believe unparalleled in modern Australian journalism. Urging your country into war is wicked, by any measure." He was joined in his criticism by Australia's first ambassador to the PRC, Stephen FitzGerald.
Neither paper would run with any of the former officials' criticism, responding instead to claim they were acting responsibly in outlining the danger China represents and of the need to prepare Australians for an inevitable conflict. After castigating both Keating and FitzGerald, the editorial concluded, "China is clearly the clear and present danger so let us call a spade and spade."
As Keating surmised, when you have two of the nation's leading newspapers not only countenancing but even urging war with China, "God help us."
John Queripel is a Newcastle, Australia-based author, historian and social commentator.
The opinions expressed here are those of the writer and do not necessarily represent the views of China Daily and China Daily website.
If you have a specific expertise, or would like to share your thought about our stories, then send us your writings at opinion@chinadaily.com.cn, and comment@chinadaily.com.cn.