Worries persist after US bank implosions
By HENG WEILI in New York | China Daily | Updated: 2023-03-15 09:55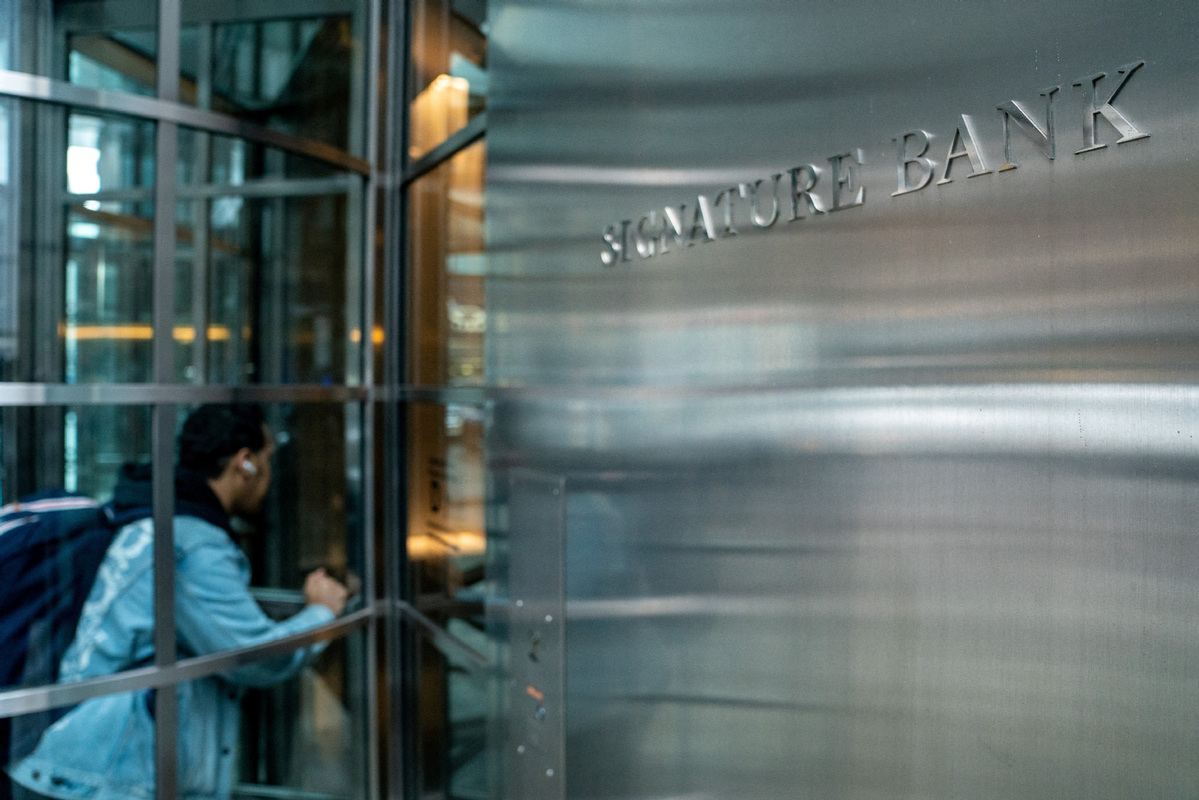 Biden promises 'whatever needed' for system as fear grips financial markets
The Federal Reserve's meeting next week will be closely watched in light of recent bank failures in the United States, as the central bank is still trying to get a handle on persistent inflation.
A day after a handful of US agencies announced that all depositors at two failed banks would be made whole, investors took it out on the stock prices of regional banks on Monday, led by sharp losses in First Republic Bank.
News of fresh financing on Sunday failed to assuage fears of possible bank contagion following the collapse of SVB Financial Group, the parent of Silicon Valley Bank, and Signature Bank in New York.
Asian shares declined on Tuesday, with heavy selling of bank shares in Tokyo and some other markets, as investors around the world watched to see what's next following the second- and third-largest bank failures in US history, The Associated Press commented.
"US financial stress could lead banks of all stripes to retrench lending to the real economy and tighten broader financial conditions, amplifying risk to the broader markets," Stephen Innes, managing partner at SPI Asset Management, said in a report.
While markets have started to price in a strong likelihood that the Fed will ease up on its interest rate increases to take pressure off the banking sector, evidence that inflation remains hot could once again lift uncertainty over the central bank's next move.
Investors are worried that a relentless rise in interest rates meant to get inflation under control is approaching a tipping point and may be cracking the banking system.
The Fed is "between a rock and a hard place", said Hans Olsen, chief investment officer at Fiduciary Trust, a wealth management company. "The rock is they have to deal with inflation, and the hard place is they have this banking panic, like a fever that is running through the markets right now."
Adding to the Fed's dilemma is the Consumer Price Index report for February, which was expected to be released on Tuesday. Expectations are that prices will be up 6 percent over February 2022.
"I honestly think that (Tuesday's CPI data) is more important than even the FOMC (Federal Open Market Committee) meeting," Mike Fratantoni, the Mortgage Bankers Association's chief economist, told Barron's magazine.
Liquidity crisis
But Professor Raymond Hill, senior lecturer of finance at the Goizueta Business School of Emory University in Atlanta, told China Daily: "This seems to be a liquidity crisis for the banks involved, not a crisis of solvency (as in 2008), so I don't believe there will be a banking crisis to deter the Fed from focusing on inflation at its next meeting (March 21-22).
"SVB's financial situation deteriorated because they had to pay higher interest rates on deposits but were locked into low rates on longer-term investments," he said.
"Signature Bank and SVB apparently had a large proportion of their deposits in excess of $250,000, so those large depositors headed for the exits at the first hint of trouble. This precipitated a liquidity crisis."
US President Joe Biden vowed on Monday to do whatever was needed to address a potential banking crisis.
But news of the banking industry's woes prompted some sharp commentary on social media.
Entrepreneur Patrick Bet-David told his 410,000 followers on Twitter: "FDIC (Federal Deposit Insurance Corporation) only has $125 billion securing $9.9 trillion. That's only 1.26%! FDIC may be able to protect the depositors at SVB, but it won't be able to do if it happens to a few other banks."
Financial analyst Genevieve Roch-Decter told her 355,000 followers on Twitter: "The Fed and the FDIC have signaled that they'll backstop basically every bank's deposits. Does this incentivize banks to take even greater risks with our deposits?"
The heaviest pressure is on the regional banks a couple of steps below in size of the massive, "too-big-to-fail" banks that foundered in 2007 and 2008, The Associated Press reported.
Shares of First Republic Bank fell 61.8 percent, even after the bank said on Sunday it had strengthened its finances with cash from the Federal Reserve and JPMorgan Chase.
Brian Levitt, global market strategist at Invesco, said the market is focusing on smaller banks with specialty lending businesses. After Silicon Valley Bank, investors have turned their attention to the next bank exposed to interest rates and specific credit risks.
"First Republic Bank, which has significant exposure to the coastal real estate markets, appears to be next on the list," he said.
Agencies contributed to this story.