Nation sheds more light on its rich past
Share - WeChat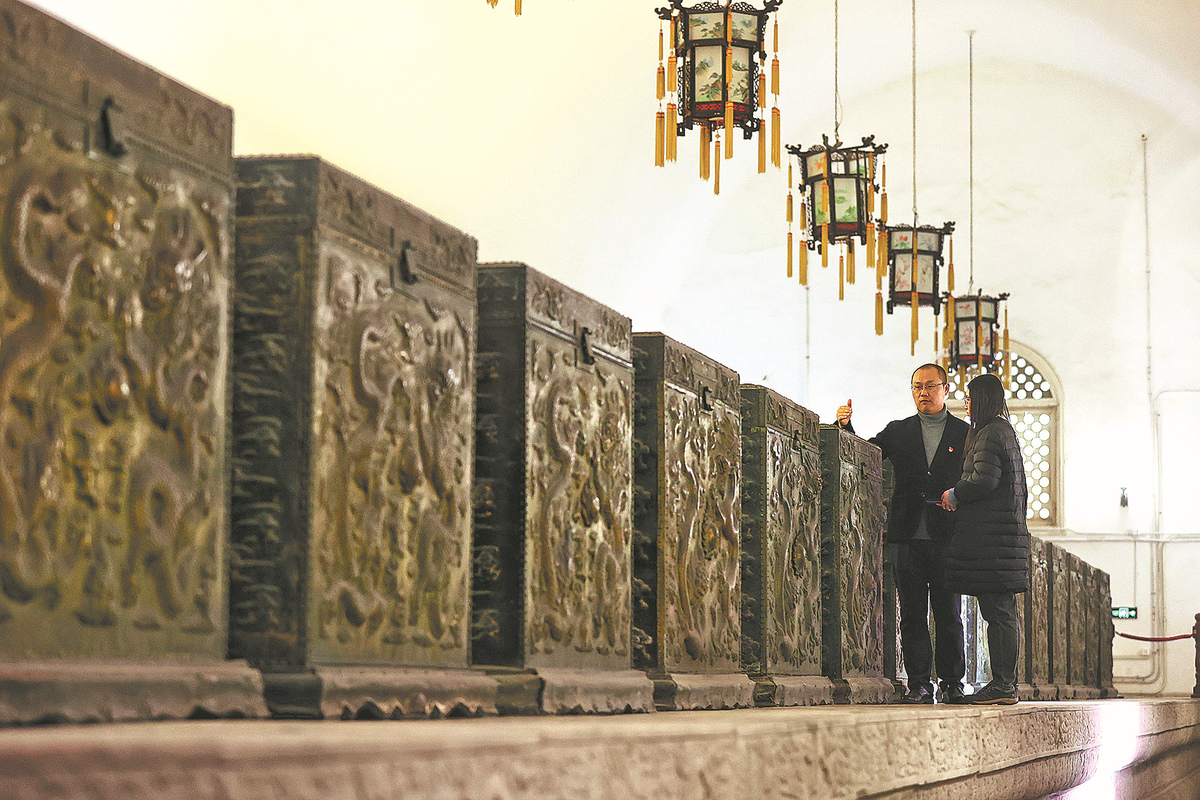 Restoration work
Despite the apparently solid structure of Huangshicheng, time has taken its toll on the buildings.
In its long history, the courtyard has been renovated many times. Such work has been carried out five times since 1949, with the most recent renovation starting in 2020.
Ma Xiangyu, who was engaged for the fifth renovation of Huangshicheng, which focused mainly on the west side hall and the base and walls of the north courtyard, said, "We were required not to change the original face of this cultural heritage, and to minimize interference with the buildings."
In 2019, the first time he visited the complex, Ma saw that each building needed repairs.
"The original base was paved with large bricks, but some of them had become fragmented, as had the glazed tiles. Some bricks in the walls had weathered away, and the tops of the walls were overgrown with weeds," he said.
Drainage posed the biggest problem. With Huangshicheng situated about 50 centimeters below the street running beside it, water often flowed into the complex on rainy days.
Ma said that without an advanced drainage system, the accumulated water sometimes reached up to his shin.
The renovation work, which took place in a central area home to numerous institutions and residents, required much negotiation, and the overall plan was revised three times after problems were found during this process.
The task was not easy for Ma, who was working on reconstructing ancient buildings for the first time.
"Our aim was to repair the old sections and prevent them becoming increasingly eroded. We learned how to do this from ancient construction methods documented in books, or passed down by word of mouth," he said.
Ma was impressed by the sophisticated ancient construction techniques. He said the foundations of the Huangshicheng gate are extremely solid, as elaborate efforts were made to lay them several hundred years ago.
"Although people in ancient times didn't have the technology that we have, they made achievements comparable with those of today. This shows the wisdom of the Chinese in such times," Ma said.
The drainage problem was solved by improving the system. "Since the renovation work was completed, Huangshicheng is no longer flooded on rainy days," he added.
Security and fire protection facilities at the site have also been upgraded.
"We built a security protection and control system by using new technology that meets present-day requirements and plays an important role in safeguarding such an ancient complex," Ma said.
During the renovation work, a door was discovered in the south courtyard at Huangshicheng.
During the reign of Emperor Qianlong, a drawing of Huangshicheng showed a door in the south wall, but buildings had subsequently hidden the door. The newly discovered door, which has also been renovated, matches that depicted in the drawing.