Call of a craft
By Yang Feiyue | China Daily Global | Updated: 2023-03-22 08:31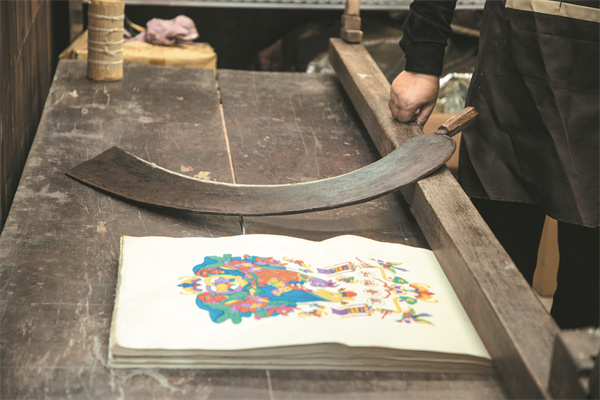 A fresh scent of soil wafts in the air around the Gaolamei workshop in early March. Rows of wet paper made from bamboo hang on a thread and glitter with a tint of yellow under the light at the facility located in Tantou town, Longhui county, Central China's Hunan province.
At a long table there, a young woman is busy with Tantou-style New Year pictures, a folk craft that has been carried forward by Zhong Xinglin's family for four generations.
She has been working on a series of rabbit figures following the style that can be traced to the late Ming Dynasty (1368-1644). As part of traditional Chinese culture, Tantou-style New Year pictures feature auspicious figures and elements from folklore that carry people's prayers for good fortune, guardianship and prosperity in a new year.
In the early 1900s, this form of woodblock-printed New Year pictures entered a golden age, not only making its way across the country but also being exported to more than 10 countries and regions in Southeast Asia.
As China continues to step up efforts to preserve intangible cultural heritage, more people from the younger generations are turning their attention to traditional art and crafts.
Zhong is one of them.
"We received many requests for rabbit-themed paintings in this Year of the Rabbit," says the woman in her early 30s, adding that she was swamped with orders for such pictures before Spring Festival in January.
"People hotly sought the paintings as holiday gifts for their families and friends," Zhong says.
Since the holiday passed, Zhong has been able to get breathing space, but she remains busy participating in various cultural exhibitions and preparing for an increasing number of visitors coming her way to appreciate the folk craft, which was named a national intangible cultural heritage in 2006.