Superhero back in action
By Xu Fan | China Daily | Updated: 2023-03-25 08:15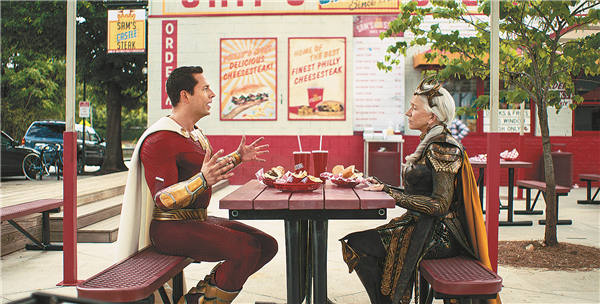 Despite having supernatural powers that allow them to perform incredible feats, such as rescuing people from a collapsing bridge, the heroes, with youngsters' hearts under their adult looks, are still childish in some ways.
For instance, the protagonist arranges a crucial meeting with the oldest goddess, which may decide the fate of humankind, but he chooses to hold it at a fast-food restaurant that serves burgers and fries, which he apparently believes is the best way to impress his supernatural foe.
One of the top draws of the movie is the thrilling fight the protagonist has with Liu's character, the most ruthless of the three sisters, in a scene that features the female villain riding a giant dragon and shooting blue bolts of magic.
"It's really cool. That's kind of a bucket list thing that has become a reality," says Levi of the scene.
For Liu, a renowned actress with a career spanning more than three decades, it has been a special experience to join the franchise, adapted from one of DC Comics' earliest superheroes.
"When I was younger, we didn't have all these incredible superhero movies. We just had the comic books," she says. "To feel like I was part of something that I grew up with was not just nostalgic, but very exciting and really a dream come true."