From Russia, with love
By Chen Nan | China Daily | Updated: 2023-03-29 06:00
Like The Proposal, Chekhov's other two comedies: The Wedding and The Bear, also intrigued the director with their witty, realistic dialogues and keen insights into human relationships.
The Wedding depicts the wedding reception of a middle class family in Russia, in which the mother of the bride, assuming airs and graces, deals with quarrelsome guests and a chain reaction of absurd events that occur as the result of a guest's mistaken identity, satirizing the lucrative nature of marriage.
In The Bear, a virtuous, spirited widow, Elena Ivanovna Popova, is pressed to repay a debt and ends up receiving an offer of marriage.
"The three short stories made me laugh and think. We create a new story based on all three of those stories, hoping to inspire audiences to think about their own romantic relationships," says Zha, adding that in Love, Chekhov, he also incorporates famous characters and stories from the great writer's classic novels, such as The Man in a Case, A Joke, The Bride and About Love.
"They communicate with the characters in Love, Chekhov, forming an extended universe encompassing Chekhov's literary world, reframing the classic stories with a contemporary perspective and a new narrative to explore love," the director says.
Zha also spent a long time reading the biography of Chekhov, as well as the writer's letters to his family and friends, in a bid to try to understand Chekhov's life and his path as a writer.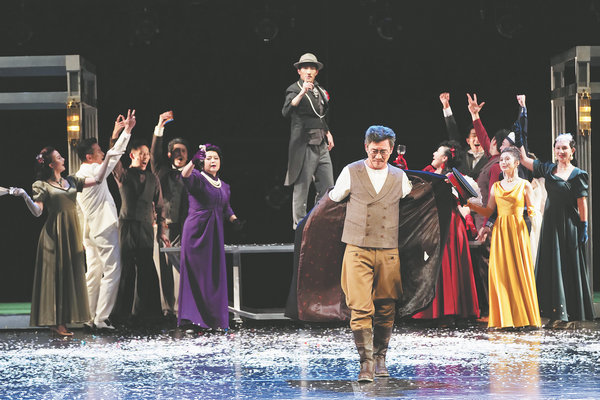 Born in 1860, Chekhov grew up in the Russian town of Taganrog. He spent much of his childhood quietly sitting in his father's grocery store. He observed the customers and listened to them talking, gossiping and complaining. His ability to listen would become one of his most valuable skills as a storyteller. He began writing humorous stories for local newspapers and journals because he felt the pressure of being the head of the household following the collapse of his father's business.
Zha also studied Chekhov's love life. The writer's fear and doubts about marriage led to him not taking love seriously, resulting in a string of occasional affairs. Chekhov did not fall in love until he met Olga Knipper, a Russian actress. They were very discreetly married in 1901.
"Love is an eternal mystery for the writer and, of course, for all of us," Zha says.
Zha also invited Gu Chunfang, a professor of the School of Arts, Peking University, to give a lecture about Chekhov and his life stories, hoping to help the cast members better understand the great writer.
"Love, Chekhov is very interesting. For the audience, it gives a fresh perspective of Chekhov. Audiences naturally feel connected to him by watching the play," says Gu.
In April 2021, Love, Chekhov premiered in Beijing as that year's first new production of the National Theatre of China, receiving warm feedback from audiences.
The second round of performances in 2022 was canceled due to the COVID-19 pandemic.
Tian Qinxin, president of the National Theatre of China, notes that Love, Chekhov was originally launched in 2020 to mark the 160th anniversary of the writer's birth.
"His (Chekhov's) literary work has been embraced throughout the world. He is one of the most popular Russian writers among Chinese readers, since many of his works have been adapted into Chinese theatrical productions," said Tian during the premiere of Love, Chekhov. "Love, Chekhov is our latest attempt to interpret the great writer, as well as to show our respect to him."