France ready for new riots police claim
By JULIAN SHEA in London | China Daily Global | Updated: 2023-03-29 09:17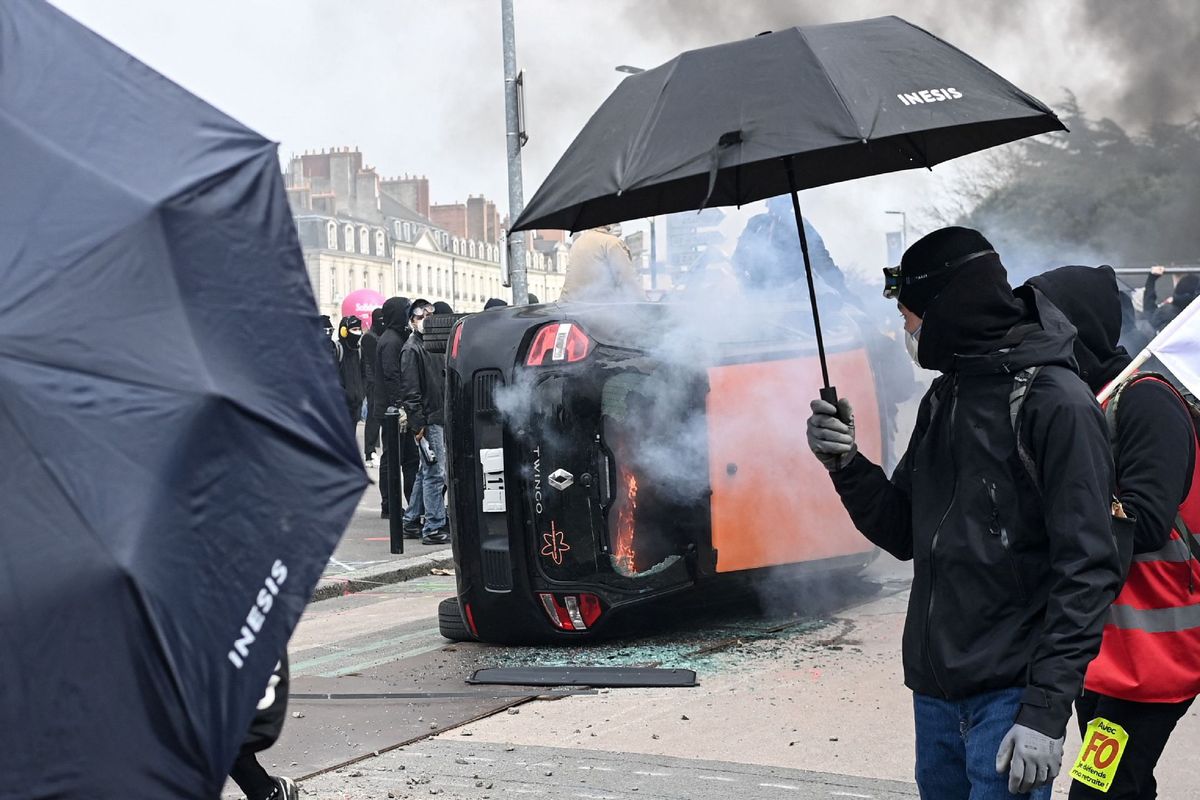 As many as 13,000 police were deployed across France on Tuesday for the 10th day of nationwide protests and demonstrations in the increasingly bitter and bad tempered dispute over President Emmanuel Macron's highly divisive attempts to reform the country's pension system.
The larger than usual police presence comes after the most recent day of action, last week, saw confrontations that ended with 441 members of the security forces being injured and 457 arrests, and the town hall being set on fire in the city of Bordeaux.
In the aftermath of the violent protests, a planned visit by Britain's King Charles III was postponed, and Interior Minister Gerald Darmanin said the increasingly angry tone of the protests meant that there was a "very serious risk to public order" at the latest ones, hence the high-profile police presence.
He said it was feared that more than 1,000 of what he called "radical "troublemakers, some from overseas, could join the protests, and hijack them for their own purposes that were not related to the original cause of the dispute.
"They come to destroy, to injure and to kill police officers and gendarmes," he continued. "Their goals have nothing to do with the pension reform. Their goals are to destabilize our republican institutions and bring blood and fire down on France."
Paris police chief Laurent Nunez told radio station France Inter that his forces were being "very vigilant "ahead of the protests.
"We are talking about individuals who are often monitored by intelligence services ... and we are very vigilant about their presence," he said.
Laurent Berger, the head of France's largest union, the French Democratic Confederation of Labor, or CFDT, said the focus on the threat of violence was a distraction from the real issues that were motivating so many people to take action.
"What angers me is that this violence, which I condemn ... overshadows the formidable mobilization which has been overwhelmingly peaceful," he said.
After the violence at the most recent protests, Prime Minister Elisabeth Borne tweeted: "To demonstrate and make one's grievances heard is a right. The violence and destruction that we have seen today are unacceptable."
The reforms will see the retirement age raised from 62 to 64, and were pushed through Parliament after Macron had looked on course to lose a vote on the issue, a move which prompted heavy criticism.
"We must redouble our protests and blockades," said left-wing politician and former presidential candidate Jean-Luc Melenchon. "In France, there is a sense of a drift toward authoritarianism; many people are beginning to say it is going too far now."
While the focus of attention has been on major cities, the France 24 news website reported that strikes and protests were also attracting significant support in smaller regional towns, showing the extent of the opposition to the reforms, which Macron insists are necessary to prevent a future funding crisis.