Huangshan tourism aims to diversify revenue
By CHENG YU in Huangshan, Anhui province and ZHU LIXIN in Hefei | China Daily | Updated: 2023-03-29 09:33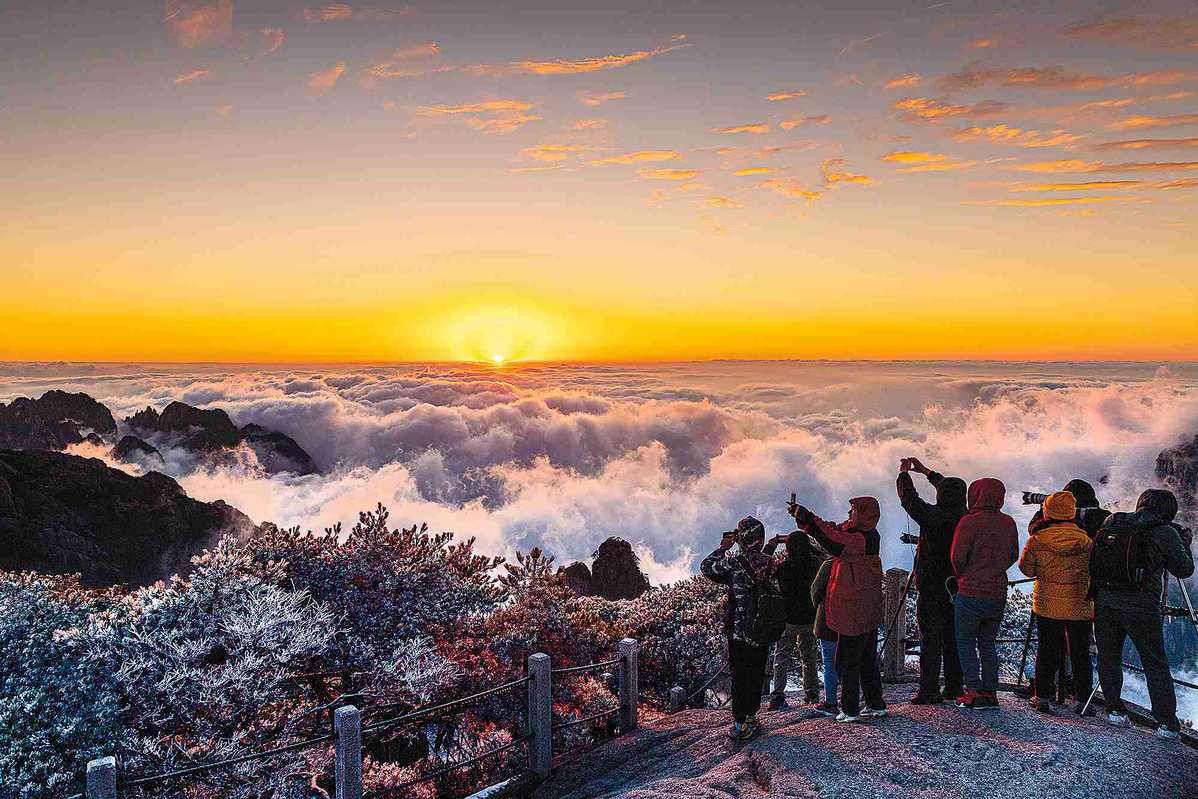 On back of policies, subsidies, local governments broaden ways to woo visitors
For Huizhou Ancient Town, one of China's four best-preserved ancient towns and a tourist spot of Shexian county, Huangshan, East China's Anhui province, ticket revenue had been the main source of income for decades.
Tourists used to pay to enjoy the charms of the ancient Huizhou-style architecture dating back to the Ming (1368-1644) and Qing (1644-1911) dynasties, such as theatrical stages, stone archways or teahouses, as well as white walls and black tiles with exquisite carvings.
Faced with challenges due to the COVID-19 pandemic, the ancient town saw a significant drop in revenue. A total of 300,000 tourists flew to visit the town and revenue hit 21 million yuan ($3 million) in 2019 but soon dropped to 160,000 tourists with revenue of 11.2 million yuan at the end of 2021.
The sudden pandemic made the local government realize that developing tourism could not simply rely on ticket revenue. After long discussions, the local county government canceled ticket fees at the beginning of last year and opened doors to allow tourists to enter the town freely.
"It was not easy to make this decision," said a government official, recalling the decision process.
Behind the bold attempt is part of broader efforts by the Huangshan government to reduce dependency on ticket income and diversify tourism attractions and businesses, so as to transform the local tourism industry and promote high-quality economic development.
Huizhou Ancient Town, for instance, has introduced a series of cultural and creative shops like paper-cutting halls, ancient skills activities like sculling boats, as well as modern coffee stands and shops, to the town to attract tourists and diversify businesses.
Huangshan government has also launched a series of policies to encourage local-style homestays and invited tourists to spend their holidays in a different way, to drive consumption.
When Feng Jiapeng, a 36-year-old robotics engineer from Foshan, Guangdong province, stepped into a bed-and-breakfast called Alina's Garden in Tachuan village, Yixian county, he felt secluded from the outside world and everything slowed down.
The homestay was renovated from a Huizhou-style building from the Qing Dynasty and was named after the owner's daughter Alina.
Inside the bed-and-breakfast, Armin Schober, the Austrian owner of the house who used to run a logistics company in the United Kingdom, was busy baking pizza while his wife Huang Qiong fried stewed pork with brown sauce, a traditional Chinese dish. Their four-year-old daughter Alina quickly ran to Feng and greeted him.