Survey: Americans now less patriotic, tolerant of others
By AI HEPING in New York | China Daily Global | Updated: 2023-03-29 10:23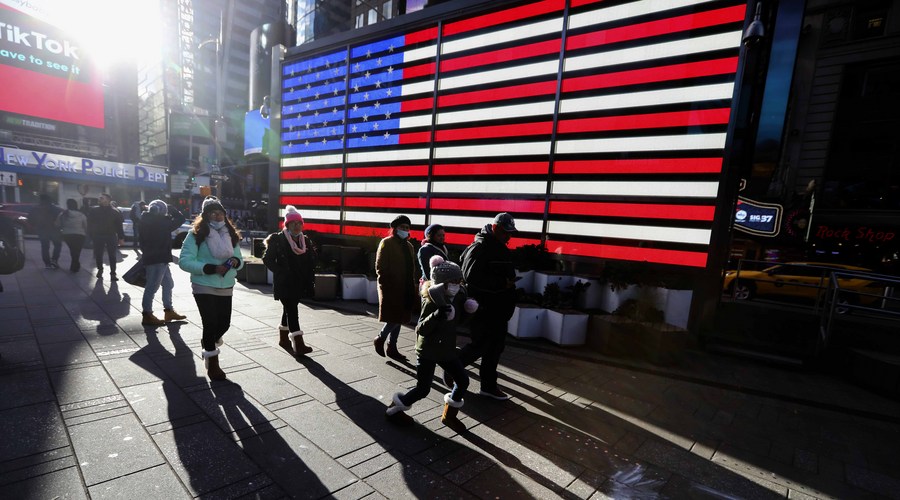 Americans are placing far less importance on patriotism, tolerance for others, religion and other values that have long defined the country's national character, according to a new survey.
The Wall Street Journal, with NORC at the University of Chicago, a nonpartisan research organization, released the survey Monday that found money was the only priority that has grown in importance since the Journal did a similar survey in 1998.
Money was cited as very important by 43 percent in the new survey, up from 31 percent in 1998.
The survey of 1,019 adults conducted March 1-13, found 38 percent of respondents said patriotism was very important to them, and 39 percent said religion was very important. That was down from the 1998 survey when 70 percent felt patriotism to be very important, and 62 percent said religion was.
Aside from money, all age groups, including seniors, attached far less importance to the priorities and values than when pollsters asked about them in 1998 and 2019. But younger Americans in particular placed low importance on those values.
Some 23 percent of adults under age 30 said in the survey that patriotism was very important to them personally, compared with 59 percent of seniors age 65 or older. Some 31 percent of younger respondents said that religion was very important to them, compared with 55 percent among seniors.
Only 23 percent of adults under age 30 said that having children was very important.
Bill McInturff, a pollster who worked on a previous Journal survey that measured attitudes, along with NBC News, said that "these differences are so dramatic, it paints a new and surprising portrait of a changing America".
He said that "perhaps the toll of our political division, COVID and the lowest economic confidence in decades is having a startling effect on our core values''.
Jennifer Benz, vice-president of public affairs and media research at NORC, said that views in the survey might have been colored by the downbeat economic outlook that the poll also found.
"People are just sort of down on everything about the country," she said.
Since the Journal first asked about unifying values, it said major events in the US have "shaken and, in some ways, fractured the nation'', among them the terrorist attacks on Sept 11, 2001, the financial crisis of 2008 and subsequent economic downturn, and the rise of former president Donald Trump.
The survey found the country sharply divided by political party over social trends such as the push for racial diversity in businesses and the use of gender-neutral pronouns.
The share of Americans who say that having children, involvement in their community and hard work are very important values also has fallen.
Some 21 percent in the survey said that America stands above all other countries in the world. Half said that America is one of the greatest countries, along with some others. The share who said other countries are better than the US rose to 27 percent, up from 19 percent when the same question was asked in 2016.
The survey found sharp differences by political party on social issues that have gained prominence.
It asked whether society had gone far enough — or had gone too far — when it comes to businesses taking steps to promote racial and ethnic diversity. Just over half of Republicans said society had gone too far, compared with 7 percent of Democrats. Some 61 percent of Democrats said diversity efforts hadn't gone far enough, compared with 14 percent of Republicans.