Nashville shooter was being treated for 'emotional disorder'
By MINLU ZHANG in New York | China Daily Global | Updated: 2023-03-29 10:28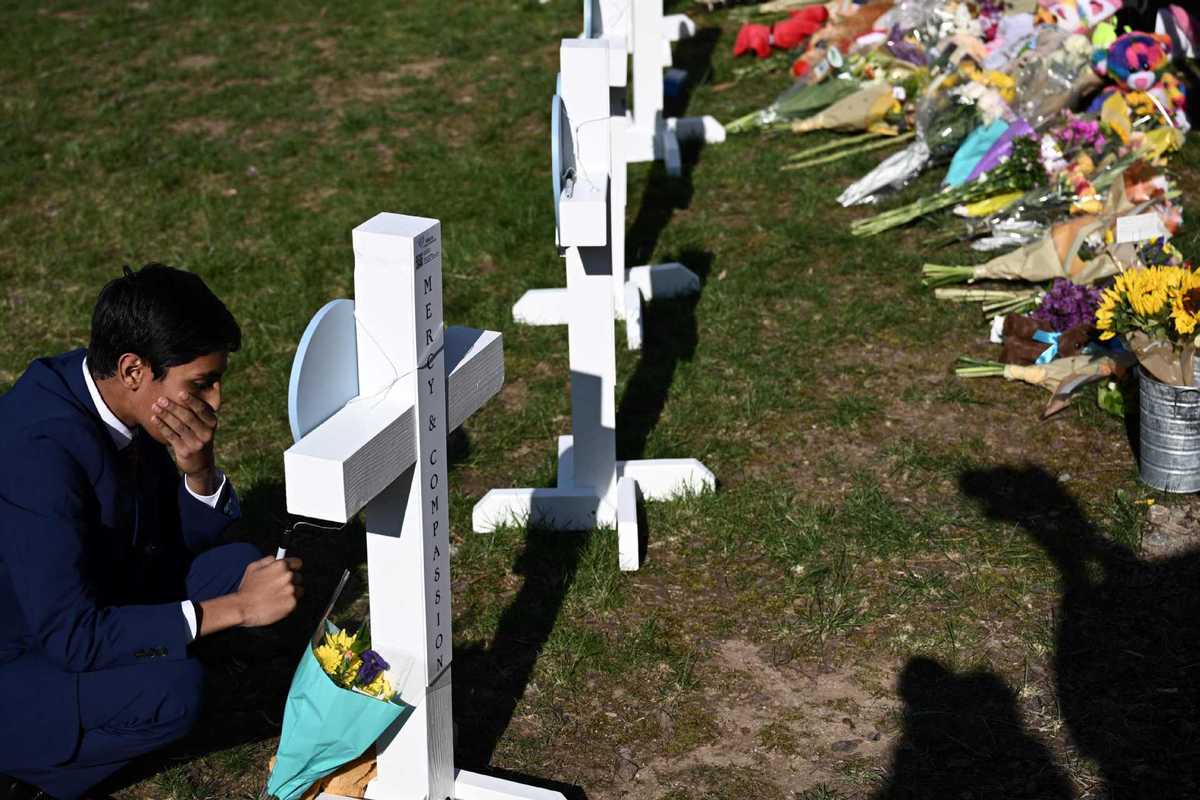 The 28-year-old shooter who killed three children and three adults at a private Christian school in Nashville, Tennessee, was being treated for an emotional disorder and had legally bought seven firearms that were hidden at home, police said Tuesday.
Audrey Elizabeth Hale "was under care — doctor's care — for an emotional disorder," said Chief John Drake of the Nashville Metro Police Department at a news briefing.
"The parents felt (Hale) should not own weapons," Drake said.
Police said Hale's parents knew that Hale had bought and sold one weapon but were unaware that Hale had been hiding additional weapons at home. Drake said Hale had purchased seven firearms at five different local gun stores all legally.
Three of the weapons were used by Hale, a former student at The Covenant School, in Monday's school shooting. The motive is still unclear, said police.
Averianna Patton told NewsChannel 5 in Nashville that she was talking on the phone Monday morning when she saw an unusual message from Hale, her middle school basketball teammate. It was 9:57 a.m.
"I'm planning to die today ... You'll probably hear about me on the news," Hale wrote.
Patton said she tried to comfort Hale while sending screenshots of the Instagram messages to Hale's father. Patton said she called the Suicide Prevention Helpline as Hale's father suggested at 10:08 am.
Three minutes later, Hale shattered the glass doors of the Covenant School and walked down the hall armed with two AR-style rifles and a handgun.
It is the deadliest school shooting since the attack in Uvalde, Texas, last May, and marked the 13th school shooting this year in the US, according to Education Week.
The organization has recorded 157 school shootings since 2018. There were 51 shootings with injuries or deaths in 2022, the highest than in any year since 2018. There were 35 in 2021, 10 in 2020, and 24 each in 2019 and 2018.
Education Week said the shooting in Nashville had the highest number of victims of any school shooting this year.
Some studies have maintained that focusing on mental illness as the cause of mass shootings can detract from the larger issue of gun violence in the US.
A 2014 study published on Annals of Epidemiology shows that if serious mental illnesses suddenly disappeared, violence would decrease by only about 4 percent. More than 90 percent of violent incidents, including homicides, will still occur.
A 2018 study by the FBI found that about 25 percent of active shooters had a diagnosed mental illness, while about 20 percent of US adults live with a mental illness in 2021, according to the US National Institutes of Health.
The Nashville incident occurred less than a week after a school shooting in Denver and is the sixth school shooting in March alone.
A Washington Post analysis found that across the country, more than 348,000 students have experienced gun violence at school since the 1999 Columbine High School massacre in Colorado in which 12 students and one teacher were killed. At least 199 children, educators and other people have been killed in school shootings, and another 424 have been injured.
The Gun Violence Archive, which defines mass shooting as incidents that have four or more people killed or injured, excluding the gunman, has recorded 130 mass shooting incidents in the US this year alone.
This number is higher than in previous years. The Gun Violence Archive publicly tracks gun-related deaths and injuries in the US and has reported that the years 2020, 2021, and 2022 were all more deadly than the years before.
Agencies contributed to this story.