Shining a spotlight on the screenwriters
By Xu Fan | chinadaily.com.cn | Updated: 2023-03-30 15:01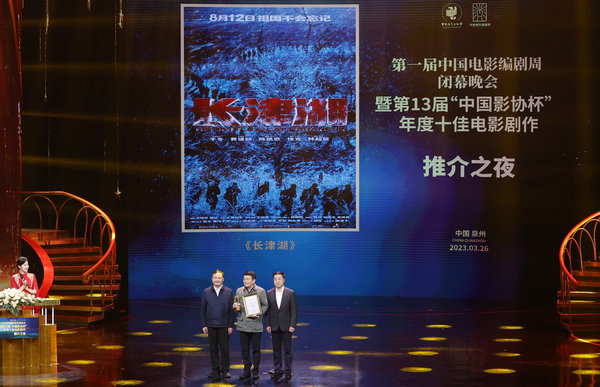 For a successful film, the script is the most important fondation, but also the most "invisible" factor. Recently, the first China Film Screenwriting Week concluded in Quanzhou, Fujian province, shining a spotlight on the screenwriters who usually work behind the scenes.
The event, which was held together with the 13th China Film Association's Ten Best Screenplays of the Year Award, took place between March 22 and 26. The 10 best screenplays include A Man of the People, about late Chinese leader Deng Xiaoping; the espionage thriller Cliff Walkers; the war epic The Battle at Lake Changjin; and the dark-horse romance B for Busy.
Wang Xingdong, the screenwriter of A Man of the People, said he has been screenwriting for 48 years and has written 34 film scripts, upholding that "life is the only source of artistic creation."
Director-scriptwriter Peng Fei, who is one of the ten winners for his Japan-set Tracing Her Shadow, stated that a total of 80 percent of the movie's plotline is based on real-life stories, highlighting the significance of drawing inspiration from real-life experiences.
Huang Jianxin, chief executive producer and director of The Battle at Lake Changjin, said he has switched between the roles of director, scriptwriter and producer over his recent several decades of work, but he has always thought that scriptwriting is of paramount importance.