Takeda Pharma bullish on China biz
By ZHENG YIRAN | China Daily | Updated: 2023-03-31 09:15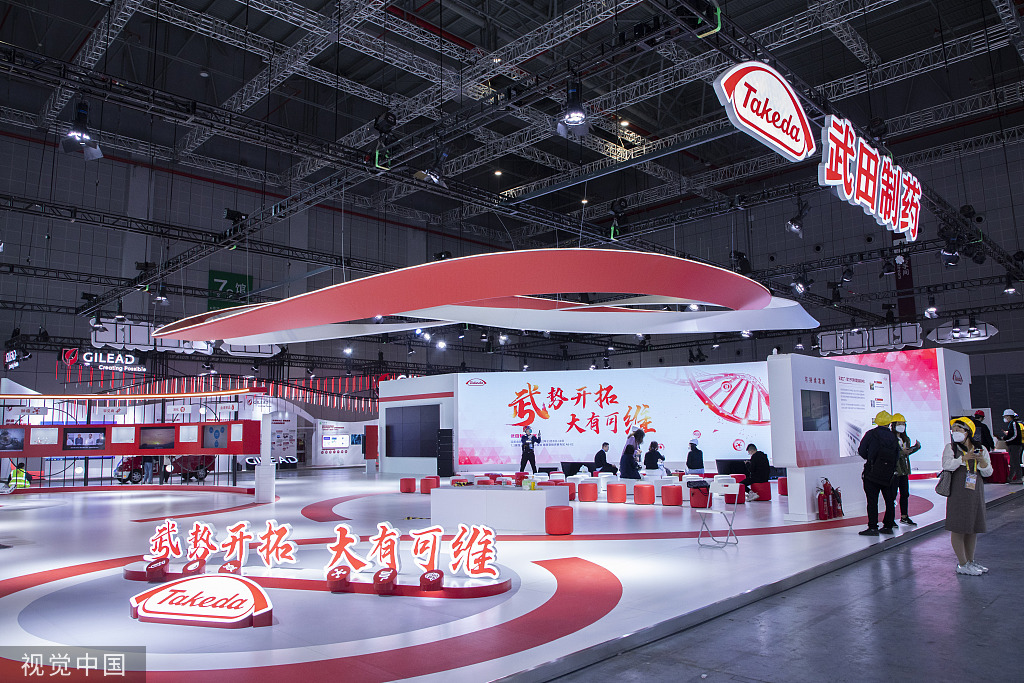 China's transformation in its business and innovation environment has proved remarkable, offering great growth potential for multinational corporations in the country, said a Takeda Pharmaceutical Co Ltd top executive.
"China's healthcare reform and development over the past few years have been profound. The country now represents a significant growth driver for Takeda. It is becoming a more important part of our global business and strategy, not only in commercial but in clinical research and development," said Christophe Weber, president and CEO of Takeda, during the China Development Forum in Beijing.
The pharmaceutical company charted a plan in 2020 to put forward more than 15 innovative products by 2025, which will benefit more than 10 million patients in China. Currently, 10 new medicines have already been approved, making Takeda a leader among MNCs in terms of winning approvals in the country over the past three years. Among the 10 products, seven are included in the National Reimbursement Drug List.
Despite COVID impacts and industrial uncertainties, Takeda delivered robust results. The company said it has been elevating its strategy with a focus on China and is considering making the market its second-largest globally by 2030.
"We are now among the top 10 multinational biopharma companies in China. Our business has been growing in the past five years because we are committed to bringing our most innovative products into China and will continue to do that. I think it will position us very well in this country, which is investing in innovation and making sure that new products gain access to more patients," the CEO said.
"I'm very optimistic about Takeda's future overall and in China because the market will contribute more and more to our global business and growth in the years to come," he added.
Takeda is also investing based on market research to help further unleash the potential in the world's second-largest pharmaceutical market.
China has been stepping up efforts in pharmaceutical R&D. According to the National Medical Products Administration, in the past decade, innovative drugs approved in China took up 15 percent of the world's total. New drugs under development by Chinese enterprises accounted for 33 percent of the global total, ranking second in the world.
China has established funds to this end since 2008. Between 2008 and 2020, funds raised related to drug innovation exceeded 20 billion yuan ($2.9 billion). In 2015, the completion of the reform for the drug and medical device approval system attracted huge capital inflow into biopharmaceutical R&D. By 2022, funds raised by players in the sector surpassed 1.7 trillion yuan, among which 2021 alone took up over 300 billion yuan, the NMPA said.
"China's biopharmaceutical industry is on a track of high-quality development," said Bi Jingquan, executive vice-chairman of the China Center for International Economic Exchanges, and also former head of the NMPA.
To make China a better center for biopharmaceutical innovation, Bi said that the government should stabilize market expectations and enhance investor confidence. In addition, efforts should be made to improve the transparency of drug review and approval, as well as strengthen intellectual property rights protection.
Weber said healthcare systems must be more sustainable and resilient. He said: "Healthcare cost and investment will grow faster than the economy. To manage the transition, China has to focus on building a cost-effective healthcare system while ensuring adequate financing tools to secure the system's sustainability.
"Currently, the majority of healthcare systems are traditional fee-for-service models. It could be more efficient and cost-effective if the model can be shifted to outcome-based or value-based under which patients pay for healthcare outcomes."