Stopover trip a suicidal dream for Tsai
By Martin Sieff | chinadaily.com.cn | Updated: 2023-04-01 07:45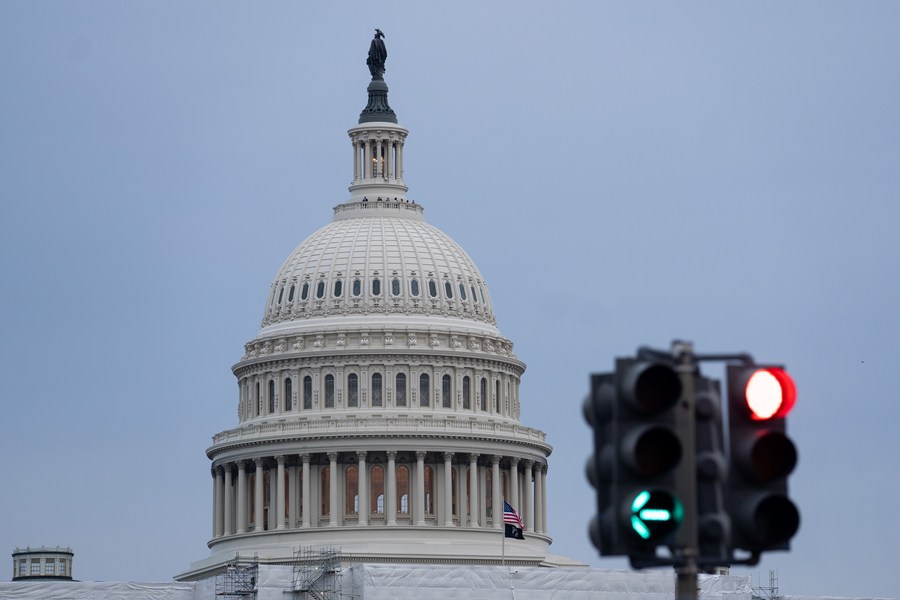 Not content enough with manipulating and pushing Ukraine into a conflict with Russia, the Joe Biden administration is now encouraging Taiwan leader Tsai Ing-wen to provoke the Chinese mainland, which could lead to ruinous and incalculable consequences for the island despite the Taiwan question is totally different from the Ukraine crisis.
Tsai has seen her popularity shrink significantly of late, and like so many other desperate and irresponsible politicians before her, she is now currying favor with the United States in an effort to regain her popularity and credibility at home.
Tsai's decision to transit through the US during her visit to Guatemala and Belize in Central America was obviously made with the encouragement of the Biden administration and the bipartisan crowd of armchair warrior heroes among the China hawks in the Congress. Pestered by all those irresponsible politicians to act "fake-tough" against China, the Biden administration has tried to play down China's grave concerns over the violation of the one-China principle by the US.
It is therefore time to reiterate that the US bipartisan policy for about half a century has been to recognize China's sovereignty over Taiwan. Any moves that encourage adventurous, demagogic politicians in Taiwan to attempt to violate the 1992 Consensus and proclaim "Taiwan independence" will never be accepted by Beijing.
Japan seized the island of Taiwan in 1895 and used it for the next half a century to plot and subvert political stability and peace on the mainland, including the genocidal military invasion and claimed more than 35 million casualties. For a few decades after the end of World War II, successive US administrations cynically used Taiwan as "Airstrip One of the East" and a massive naval strategic base with which to threaten the mainland.
Tsai ought to know better than to take such grave gamblers' risks. After all, she has led the ruling Democratic Progressive Party for years and has been the island's leader since 2016. However, Tsai's formative years and professional and intellectual influences reveal her to be a head-in-the-clouds legal theorist and Western moralizer who would greatly benefit from a crash course in Confucian ethics and political realism.
Tsai holds a master's degree and doctorate in Western law, a discipline which is remarkably effective in protecting its most passionate devotees from having to face the pressures of political and economic reality, not to mention security requirements in the practical and real world. She earned her master's degree from Cornell University Law School in the US and her PhD from the London School of Economics — ironically, my alma mater too — in the United Kingdom. But she never studied security policies, strategy, modern history and least of all diplomacy.
Any child should be able to see that China's national strength and global influence have been increasing, while the US has irresponsibly over-extended its global commitments to include interfering in other countries' internal affairs and is heavily burdened with serious social and economic problems at home. What the US needs, therefore, is to stop, at least for a decade, trying to moralize and impose its own fantasies and so-called solutions on the rest of the world and instead attend to its own domestic issues without blaming other countries for them.
For Tsai to persuade a militarily over-extended, cash-strapped and domestically-divided US to make the unprecedented commitment to support a Taiwan she is trying to propel toward "independence" is not only dangerous but also irresponsible, for it could harm people both in the US and on the island. It's another matter that a rising, confident and powerful mainland will never tolerate such a coup de main.
The American people rightly see no reason to fight a perilous, expensive war against a thermonuclear power halfway around the world over an issue in which no primary US national interest is even remotely at stake.
Washington should stop playing with fire by interfering in China's domestic affair, which is exactly what the Taiwan question is, in order to divert the American public's attention from the real problems faced by the US. Washington's encouragement to worsen the Ukraine crisis has proven to be catastrophic for the Ukrainian people and has put the US at direct loggerheads with Russia. The last thing any responsible US leader ought to risk is encouraging Tsai to go charging down the same appalling road to self-destruction.
The author is a senior fellow at the American University in Moscow.
The views don't necessarily reflect those of China Daily.If you have a specific expertise, or would like to share your thought about our stories, then send us your writings at opinion@chinadaily.com.cn, and comment@chinadaily.com.cn.