French, EU leaders' visits to spur teamwork
By ZHANG YUNBI | chinadaily.com.cn | Updated: 2023-04-03 23:58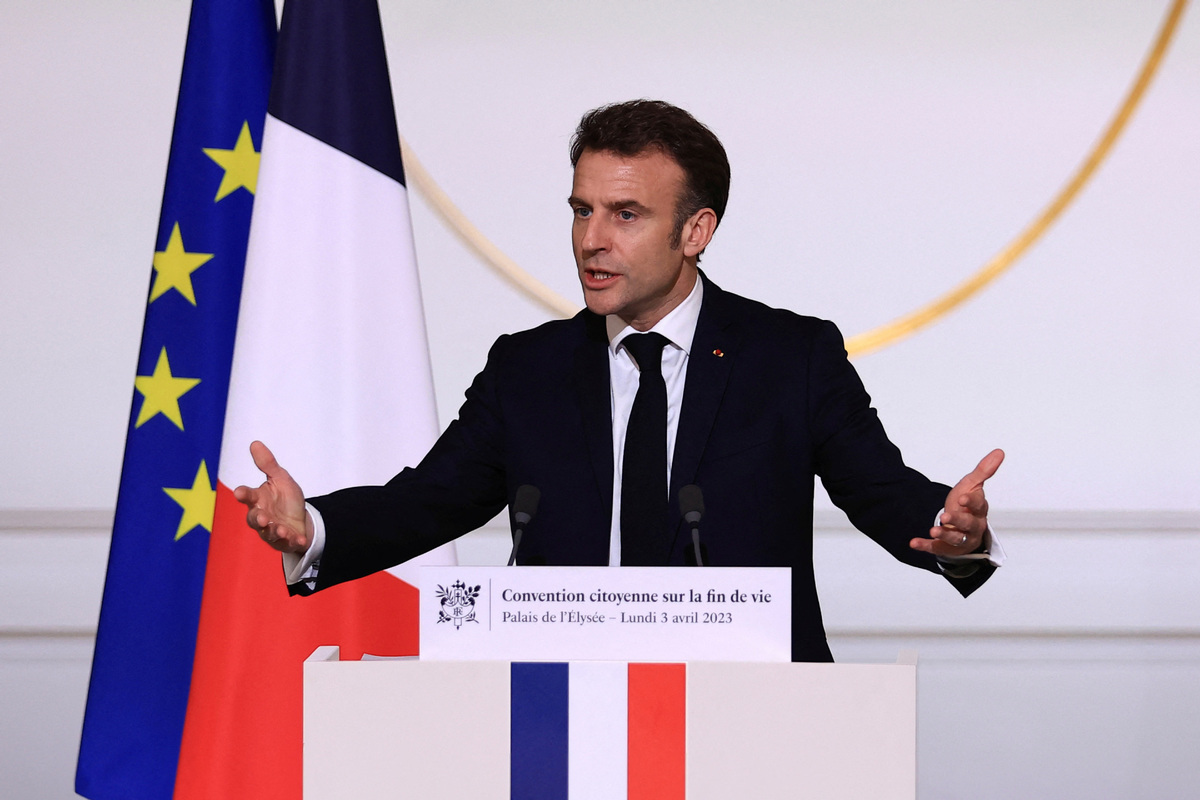 The upcoming visits to China by the leaders of France and the European Union are expected to usher in new opportunities to resume and spur substantive collaboration in more sectors in the post-pandemic era, as well as narrow their differences and revitalize unity on the peaceful resolution of global hot-spot issues, officials and experts said.
French President Emmanuel Macron will pay a state visit to China from Wednesday to Friday at the invitation of President Xi Jinping, the Foreign Ministry announced on Monday.
During the same three days, President of the European Commission Ursula von der Leyen will visit China as agreed upon by China and the EU, according to a separate announcement by the ministry.
Macron's upcoming tour will be his third state visit to China as president — the first was in 2018 and the second in 2019 — and the China visit by the EU leader will be her first in her current capacity.
During Macron's visit, President Xi will hold talks with him to plan and navigate the future development of China-France ties, deepen China-France and China-EU cooperation in various fields, and hold an in-depth exchange of views on major international and regional hot-spot issues.
Premier Li Qiang and Zhao Leji, chairman of the Standing Committee of the National People's Congress, will meet with Macron, who will also visit Guangzhou, Guangdong province.
China is willing to work with France to take this visit as an opportunity to promote the close and lasting Sino-French comprehensive strategic partnership to achieve new results, play an active role in the healthy development of China-EU relations, and make positive contributions to promoting world peace, stability and development, Foreign Ministry spokeswoman Mao Ning told reporters on Monday.
In the past month, senior officials from both sides, including State Councilor and Foreign Minister Qin Gang, have talked face-to-face or in virtual format, expressing their resolve to step up the resumption of exchanges and cooperation.
"Both countries share a lot of common ground. They can deepen collaboration in specific areas such as agriculture and energy, and discuss how to further facilitate peace and dialogue for settling the Ukraine crisis," said Zhao Junjie, a research fellow with the Institute of European Studies at the Chinese Academy of Social Sciences.
For Macron, the trip will also be a good chance to build on Europe's strategic autonomy and bolster France's role in leading the growth of China-EU ties, Zhao added.
"The fact that the leaders of France — a key EU member — and the EU are visiting China on the same three days shows that both Paris and Brussels attach great importance to China and that the leaders would like to speak with one voice in terms of China policy," Zhao added.
This year marks the 20th anniversary of the establishment of the China-EU comprehensive strategic partnership.
On the European Commission president's China trip, Beijing said both sides should uphold mutual respect and mutual benefit, "overcome disturbances and difficulties, and focus on consensus and cooperation".
"China is willing to work with the EU to take this visit as an opportunity to further tap into the potential for cooperation, join hands to address global challenges, and inject more stability and positive energy into a world full of change and turmoil," said Mao, the spokeswoman.
Cui Hongjian, director of the China Institute of International Studies' European studies department, said, "Although some EU countries have been debating and altering their China policies, China-EU ties still enjoy great resilience, and both sides need to build on their great tradition of ties and tap more into their openness and collaboration."
When meeting with Spanish Prime Minister Pedro Sanchez on Friday, President Xi stressed that the sound development of China-EU ties "requires the EU to uphold strategic independence".
Ambassador Fu Cong, head of the Chinese Mission to the EU, told the Financial Times on Thursday that "politicizing China-EU economic and trade ties runs counter to the expectations of all walks of life in Europe and damages Europe's own interests".