Turkiye set for tourism boom even after quake
Updated: 2023-04-11 06:53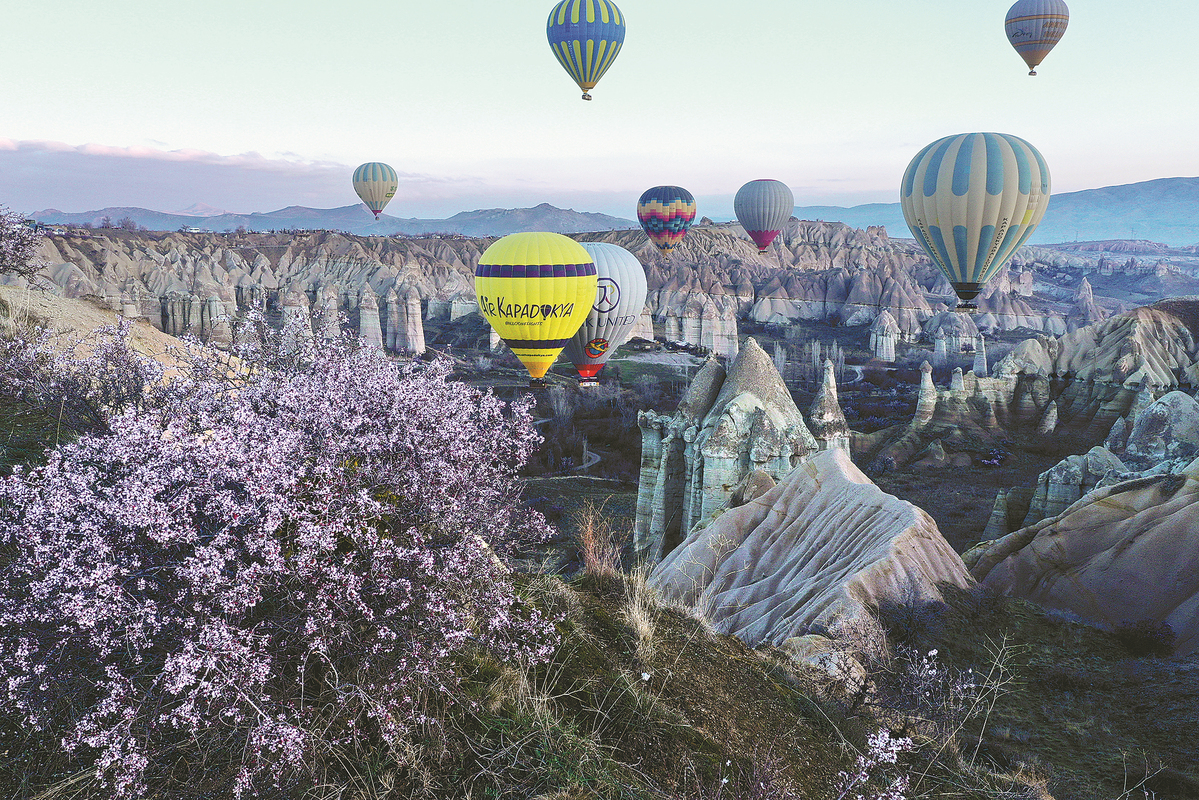 ANKARA — Turkiye's Mediterranean coast expects to see a large number of tourists flowing in this summer despite the devastating earthquakes in February, industry professionals said.
As temperatures rise, the Turkish Riviera, the southern part of the country famed for its Turquoise Coast and ancient heritage sites, is entering the start of its peak tourism season.
Tourism representatives reported a decline in reservations following the deadly Feb 6 earthquakes in the southeastern parts of Turkiye, but things soon returned to normal.
"Last year's favorable data on foreign arrivals and revenues have given us hope this year at the start of the summer season," Burhan Sili, chair of the Alanya Touristic Hoteliers Association, told Xinhua News Agency.
Turkiye's tourism income last year was at an all-time high, jumping to $46.3 billion with 51 million foreign visitors, the country's statistical authority announced in January.
Sili said demand dropped in the aftermath of the devastating earthquakes, but then picked up in a couple of weeks, making a full recovery.
Alanya, a main tourist destination on the Mediterranean coast, saw a 55-percent increase in foreign tourist arrivals in the first three months of this year compared to the same period last year, according to figures released by the local governorate in early April.
Sili said tourists from Russia and European countries, especially Germany and Britain, will make up a large share of the arrivals.
"Overall, we estimate that we will close the 2023 season with a better performance than 2022 in terms of the number of arrivals and revenues," Sili added.
Culture and Tourism Minister Mehmet Nuri Ersoy said in January that foreign arrivals are expected to reach 60 million this year, while tourism income will reach $56 billion this year and $100 billion in five years.
The sharp depreciation of the Turkish currency against hard currencies since the start of 2022 has also made Turkiye an affordable destination for European nationals that are witnessing rising costs of living.
Kaan Sahinalp, a Turkish representative of German travel giant TUI, was also upbeat about this year's outlook, indicating that the country is in for a better year than 2022.
Sahinalp pointed out that the weak lira generally favors foreign travelers on a budget and Turkiye is likely to be once again one of the top choices for many foreigners.
The tourism sector plays an important part in Turkiye's economy, which saw a widening current account deficit in recent years. The industry also provides for the livelihoods of over 2 million people in the country.
Xinhua