French pension row set to persist
By EARLE GALE in London | China Daily Global | Updated: 2023-04-17 09:16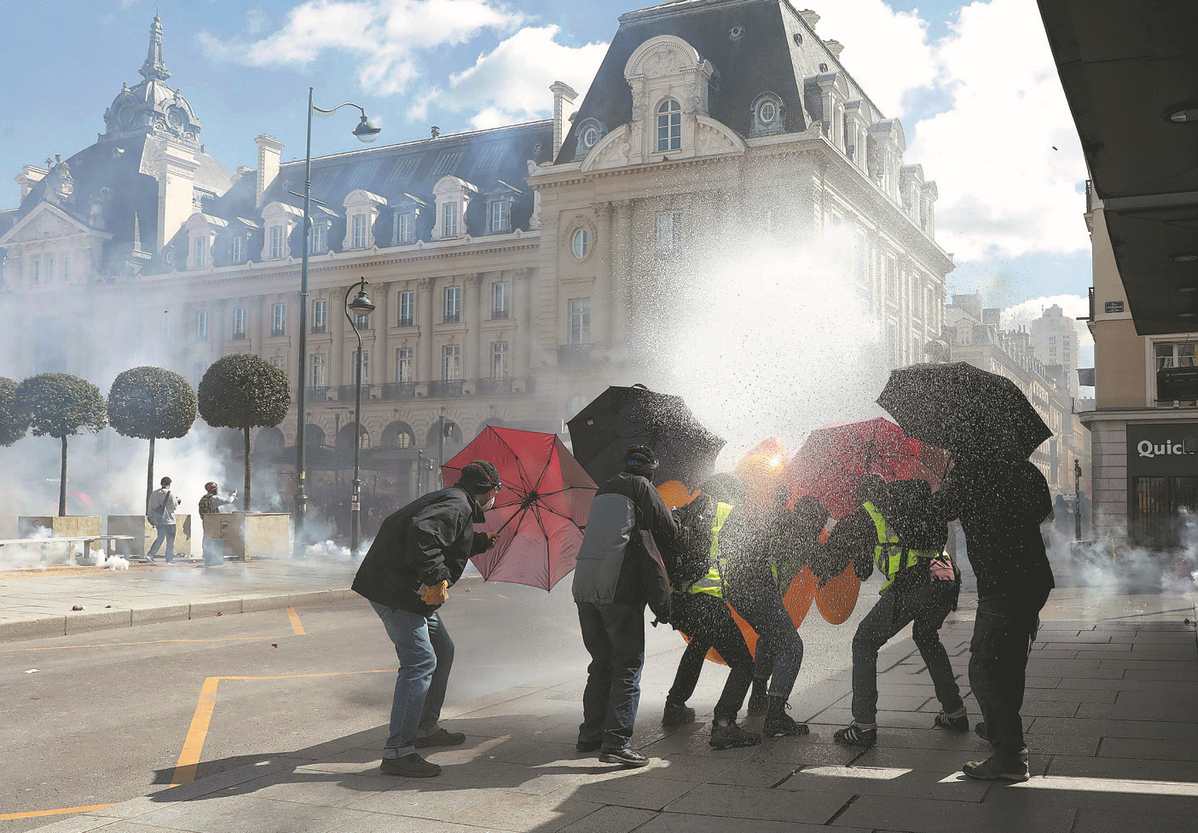 Unions in France have vowed to continue their opposition to the government's pension reforms, despite President Emmanuel Macron signing them into law early Saturday.
The reforms — which include a shift in the state pension age from 62 to 64 and an increase in the number of years of work needed to qualify for a full pension — have angered workers and triggered months of strikes and protests.
Macron, who used special constitutional powers in March to force the changes through Parliament without a vote, has insisted the country cannot afford to leave the pension system as it was.
But the nation's unions have said they will keep up their opposition, and now focus on trying to force Macron to reverse the changes he has made.
The unions have organized 12 days of demonstrations and strikes since January in opposition to the changes and say another protest, on May 1, must be the largest so far.
Jean-Luc Melenchon, leader of the left-wing Nupes political alliance that was among several unions and political groups that mounted an unsuccessful last-minute legal challenge to the changes on Friday with the country's nine-member Constitutional Council, said opponents of the reforms must not give up.
"The Constitutional Council's decision shows that it is more attentive to the needs of the presidential monarchy than to those of the sovereign people," he said. "The fight continues and must gather its forces."
On the other side of the political spectrum, Marine Le Pen, leader of the far-right National Rally party, agreed, saying on social media "the political fate of the pension reform is not sealed" and that people must continue to oppose it.
Sophie Binet, leader of the CGT union, urged people to form a "popular and historic tidal wave" of protest on May 1, while Fabien Roussel, leader of the French Communist Party, tweeted: "A law enacted in the middle of the night, like thieves. Everyone on the street May 1."
Olivier Dussopt, France's labor minister, said that, despite the planned protest, the pension reforms will be implemented, likely in September.
He added that he will encourage employers to offer jobs to older people needing to work for longer than originally planned.
The Constitutional Council's decision to allow Macron's changes and not to order a referendum precipitated an explosion of protest in Paris, with several fires lit on Saturday and more than 100 people arrested.
Radio France International said protests also flared in Lyon, Marseille, Nantes, Rennes, and Toulouse.
Antoine Bristielle, a political analyst, told the BBC the protests will likely continue.
"I think we will see … a lot of riots and strikes in the country because 70 percent of the French population is still against the reform," he said.