On-demand at-home food prep gets cooking
By LIU YUKUN | China Daily | Updated: 2023-04-18 09:30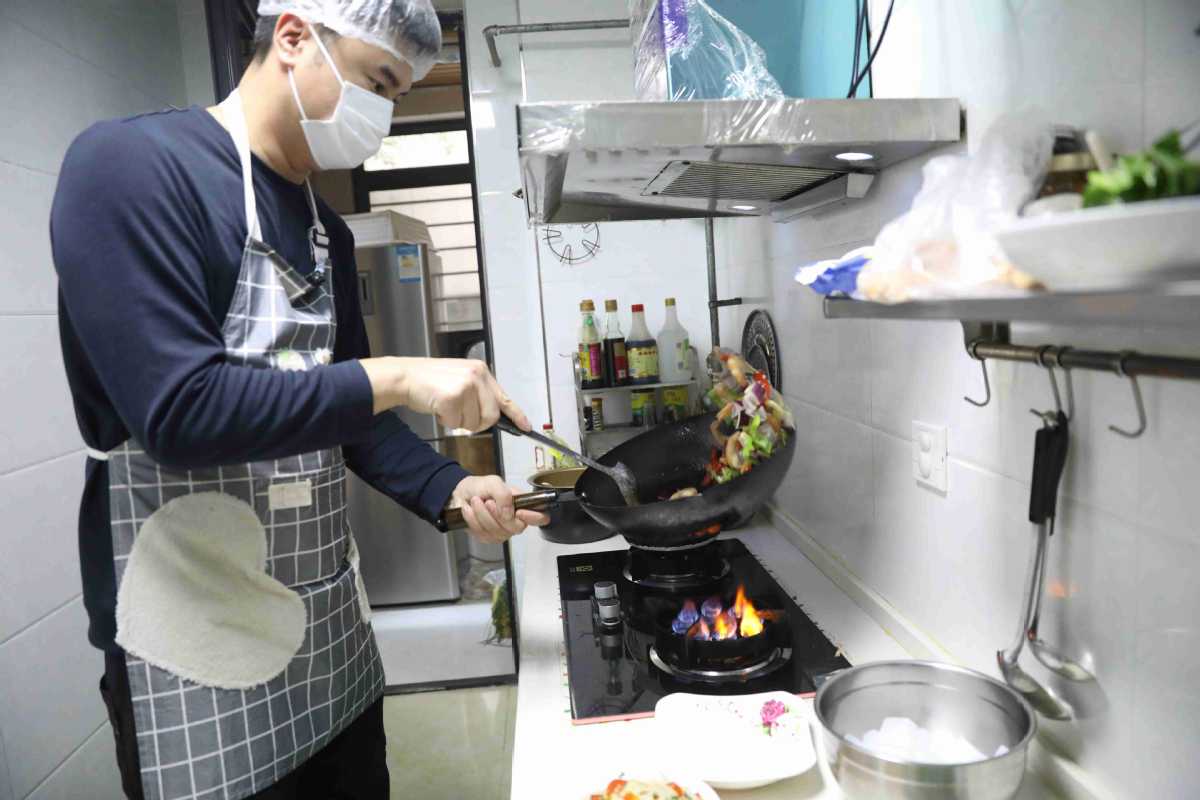 Health-conscious, time-strapped consumers driving business for convenience
Are you tired of spending your weekends running errands and frittering away your precious time on tedious tasks in the kitchen? Do you wish you could just sit back and relax while someone else takes care of everything for you?
Well, you're in luck, because the rise of on-demand home-cooking services has made it easier than ever to outsource even the most mundane tasks. Priced from hundreds to thousands of yuan, there are countless services available to help you enjoy freshly prepared meals in the comfort of your own homes, without the hassle of cooking and cleaning up.
According to a report by iiMedia Research, on-demand home-cooking services in China have reached a billion-dollar market size. This growth is largely driven by the changing lifestyles of Chinese consumers, who are becoming increasingly health-conscious and time-strapped.
The trend was recently highlighted during a round of heated online discussions. From September 2022 to February 2023, there were over 37,000 pieces of online information related to "home-cooking services", representing an increase of 1,043 percent from the previous cycle, according to People Data, a data analysis platform operated under news website people.cn. It said the earliest related topics were posted on Weibo, and soon went viral across platforms such as life-sharing platform Xiaohongshu and video-sharing platform Bilibili.
As of Feb 12, there were over 220 million views for posts with the hashtag #woman's on-demand home cooking, charging 66 yuan for four dishes and a soup on Weibo. On Xiaohongshu, there were more than 34,000 posts with the hashtag#door-to-door cooking. On Bilibili, the most clicked video related to on-demand home cooking had been played 1.396 million times.
According to Meituan, an on-demand service platform, from October to December, the search volume for home-cooking services increased by 533 percent compared with the previous three-month cycle. It said the private chefs who provided home-cooking services were mostly part-time, and are mainly middle-aged and younger people.
"The aromas, sizzling sounds and tantalizing flavors of the food being prepared before your eyes create a truly immersive experience. The service not only frees me from cooking, but also offers good chances to try new dishes without going out," said Beijing resident Gu Ming in her review of a recent on-demand home-cooking order placed on Xiaohongshu.
Gu spent around 3,000 yuan to order an at-home Chinese New Year's Eve dinner from a chef-on-demand platform. She ordered a one-stop service that included ingredient buying and dishwashing.
"The main reason for me to make the order is to save some time to spend with my family. I haven't met my siblings and their families for several years," she said.
There are many job seekers who are capitalizing on this trend, and Zhou Huan, a Beijing-based former financial analyst, was one of them.
"I started offering personalized home-cooking services in 2021, after realizing that many friends were struggling to eat healthy, home-cooked meals while juggling busy work schedules. I started posting nice pictures of the dishes I cooked on Xiaohongshu, and writing descriptions of different types of services. To my surprise, a lot of people came to my homepage and asked for the service," she said.
To begin with, Zhou charged 88 yuan for four dishes and did all the work herself. "First, I asked the customer's preferences, then customized recipes for the customer to choose from. Customers can either prepare the ingredients themselves or ask me to help with grocery shopping for an extra charge."
Zhou said that at that time, she had just quit her previous job and was going through a gap year. "I had plenty of spare time per day, but still found it hard to handle all of the orders."
She later recruited a team of chefs who specialized in different types of cuisine, and began offering customized meal plans that cater to each customer's dietary needs and preferences.
Since then, Zhou's business has grown rapidly. Her team now has more than 20 chefs and saw a roughly 150 percent yearly growth of revenue last year.
While some people communicate through social media platforms to make appointments for on-demand home cooking, many others — mainly professional chefs seeking part-time jobs — rely more on home service platforms and offer standardized packages for on-site cooking services.
Home service platforms such as Swan Daojia and Home King have all launched on-site cooking services using standardized packages.
In fact, on-demand home-cooking services are not a new concept. As early as 2014, there were apps on the market that focused on such services. Apps such as Idachu ("love chefs"), Good Chef, and Go Home to Eat quickly gained favor with investors.