Cities loosen mask requirements for public transport
CHINA DAILY | Updated: 2023-04-20 07:04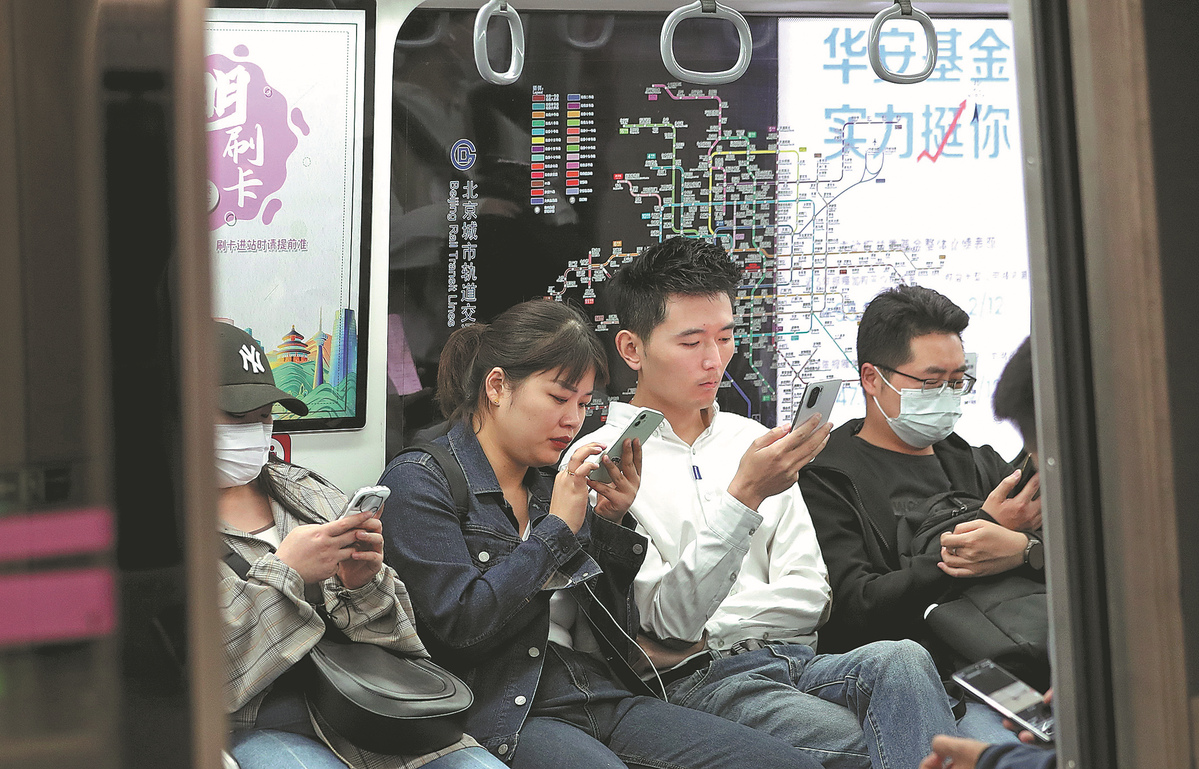 Public transportation systems in many cities like Beijing and Guangzhou have fine-tuned requirements for passengers to wear masks after the latest update by the country's top COVID-19 intervention mechanism.
"We need to tune life back into the pre-COVID-19 period, so I think it's reasonable to ease the mandatory requirements on mask wearing on public transport, and as the condition of COVID-19 improves, I believe we should wear masks based on our individual health conditions," Beijing subway passenger Gao De told China Daily.
After three years of fighting the novel coronavirus, putting on masks in public has become a habit for many people. But Gao's words on masks echo with people's changing mindsets after COVID-19 has gradually faded from daily life.
Based on data published by the World Health Organization, the COVID-19 pandemic is nearing its end and its threat to humans is no longer at a serious level, according to Wu Zunyou, chief epidemiologist at the Chinese Center for Disease Control and Prevention, on April 13.
Many mask mandates were lifted after the National Administration of Disease Prevention and Control clarified their use on April 12, saying that their use is recommended but not compulsory on subways, trains and other public transportation.
Signs reminding people to wear face masks in Beijing subway stations have been removed and the broadcast message has been changed from "Please wear a mask at all times" to "We recommend you wear a mask at all times".
After hearing the news, a woman surnamed Han in Beijing felt relaxed because she had been kicked off a bus for not wearing a mask several days prior.
"I think it's unreasonable to make wearing a mask mandatory since we have loosened COVID-19 prevention and control measures. I wear it when necessary, depending on my health condition," Han added.
Similar policies have been released in other cities. All 95 bus terminals operated by the Guangzhou Transportation Station Management Center have only recommended wearing masks since April 14 in Guangzhou, Guangdong province.
Many other cities like Shanghai, Xi'an, Shijiazhuang and Fuzhou have also changed from mandatory to recommended mask wearing on public transport.
But the top disease control authorities said mask use should still be required for individuals who have tested positive or are experiencing fever, coughing and other telltale symptoms, and those whose residential places or communities are experiencing outbreaks, according to the recent mask-use guidelines.
In addition to COVID-19, other infectious diseases and allergies are influencing people's willingness to wear masks.
In Guangzhou, H1N1 infections have been rising recently, data from the municipal disease prevention and control center on April 6 showed, and it warned measures on preventing the spread of H1N1 should be strengthened.
Yue Zhengrong, a resident in Beijing, said he is still willing to wear a mask when taking the subway after the policy change.
"The subway is crowded and now it's the peak time for some respiratory diseases. A mask can prevent the spread of some droplets that carry viruses and protect me from poor air quality caused by dust or catkins. Now I wear a mask both indoors and outdoors," Yue said.