A novel tale of life and death in rural China
By Yang Yang | China Daily | Updated: 2023-04-21 07:41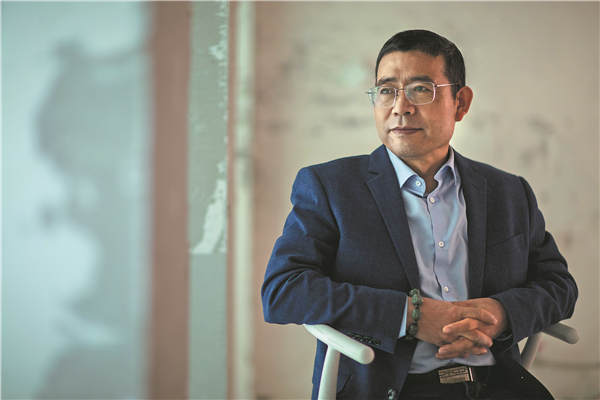 Centered on a deified midwife, Hu Xuewen's unique story paints a picture of pastoral problems, proclivities and perseverance, Yang Yang reports.
It is hard to summarize the novel You Sheng (Hope and Life) by Hu Xuewen, which extends for 938 pages and is narrated in a structure that the writer depicts as "umbrella-shaped".
Half of the 20 chapters are devoted to the recollection of the past by centenarian midwife Qiao Damei, or the "Great Grandmother", which constitutes the shaft of the "umbrella", and the remaining chapters recount the stories of five other characters, which form the canopy. The narration travels back and forth between the present and the past.
"It's my notion of good novels that they should not be easily summarized, but can provide space for different interpretations," Hu tells China Daily.
The 56-year-old writer is in London, where the three-volume English version of his novel was just launched at the London Book Fair. Since its publication in 2021, the book's copyright has been sold in eight languages, including English, German and French.
As the writer says, it is a novel about how to be born, live and overcome hardship. In 550,000 words, Hu paints a picture of people's lives in Songzhuang village, Zhangjiakou, in what is now Hebei province, from the end of the Qing Dynasty (1644-1911) to the present. The whole story was told by the Great Grandmother in one day and one night.
When the novel starts, Qiao, born in 1900, is lying in a bed in the village, a bitterly cold place beyond the Great Wall that used to be where emperors sent criminals into exile.
About 110 years old, she is half dead, confined to bed and losing the ability to speak or move. However, she is still clear-minded, with good hearing and a keen sense of smell.
Having delivered more than 12,000 babies throughout her career, midwife Qiao is famous for her exceptional skills and her pure and noble heart, which has won her the title of "a living Buddha". She has become a legend, a godlike person that villagers believe wields a superpower and has the ability to help them solve all kinds of problems. She is the "Great Grandmother", from whom villagers come to ask for blessings.
"Such a godlike character gives the novel great freedom in terms of narration," Hu says.
Born in a village in Guyuan county, Hebei, in 1967, Hu became a professional writer in 2002. His novella Cong Zhengwu Dao Huanghun (From Noon to Dusk) won the Lu Xun Literature Prize in 2014.
About 10 years ago, Hu aspired to write an epic novel that would represent the rural areas he was familiar with, and which took place over the course of 100 years. It took him eight years to finish the novel. Before starting, he had to overcome several problems.
One was that there have already been lots of great novels that seem to have covered every aspect of rural life in China, so what fresh perspective could he provide?
Speaking at a seminar about the novel in 2021, Gao Yuanbao, professor of Chinese literature at Fudan University, asked: "What is still worth writing regarding China's rural areas?"
Gao said he saw in the novel various "infatuations" — the Great Grandmother with midwifery, Ruhua with her husband, Luo Bao with making bean curd, and so on. "Infatuation" becomes the center of their lives. He praised the novel's focus on the emotional lives of the individuals in the countryside.
According to her review of the book, what particularly drew the attention of literary critic Han Liang from Nanjing University, was how the villagers dispelled their depression and frustration.
For example, Mao Gen, a descendant of hunters, vents his frustrations by hunting wild animals. Luo Bao, an outstanding bean curd maker, needs to smell beans to calm himself down when life's pressures grow too great, while Yang Yifan, the head of the town, eats a lot of chilies.
"In this novel, I wanted to talk about how, after conquering poverty in the rural areas, to solve people's emotional and spiritual issues?" Hu says.
There are villagers who visit the Great Grandmother to complain.
"Complaining cannot really change the reality, while it also seems to be able to change everything. Expressing their sadness, anger, suffering and worries to the Great Grandmother will give people peace. Fighting hardships and complaining about them can also be an attitude toward life," literary critic Xie Youshun says.