Declaration promises stronger cooperation between young entrepreneurs globally
By Cheng Yu and Ma Qing | chinadaily.com.cn | Updated: 2023-04-25 13:44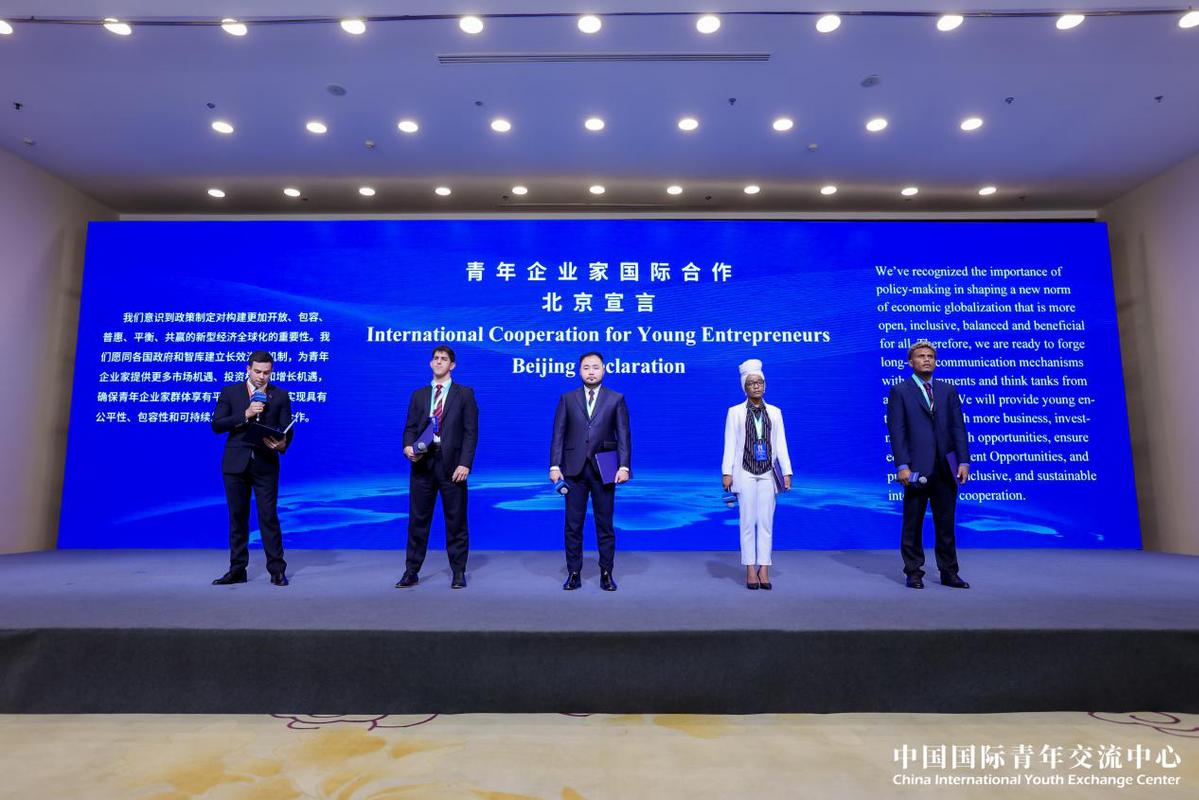 Stronger actions will be taken to boost cooperation in the digital economy to support sustainable development and reduce the digital divide for emerging economies and developing countries, according to a new declaration by leading global young entrepreneurs on Tuesday.
More efforts will be made to promote technological exchange and cooperation in cutting-edge fields such as artificial intelligence, biopharmaceuticals and quantum information, they said.
The declaration, namely International Cooperation for Young Entrepreneurs, was made at the International Cooperation and Development Conference for Young Entrepreneurs, a conference held by China International Youth Exchange Center on Tuesday.
The conference, which explores new ways of achieving global economic recovery in the post-pandemic era, has attracted 200 heads of foreign chambers of commerce, business organizations and representatives of young entrepreneurs from nearly 50 countries and regions.
The new declaration called on young entrepreneurs across nations to share the outcomes of cooperation, enhance the high-quality development of the Belt and Road Initiative, optimize the global industrial layout, and maintain the stability and security of the global industrial and supply chains.
Accelerated steps will also be made to help achieve carbon neutrality, bridge the digital divide, ensure food security, promote inclusive trade and investment, infrastructure construction, and industrialization, it said.
According to the declaration, young entrepreneurs have played a crucial role that promotes the global division of labor and cooperation, drives economic growth, pushes technological innovation, and stimulates social progress.
On Tuesday, the International Alliance of Young Entrepreneurs Associations was established to support the advancement of young entrepreneurs through technological exchange, personnel training, strategic consulting, business startup and incubation.
Faced with climate change, the declaration also called on young entrepreneurs from all countries to relieve climate change problems and reduce emissions, adopt a sustainable development model that is resilient to climate change, prioritize scientific and technological research and development, and embrace energy-saving and decarbonizing technologies.
"We've recognized the importance of policy-making in shaping a new norm of economic globalization that is more open, inclusive, balanced and beneficial for all," the declaration said.
Therefore, the organization is ready to forge long-term communication mechanisms with governments and think tanks from all countries, to offer young entrepreneurs with more business, investment and growth opportunities.
chengyu@chinadaily.com.cn