Rocket failure still a step forward in space exploration
By Barry He | China Daily Global | Updated: 2023-05-03 21:33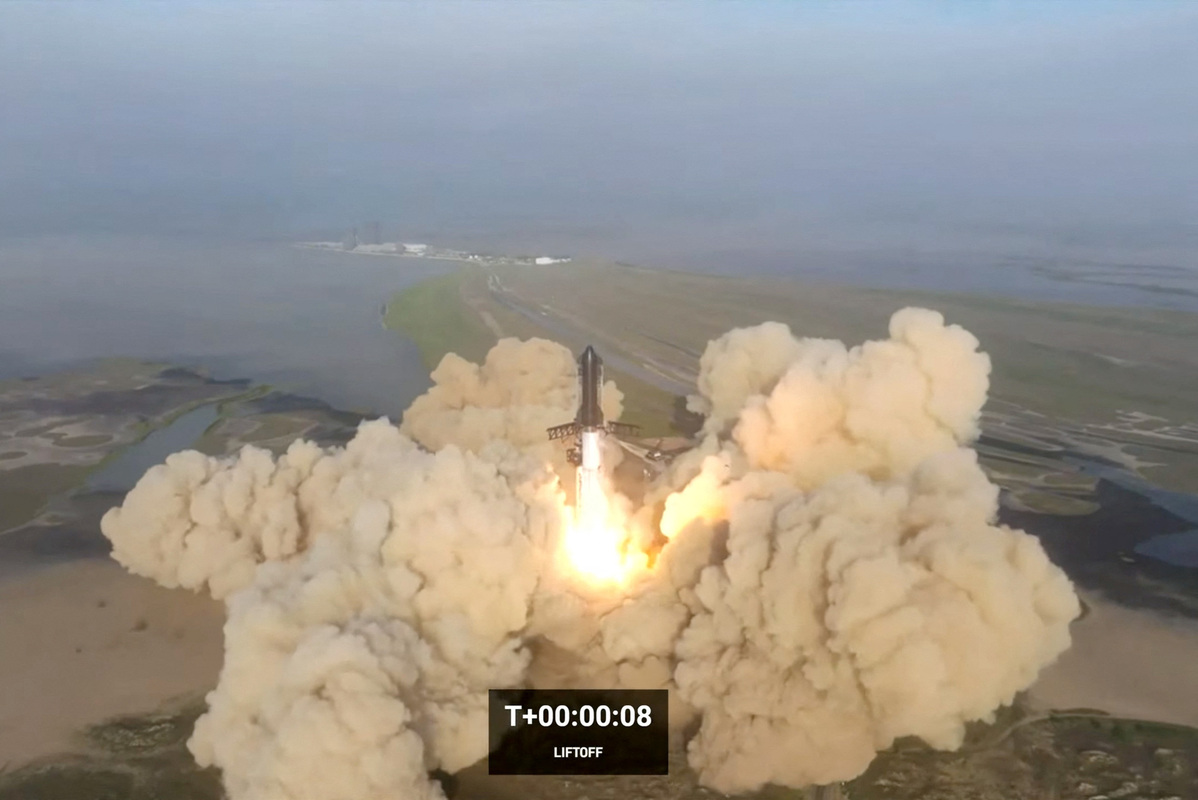 The explosion of Elon Musk's Starship rocket on April 20 presents a stark reminder of the technological difficulties of space exploration.
While many of his critics may roll their eyes at the fact that each of his launches costs nearly $100 million, this expensive trial and error process, dubbed the "success-failure" model, may nevertheless take us a step closer to exploring our solar system.
The SpaceX Starship system's recent test flight reached a high altitude before exploding dramatically.
Several of the boosters, which propel the rocket, failed to ignite, leading to a situation where the risk of imminent explosion vastly increased.
No doubt, engineers are looking into why this happened, and the launch will serve to gather valuable data in testing out new designs. The fact that a controlled take off and ascent was still possible is a sign of progress, however there is still a long way to go before the technology becomes safe enough for manned flight.
The actual shuttle compartment of the rocket must be separated from the boosters as it leaves the atmosphere, which failed to happen on Musk's launch, resulting in the termination of the flight. Rocket boosters are extremely dangerous, and once turned on they cannot be turned of f easily and engineers will no doubt be looking into how to make this mechanical process more reliable.
The malfunction could have happened for a myriad of reasons. Simple hydraulic instability could mean a physical part, such as a latch, did not open correctly, or cooling water may not have been sent down to an appropriate part of the mechanism, leading to overheating.
Materials designed to withstand the extreme forces and heat generated from a rocket launch could also have failed. Space exploration is behind the discovery of many novel metal alloys, with NASA last year claiming it had developed a new metal called GRX-810, which was 1,000 times more durable than traditional aviation steel.
Anticipating probable failure and a terminated flight meant that no astronauts, of course, were on board.The trajectory of the rocket was over the water of the Gulf Coast in South Texas to avoid the potential damage of falling debris. Nevertheless, mistakes do happen. In 2022, an Australian farmer found a piece of SpaceX debris the size of a small car embedded in the middle of his farm.
As expensive as the process is, in the long run it is likely that such endeavors will lower the eventual cost of the technology. SpaceX also claims that its process is the most efficient, stating that more money is saved in the long run with high-risk experimental flights, than years of planning and simulation, as it is quicker to identify design f laws and f ix them through live application. As Albert Einstein once said: "In theory, theory and practice are the same. In practice, they are not."
Barry He is a London-based columnist for China Daily.