Number of 'digital nomads' rises after COVID-19 layoff
By Yan Dongjie | China Daily | Updated: 2023-05-09 08:52
Months of working remotely have prompted many young people to hit the road with only a laptop for company. Yan Dongjie reports from Anji county, Zhejiang.
Pan Guanghao only needs his laptops and Wi-Fi for work, so he bought a refitted van and now lives in it, driving and working anywhere he can connect to the internet. That makes him a typical digital nomad.
He used to work in imposing buildings in Auckland, New Zealand, and Hangzhou, Zhejiang province, but now he sets up his laptops in front of fields and a pond and works in the sunshine as the day begins.
The name "digital nomad" refers to people who live a nomadic lifestyle and work via the internet. They don't have to be physically present in an office, so they exploit "geographical arbitrage" — taking advantage of differences in prices between various places — to live in cities with better environments but lower living costs while earning a salary from a company in a tier-one location.
The number of digital nomads has been growing in China as the pressures of big-city living have grown, such as expensive housing, long working hours and too much neijuan, one of the hottest words used online, meaning unnecessary excessive peer competition. The rise in numbers accelerated during the COVID-19 epidemic as many people had to work remotely.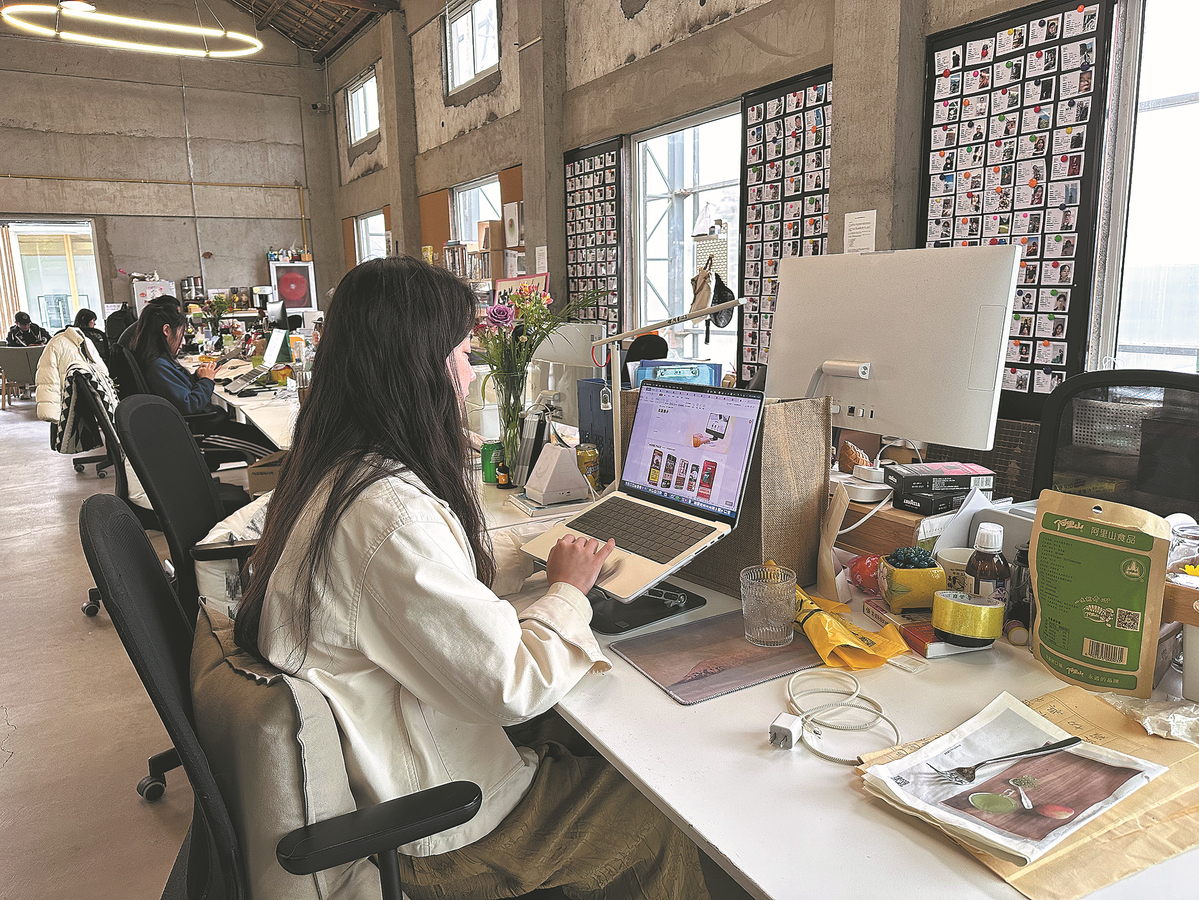 Pan works as a programming engineer for Mega, a cloud drive company in New Zealand. However, he was marooned in China after he returned for a vacation in 2020 and couldn't return to Auckland because of quarantine regulations. A similar situation affected some of his colleagues from countries such as the Philippines, India and Sri Lanka. In response, he started working remotely.
That suited his wishes as he doesn't like high-rises in big cities. In 2021, he bought a secondhand recreational vehicle in Dali, Yunnan province, and drove it to Wenzhou, Zhejiang, his hometown.
"I bought an apartment in Hangzhou at peak price, because I wanted to give my then-girlfriend a home to provide stability," Pan said. "The mortgage was a big burden, so I had to work overtime to pay it off as quickly as possible, but it didn't lead to stability."
People with loans are afraid of uncertainty. Any change can be a threat to monthly repayments. Many young people in China face the same pressure, which is why Pan left the city. Despite living in the RV, Pan doesn't feel he's drifting. Instead, he feels in unprecedented control of his life. "Too many changes happen in the world now. But whatever changes, the basic ways of living won't be altered. I feel secure in this lifestyle," he said.
Service centers
As the number of digital nomads in China grows, related service centers and communities have started to appear. Dali has long been popular with remote workers for its environment and scenery. Hegang, Heilongjiang province, was hot for a while about two years ago thanks to its low housing prices. A one-bedroom apartment sells for about 100,000 yuan ($14,500), close to the price of 1 square meter in Beijing. However, Zhejiang's Anji county, close to Pan's hometown, has become popular thanks to the construction of a community designed for digital nomads.
"The problems come when someone stays alone too long: that's the time when you want to join a community and make some social connections," Pan said.
He arrived at the Anji Creative Design Center in Xilong village, Huzhou, Zhejiang, on April 5 and decided to stay after he met young people from different cities. They work various jobs, including designers, photographers, bloggers and programmers, and some work in the financial field.
"They are fun. When somebody comes to talk with me after a long day's work buried in my screens, I love to chat and share their experiences," Pan said.
The temporary residents host a range of activities such as idea-sharing spaces, barbecues, gym classes, board games and art fairs. People who attend can sell their artwork, talk and exchange stories.
According to Digital Nomad Anji, the residential building at the ACDC, 30 percent of those who have lived there have a master's degree, and some have attained financial freedom.
The ACDC and DNA were built in 2021. Nearly 700 digital nomads have stayed at the DNA since its trial opening in December 2021, and about 80 live in the compound now.
Membership and residence fees are low. A container room costs just 1,900 yuan a month, while a bed in a multiple-person shared room costs less than 800 yuan a month. By contrast, a bedroom in downtown Shanghai can reach 4,000 yuan.
"I have this metaphor: this place is the center of a circle. We come here and become friends, then after staying for a while we separate to travel elsewhere. But DNA is still a second home, where we reunite sometimes," said Chen Qincong, one of the first applicants for the trial opening.