UK promises Ukraine more arms
China Daily Global | Updated: 2023-05-16 09:24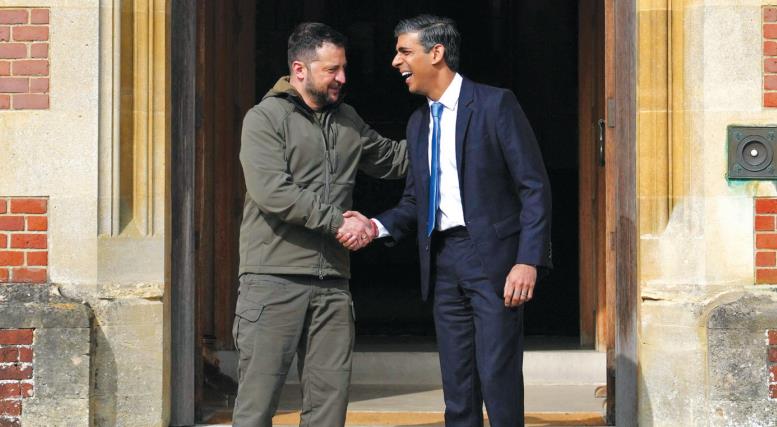 Ukraine's President Volodymyr Zelensky continued his whistle-stop tour of Europe with a visit to the United Kingdom on Monday, where Prime Minister Rishi Sunak greeted him warmly and promised continued support.
Zelensky, who had visited Italy, Germany, and France on Saturday and Sunday, arrived by helicopter at Chequers, the prime minister's rural retreat north of London, at around 9:30 am.
The leaders hugged, ahead of Sunak tweeting a photo of them together with the caption "Welcome back".
Zelensky said ahead of closed-door meetings that his nation thanked the UK "from all our hearts" for the support it had received since the start of the Russia-Ukraine conflict in 2022.
According to the Associated Press news agency, the UK has become one of Ukraine's major military allies, sending Kyiv short-range missiles and Challenger tanks and training 15,000 Ukrainian troops on British soil.
The BBC said the prime minister's official spokesman confirmed the UK would send "hundreds" of additional air-defense missiles and long-range attack drones, as well as other military aid requested by Ukraine.
Last week, the UK's defense secretary, Ben Wallace, said the nation had sent Storm Shadow cruise missiles to Ukraine, which have a range of more than 250 kilometers — the first known shipment of such weaponry, which Kyiv has long sought from its allies.
Sunak said he will also push for more international support for Kyiv when he attends a G7 gathering in Japan later this week, and when at a Council of Europe meeting in Reykjavik, Iceland.
On Sunday, France also vowed to do more, promising Ukraine additional weaponry after Zelensky met President Emmanuel Macron in Paris.
Macron and Zelensky issued a joint statement after the gathering at Macron's official residence, the Elysee Palace, which said "in the coming weeks" France would "train and equip several battalions with tens of armored vehicles and light tanks".
The day before, after meetings with Germany's Chancellor Olaf Scholz and President Frank-Walter Steinmeier, Berlin also promised Zelensky additional help, with a new military package worth 2.7 billion euros ($3 billion) — the largest contribution Germany has made so far to Ukraine's military campaign. The promise prompted Zelensky to describe Germany as a "true friend and reliable ally", the French news agency Agence France-Presse reported.
While in Germany, Zelensky also sat down with Poland's Prime Minister Mateusz Morawiecki and with other European Union leaders, including EU chief Ursula von der Leyen. He also visited Italy on the weekend and met with Prime Minister Giorgia Meloni.
As Zelensky sat down with Sunak on Monday, Russia said it took an "extremely negative" view of the UK's provision of long-range Storm Shadow cruise missiles and military drones. The Kremlin said the weapons will not change the outcome of the conflict but could be used to hit civilian targets.
China has consistently said dialogue and negotiations are the only viable way out of the crisis, and China has also said mutual respect for sovereignty and territorial integrity is always the political foundation of bilateral ties. Beijing has offered to mediate in peace talks and put forward a proposed peace plan.
China, which has delivered significant humanitarian assistance to Ukraine, sent Special Representative of the Chinese Government on Eurasian Affairs Li Hui to Ukraine, Poland, France, Germany, and Russia this week to communicate with all parties on the potential for a political settlement of the Ukraine crisis, a spokesperson for China's foreign ministry confirmed.
Agencies contributed to this story.