Infused with history
By Zhan Jie | China Daily | Updated: 2023-05-18 10:20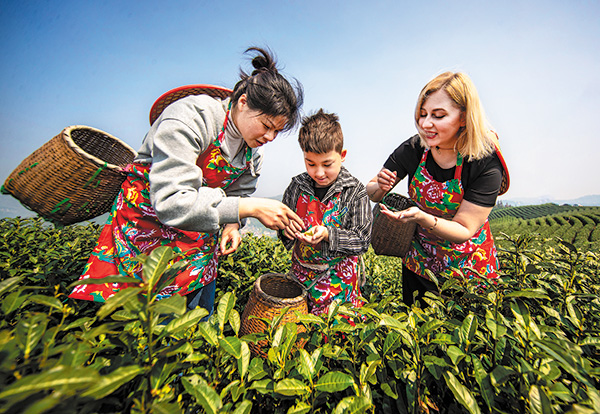 Signature drinks vary from country to country. When it comes to beer, naturally, we think of Belgium or Germany; whiskey, there's a good case for both Scotland and Ireland; coffee, a bit complicated, but Ethiopia, Brazil and Columbia, among others, immediately spring to mind. However, when we talk about tea, in terms of its birthplace, diversity, as well as production and consumption volume — there is only one answer: China.
Tea drinking has been an integral part of Chinese heritage and culture for centuries. For the Chinese, tea is not only adored as a pleasant beverage with a fragrant aroma, but also a necessity in Chinese people's daily lives, and is of profound significance to the economic and social development of the country.
Chinese tea has a long history, and it is a story of gradual refinement. The original idea is credited to the legendary Shennong, who, as far back as 2000 BC, discovered tea accidentally and found it could detoxicate the herbs and plants he was tasting, beginning a tradition that continues until today.
As a recreational drink, tea became popular during the Tang Dynasty (618-907). From it, a tea culture was established and spread throughout China, particularly after the completion of The Classic of Tea — an encyclopedia by Lu Yu, in the 8th Century, which compiled and recorded all the information about tea in different places of China, its origin, techniques for making the beverage and the correct way to drink it. Later, he earned the moniker "Sage of Tea".
Chinese tea culture flourished in the Song Dynasty (960-1279), during which the act of whisking tea became popular. The tea was first ground into fine powder, then hot water was added and tea was whisked in a bowl with a brush to create a foam, similar to how warm milk is treated to make a Cappuccino today. This method of preparing tea was later introduced to Japan and became the basis of Japanese matcha.
In China, during the Yuan and Ming dynasties (1271-1644), tea-making techniques continued to evolve, and that's when steeping became the primary way of preparing tea. During the Qing Dynasty (1644-1911), the use of loose-leaf tea became the norm that continues to today.