BAIC Trucks pin sales hope on new platforms
By LI FUSHENG | CHINA DAILY | Updated: 2023-05-22 07:57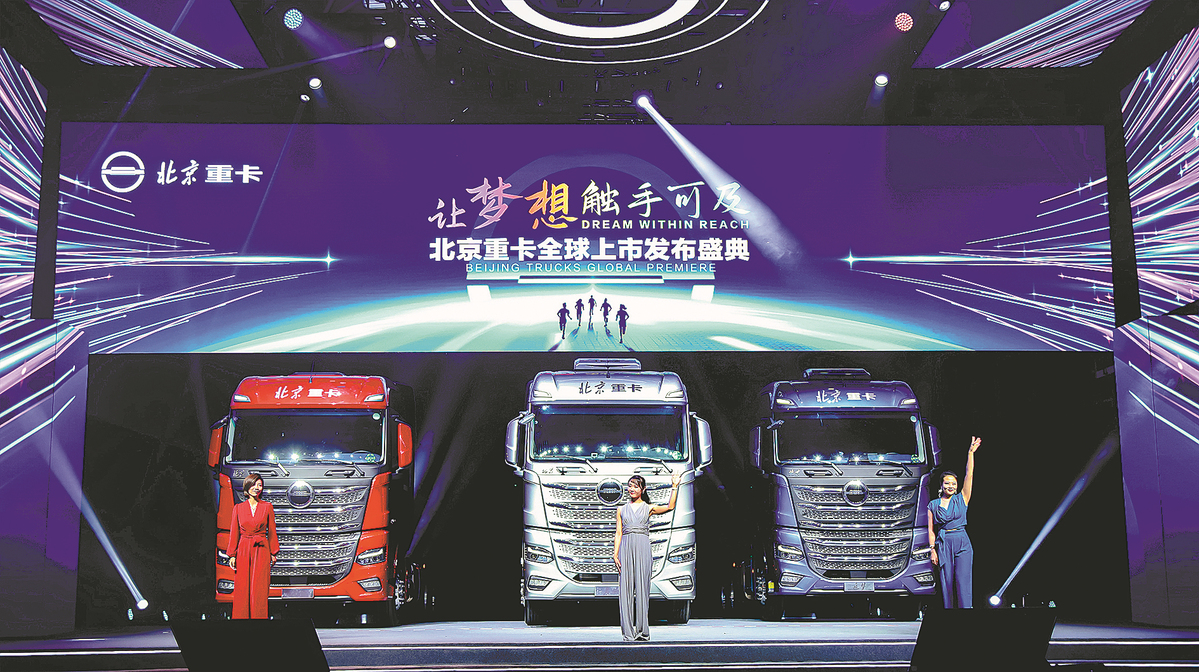 BAIC Trucks has launched heavy-duty models on its newest platforms, a move analysts said is expected to help parent BAIC Group consolidate its position in the country's commercial vehicle market.
More than 80,000 heavy-duty vehicles were sold in April nationwide, up 83 percent year-on-year, according to the China Association of Automobile Manufacturers.
The surge pushed cumulative deliveries to a total of 321,000 units in the first four months this year, up 17 percent from the same period of 2022, said the CAAM.
BAIC Trucks unveiled trucks built based on its two platforms, called Fuxing and Zhuimeng respectively, last week in Changzhou, Jiangsu province.
The BAIC subsidiary said models built on the two platforms will fall into 80 percent of China's heavy-duty truck segments.
Wu Junyue, president of BAIC Trucks, said the models' fault-led off-duty days amount to less than 5.3 a year, which are 20-40 percent lower than the Chinese market average.
In terms of fuel consumption, they are around 5-10 percent lower compared with the market average, each saving around 30,000 ($4,260) to 50,000 yuan a year.
Besides this, BAIC Trucks have made models more comfortable to drive and use by introducing such things as automatic gearboxes and in-cabin refrigerators.
BAIC Trucks said its models' lower rate of errors have a lot to do with its digitalized plant, which is the first of its kind among heavy-duty truck makers in the country.
Using digital tools, a virtual plant has been created to work in tandem with the actual one.
The truckmaker said the method can improve the vehicles' quality by around 22 percent while cutting their production cost by 20 percent compared with the conventional method.
BAIC Trucks made another first in the nation's industry by allowing customers to customize their models, offering more than 20,000 options.
The new subsidiary, which made its debut earlier this year, expects its sales to reach 10,000 units this year and hit 40,000 in 2025.
It has set a goal to become a top five player in the segment in 2028, with its deliveries totaling 125,000 units in that year. Analysts said the subsidiary can consolidate BAIC's position in the truck segment.
Another subsidiary of BAIC, Foton, has been one of the leading truckmakers in China, with a 14 percent share of the Chinese market in 2022. Its accumulative deliveries have exceeded 11 million units, according to BAIC.