Country, and western China
By Zhao Huanxin | CHINA DAILY | Updated: 2023-05-25 07:40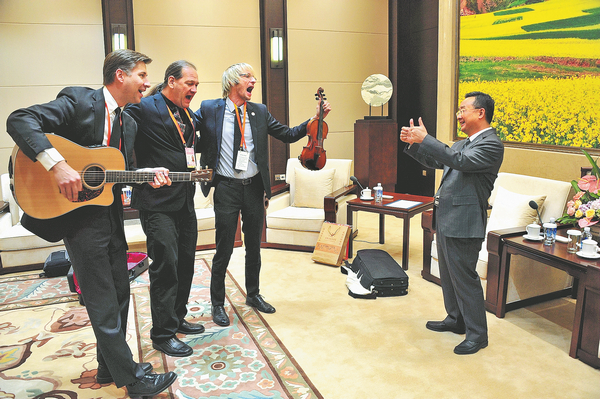 Dillingham picked up a violin when he was 9 years old and, at age 17, featured twice in the Grand Ole Opry, the definitive live country music showcase in Nashville, Tennessee — the spiritual home of country music — where he made his debut in July 2019 on a bill with several country stars, including the Oak Ridge Boys.
After receiving a bachelor's degree in instrumental music performance, he has fiddled his way to more than 40 countries, earning himself the title of "Oklahoma's Musical Ambassador".
His connection with Gansu dates back to 2015, when he was invited to provide the entertainment to a delegation from the province's office of foreign affairs, who were visiting Oklahoma to celebrate the 30th anniversary of sistership between the state and Gansu.
He started with traditional American fiddling, drawing "lots of applause but not a strong connection". Then he started playing a Chinese song, The Girl From Dabancheng, which caught the delegation off guard.
"Suddenly, they all began to sing along with my violin, and they were clapping and singing," he says. "When it finished, everybody stood up and started really talking and engaging. It was just a fantastic moment."
It was a performance that secured him an invitation to perform at a New Year's Eve concert with the Lanzhou Symphony Orchestra in Lanzhou, capital of Gansu. He was invited back for the first Silk Road International Cultural Expo the following year.
The musician from Enid, Oklahoma, says that he believes the sistership forged in 1985 is "a match made in heaven", as Gansu and Oklahoma are 11,265 kilometers apart.
Some consider Oklahoma a "flyover state" for travelers, just as Gansu has not been a priority destination for many tourists. Both places have a pace of life that is a little slower and more relaxed, Dillingham notes.
In addition, Gansu has a lot of ethnic groups, while Oklahoma has at least 70 Native American tribes.