Born in Qomolangma's shadow, climber ascends to dreams
China Daily | Updated: 2023-05-26 09:30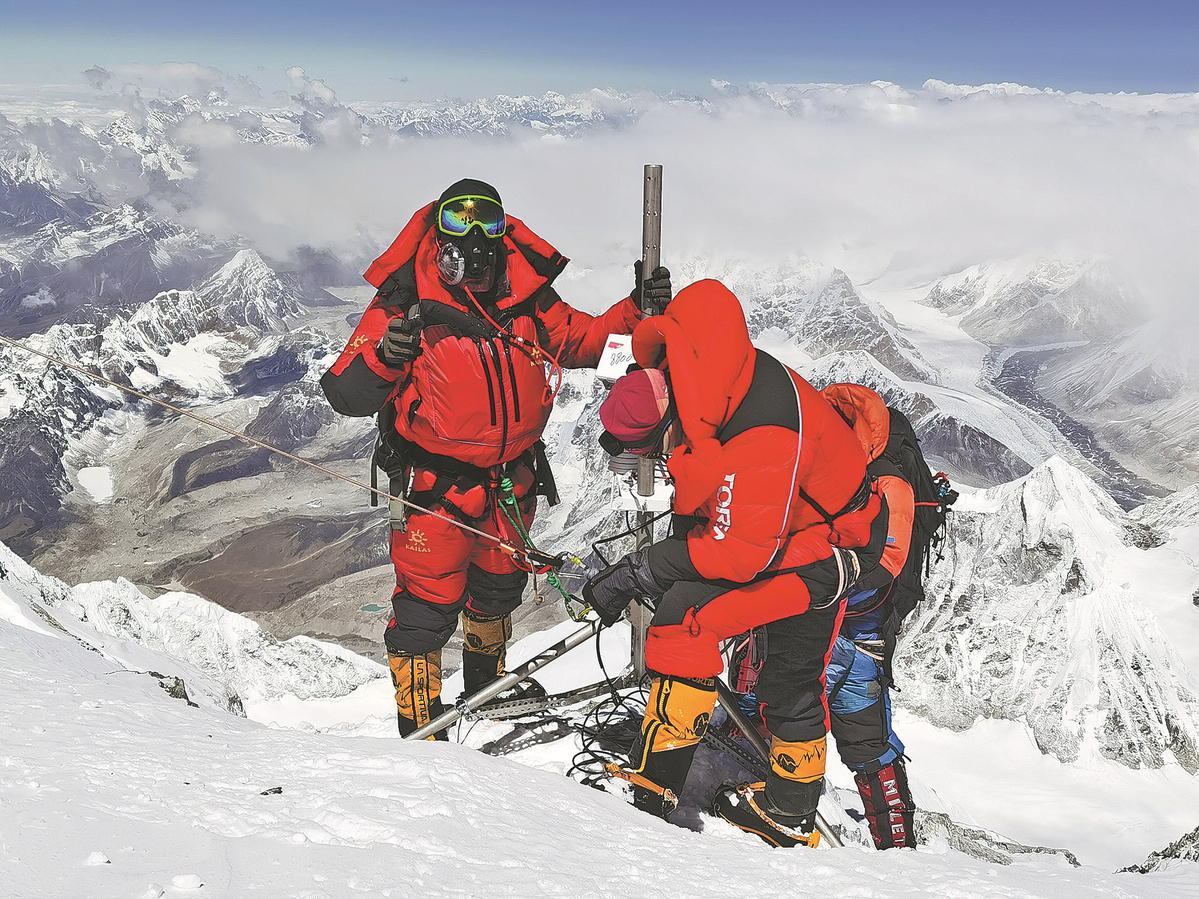 LHASA — Having successfully conquered Qomolangma, known as Mount Everest in the West, five times in his life, Dechen Ngodrup, 36, was spotted once again at the mountaineering base camp during this year's summit push, assuming a different role as he provided necessary assistance to his teammates.
Transitioning from a mere climber to a seasoned expeditionist, his destiny has become inseparably entwined with the mountain itself.
Last year on May 4, he along with 12 teammates reached the summit of the world's highest peak on the China-Nepal border. Different from previous expeditions, he took on the role of a leader, bearing the weighty responsibility of not only ensuring the well-being and safety of his team but also spearheading groundbreaking scientific research endeavors that had never been undertaken before.
On their way to the summit, the 13-member squad led by Dechen Ngodrup set up an automated meteorological monitoring station at an altitude of 8,830 meters, the highest of its kind in the world.
The station weighing about 50 kilograms needed to be split up into seven parts before being transported and installed by the team.
On the day of their climb to the summit, the team encountered knee-deep snow above 8,300 meters, making every step a laborious feat that demanded an immense amount of energy. What would typically be a four or five-hour trek took them nearly nine hours to accomplish.
After the successful establishment of the station, they continued to ascend to the summit, where they measured the thickness of the ice and snow using high-accuracy radar for the first time at the summit.
Standing on top of the world, Dechen Ngodrup looked toward his hometown Tashizom, the township closest to Qomolangma. Stretching between Tashizom and the county school lies a mountain exceeding 5,000 meters in elevation, which he traversed daily on foot. "Maybe that's where my climbing legs come from," he said with a chuckle.
After completing junior high school, he gained admission to the Tibet Lhasa Himalaya Mountaineering Guide School, thanks to his exceptional physical fitness and impressive academic performance.
In 2008, Dechen Ngodrup was one of the Chinese mountaineers chosen to carry the Olympic flame to the summit of Qomolangma, marking an unprecedented milestone in human history.
In that same year, the China University of Geosciences (Wuhan) recruited high-level mountaineers. Taking advantage of the opportunity, Dechen Ngodrup enrolled in the university and diligently pursued his studies, earning both his bachelor's and master's degrees.
During his time as a university student, he scaled the highest peaks on all seven continents and hiked to the North and South Poles. It is an achievement known in outdoor circles as"7+2".
As an expedition member and doctoral candidate, he has a new goal of combining his exceptional mountaineering skills with the needs of high-altitude scientific research. "I will always embrace the new and the unknown," he said.
Xinhua