Digital tech in spotlight at expo
By FAN FEIFEI and YANG JUN in Guiyang | CHINA DAILY | Updated: 2023-05-27 07:54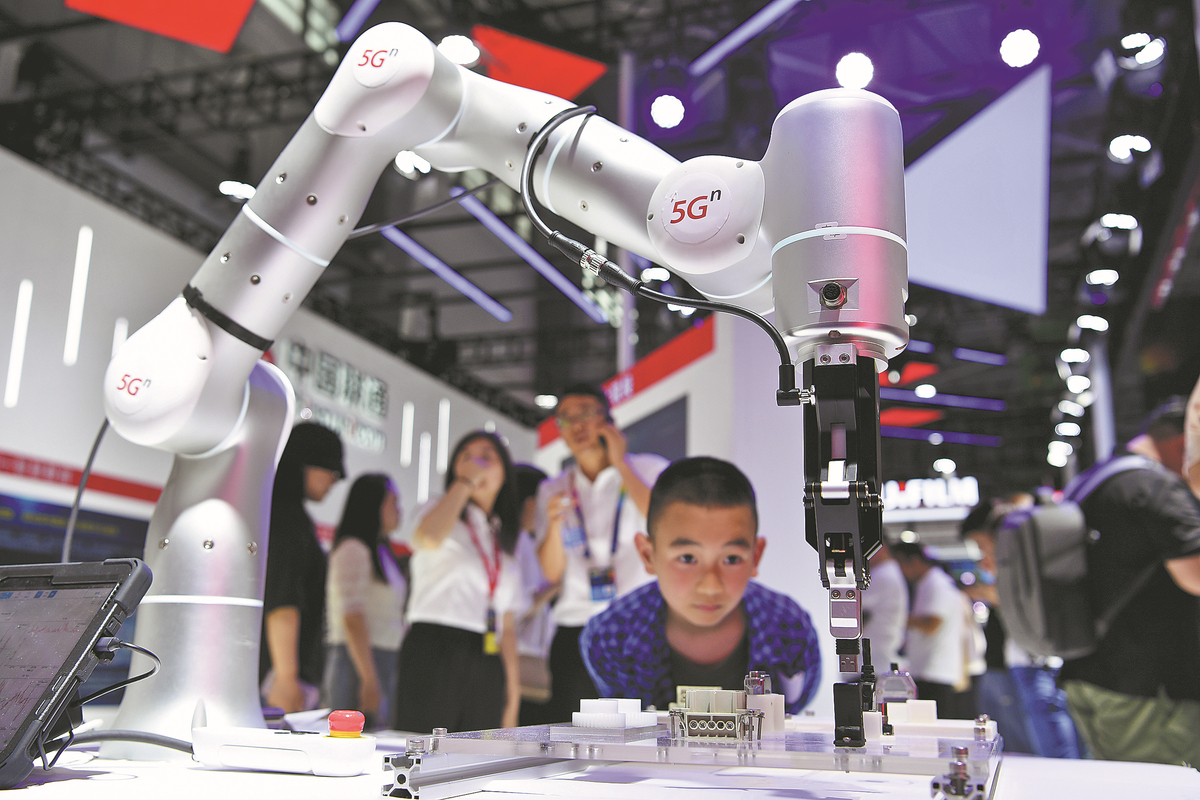 Official stresses need to construct industrial clusters with international competitiveness
China will ratchet up efforts to leverage emerging digital technologies to further bolster industrial upgrading, and build basic systems for data, as part of its broader drive to promote high-quality development of the digital economy, and tap the value of massive data resources more efficiently, officials and experts said.
Greater efforts are needed to speed up the construction of computing power networks and digital infrastructure, such as 5G, data centers and industrial internet, promote the in-depth integration of the digital and real economies, and build digital industrial clusters with global competitiveness, said Wang Guangqian, vice-chairman of the 14th National Committee of the Chinese People's Political Consultative Conference, the country's top political advisory body.
Wang highlighted the significance of the digital economy in driving China's economic growth during a keynote speech at the opening ceremony of the China International Big Data Industry Expo, which kicked off on Friday in Guiyang, Guizhou province.
He stressed the need to bolster digital transformation and upgrading of industries, facilitate the circulation of data resources and accelerate the building of basic systems for data, in order to fully unleash the potential of data elements and digital technologies.
Xu Lin, Party secretary of Guizhou, called for promoting the east-data-west-computing project, which involves the construction of national computing hubs and data center clusters, nurturing emerging industries including artificial intelligence and blockchain, and accelerating the development of smart cities and digital villages to provide more convenient and efficient digital services.
China will intensify efforts to achieve breakthroughs in core technologies in key fields, as well as step up the establishment of a national unified data assessment service platform to bolster the circulation, transaction and effective management of data elements, said Wang Jiangping, vice-minister of industry and information technology.
The revenue of the country's big data industry reached 1.57 trillion yuan ($222.3 billion) in 2022, up 18 percent year-on-year, Wang added. The nation built the world's largest 5G network, with more than 2.64 million 5G base stations by the end of March, according to the ministry.
The heightened push to build a digital China and accelerate the construction of digital infrastructure will help the country achieve greater self-reliance and strength in science and technology and foster a new competitive edge, said Wu Manqing, vice-president of the Chinese Academy of Engineering.
Meng Zhenping, chairman of China Southern Power Grid Co, said the company will continue to invest in digital power grid construction by applying advanced digital technologies such as AI and big data, to promote low-carbon and green transition of the energy and power industry.
Data, as a new type of production factor, is playing an increasingly prominent role in promoting China's digital development, said Qi Xiangdong, chairman of Chinese cybersecurity company Qi-Anxin Technology Group, adding that new cybersecurity challenges have appeared with the rapid development of next-generation information technologies.
The company set up a new branch engaged in data security on Friday. Qi said, "We will continuously innovate in cybersecurity technologies and build up strong capabilities to fend off rising cyberattacks."