Scholars of every stripe work to decipher ancient manuscript
By FANG AIQING | China Daily | Updated: 2023-05-27 10:40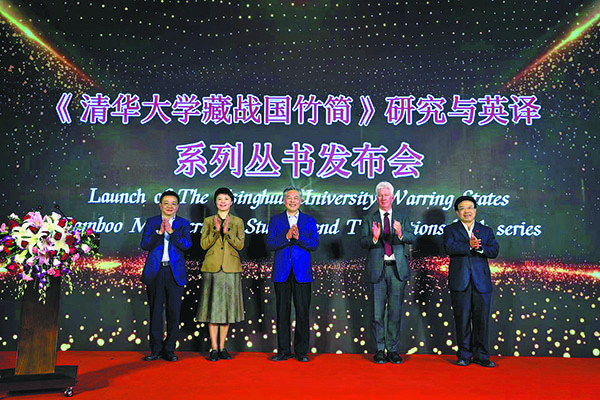 Global effort to study and translate landmark document provides fresh insight into early Chinese civilization, Fang Aiqing reports.
Sinologists from various nationalities have been working with their Chinese counterparts on the research and translation of ancient bamboo manuscripts collected by Tsinghua University in Beijing. The first volume of their efforts on the relics from the Warring States Period (475-221 BC), including updated research findings and annotations, was published in late April.
Besides high-quality images of the original manuscripts, which are written in the script of Chu state — comprising what is today's Hubei and Hunan provinces in Central China and more — the book also transcribes the texts in modern Chinese and translates them into English, and has been subjected to peer review.
Another 17 volumes of the series, The Tsinghua University Warring States Bamboo Manuscripts: Studies and Translations, will be completed in the future, said Edward L Shaughnessy, director of the Creel Center for Chinese Paleography at the University of Chicago, at the book launch held at Tsinghua on April 27.
The 71-year-old veteran is the main contributor to the first volume, which centers on six texts related to Yi Zhou Shu (Leftover Zhou Documents), a quasi-canonical collection of scriptures from the Zhou Dynasty (c.11th century-256 BC), and Pseudo-Yi Zhou Shu. Pseudepigrapha, in studies of historical literature, are ancient texts that the real authors attributed to a, usually notable, figure or work of the past.
In the introductory chapters and the appendix of the first volume, Shaughnessy provides a comprehensive introduction to Yi Zhou Shu, its textual history and relationship to the manuscripts housed at Tsinghua.
According to Shaughnessy, it took the team of 14 — with eight nationalities and drawn from various universities and academic institutions around the world — three years to complete the first volume, and more scholars are expected to join them for further volumes.