China backs Serbia in defending sovereignty
By Mo Jingxi | China Daily | Updated: 2023-05-31 09:37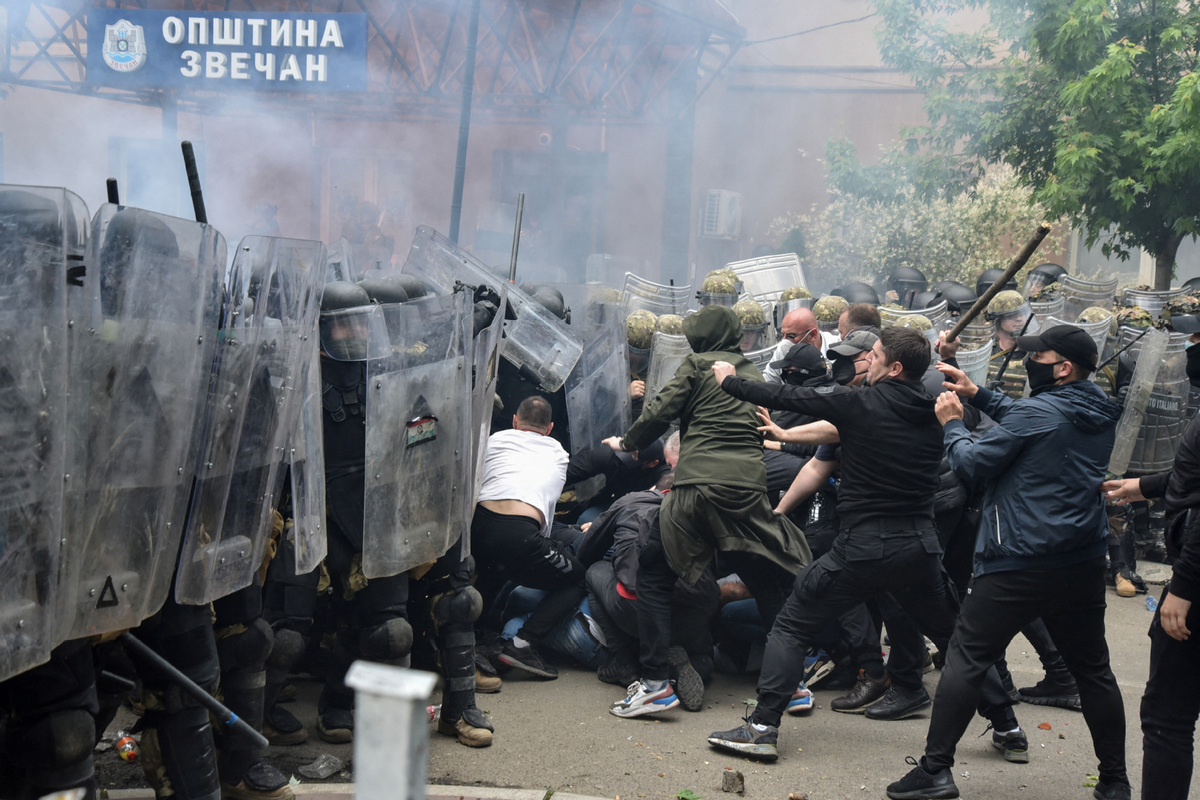 Chinese Foreign Ministry spokeswoman Mao Ning said on Tuesday that China supports Serbia's endeavor to safeguard sovereignty and territorial integrity and that it attaches great importance to the relevant situation.
China opposes unilateral actions by the temporary institutions in Pristina and calls on it to perform its duty of establishing an association/community of Serb majority municipalities, Mao said.
"We urge NATO to genuinely respect the sovereignty and territorial integrity of the relevant country and do things that are truly conducive to regional peace," Mao said at a regular news conference in Beijing.
On Monday, Serbian President Aleksandar Vucic said over 50 civilians and more than 40 NATO soldiers were injured in a clash between NATO's Kosovo Force, or KFOR, and Serb protesters in front of the Zvecan municipality building in northern Kosovo.
Kosovo unilaterally declared independence from Serbia in 2008. Serbia rejects it and considers Kosovo as its own province.
KFOR units were trying to disperse a group of Serbs who protested after Kosovo police took control of the administrative buildings in Zvecan and two other municipalities in Serb-majority areas.
"A member of ROSU (Regional Operations Support Unit of Kosovo Police), not a member of KFOR, fired several bullets in the direction of the retreating Serbs and hit (local Serb) Dragisa Galjak with two bullets," Vucic said at an extraordinary news conference on Monday evening. "Serbs responded with stones and in other ways."
He said 52 Serbs were injured in the clashes — three in serious condition — and four were detained.
On Tuesday, Vucic was due to meet ambassadors of the so-called Quint group — France, Germany, Italy, the United Kingdom and the United States — in Belgrade and was later due to meet the Russian and Chinese ambassadors to Serbia.
Kosovo's Serbs boycotted the April 23 local elections in four municipalities in the north of Kosovo, which allowed ethnic Albanian parties to take control of local administrations despite a turnover of less than 3.5 percent.
Combat readiness
Due to the intensification of ethnic clashes in Kosovo, Serbia has put the country's armed forces on combat readiness and sent its forces along the administrative line.
In the Kenyan capital Nairobi, Russian Foreign Minister Sergey Lavrov described the situation in Kosovo as "worrisome", blaming the US and NATO for claiming dominance in that part of the world.
"A big 'explosion' is brewing in the center of Europe, in the very place where, in 1999, NATO carried out aggression against Yugoslavia," he said.
The NATO bombing of Yugoslavia started on March 24, 1999. Over the course of 78 days, 2,500 people were killed and thousands more were wounded, while 25,000 homes and one-third of the country's energy sector were destroyed — often by illegal weapons such as cluster bombs and depleted uranium warheads.
Xinhua and agencies contributed to this story.