A poem of Qianlong's choosing
By Zhao Xu | China Daily | Updated: 2023-06-03 12:16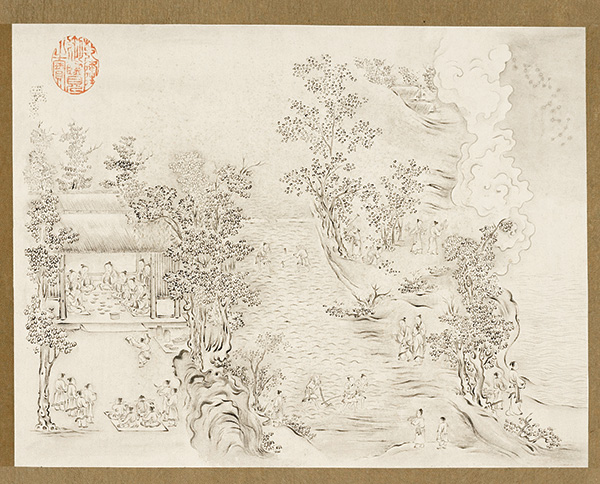 'A handscroll with me it has always been; a painting on the poem July, from the Odes of Bin," wrote Emperor Qianlong (1711-99) of the Qing Dynasty, possibly later in his long life, as he lamented in the same poem the changing of the seasons and the passage of time, of which he was reminded by "the sun's fast-traveling shadow across my latticed window".
It seems that this handscroll, which he almost certainly had gazed upon numerous times, had been a rare constant for a man who lived a volatile political life — something he clung to emotionally while doing his balancing act at the pinnacle of power.
In fact, there was not just one, but many scrolls in the emperor's possession that amounted to pictorial renditions of that same poem from the Odes of Bin — a collection of folk poem-songs, which, in turn, forms part of the Book of Odes (Songs). The 305 pieces which make up the book, dated to the 400 years between the 11th to sixth century BC, are believed to have been collected from all over the country during the Zhou Dynasty (c.11th century-256 BC).
From when the Book of Songs became known as Shi Jing (Classic of Poetry), somewhere between the fourth and third century BC, until the fall of the Qing Dynasty in 1911, it was avidly studied by generations of aspiring individuals eager to enter court service, and by rulers who genuinely cared about their subjects, or were eager to be seen as doing so.
Here comes the final piece of the jigsaw puzzle for anyone wondering why Emperor Qianlong, out of all the gems in his enviable art collection, had chosen to be associated with this particular handscroll. When the poem July, which opens with the sentence "In the seventh moon the Fire Star west goes", from which it took its title, appeared in its English version, Chinese translator Xu Yuanchong (1921-2021) titled it Life of Peasants. (The Fire Star is Antares, one of the brightest stars in the Scorpius constellation. In the West it's also called "Rival of Mars" due to its distinct reddish hue.)
For all who have gone through the poem's eight stanzas, Xu's English title is a fair summary of its content, centered on the yearly cycle of a perennially-hectic, if not backbreaking, farming life which, apart from sowing and plowing, also included picking mulberry leaves (for the silkworms), wine-making (for the elders and ancestors), hunting and skinning foxes to make fur (for the noblemen and women), and abode maintenance (so they could survive the coming winter, at the first hint of which, they would say the "Fire Star west goes").